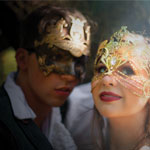 By Sarah Mc Wilson
It's a familiar story of feuding families and forbidden love.
Pensacola Opera starts the new year and their 36th season with their first-ever production of a favored classic title that's been one of their most requested for years—"Romeo & Juliet."
"Shakespeare's story of star-crossed lovers has inspired movies, ballets, symphonic works and, of course, the Broadway musical West Side Story," said Jerome (Jerry) Shannon, Pensacola Opera Artistic Director.
"Romeo & Juliet" was first performed as a French Opera in Paris in 1867, and now, 150 years later, it takes the Saenger Theatre stage, January 25 and 27.
"This setting in French by Charles Gounod is part of the standard operatic cannon, having been seen frequently on stages around the world. We're excited to open our season with such a grand, lush, romantic spectacle—with a story we all know well," said Shannon.
Though touted as a classic opera, Shannon encourages this story is for anyone, and the production stays true to the story. "I think anybody can relate to the pangs of young love and all of the drama that comes along with it," he said. "The story follows Shakespeare pretty accurately, with just a few minor character changes to smooth out the storytelling. There will be no mistaking this for anything other than the classic story."
What is new to most viewers is the way that it's being presented—in operatic format. Shannon credits the music for the magic.
"The power of an effective score is what makes any opera so magical. Gounod was a master of lush orchestrations and beautiful melodies, and this piece is filled with both. The music amplifies all of the action on stage and brings the characters' emotions to life on a grand scale. An exciting highlight is the fight scene in Act 3—you really feel like you're watching an action movie with a thrilling soundtrack," he said.
This production welcomes to town a cast of artists with national careers, who will be singing with Pensacola Opera for the first time. "Melinda Whittington [Juliet] is based out of North Carolina and has sung with companies such as Arizona Opera, Opera Birmingham [her debut as Juliet], North Carolina Opera and Utah Opera. Mackenzie Whitney [Romeo] is an exciting young tenor from Waterloo, Iowa who has recently made leading role debuts with Utah Opera, Opera on the James, Hawaii Opera Theatre and Opera Maine," said Shannon.
In total, "Romeo & Juliet" includes a cast and crew of more than 100 individuals who both appear onstage and work backstage. In addition to members of Pensacola Opera Chorus, the production features the Pensacola Symphony Orchestra and Ballet Pensacola.
Though sung in French, the visual projection of English translations in combination with the singing help make this story, and all Pensacola Opera productions, accessible for all.
ROMEO & JULIET PERFORMANCES
WHAT: Pensacola Opera presents "Romeo & Juliet"
WHEN: 7:30 p.m. Friday, Jan. 25, and 2 p.m. Sunday, Jan. 27
WHERE: Saenger Theatre, 118 S. Palafox
COST: $25-$115
DETAILS: pensacolaopera.com
———————————-
TICKET HOLDER EXTRAS
Pre-Performance Discussions
6:30-7 p.m. Friday, Jan. 25
1-1:30 p.m. Sunday, Jan. 27
Education Director Cody Martin provides a free pre-performance discussion. Ticket holders are invited to arrive early to the Saenger Theatre and join Cody one hour prior to curtain time for an informative and entertaining presentation.
Opening Night Reception
10 p.m. Friday, Jan. 25
Immediately following Friday's night performance at the Saenger Theatre, enjoy a catered reception and meet the cast, directors and conductor. To attend, you must have a ticket to Friday night's show (single ticket or season). The cost for the reception is $50 per person; $40 for subscribers.
———————————-
PREVIEW EVENTS
Leading up to and throughout the performance weekend, Pensacola Opera is hosting various "Romeo & Juliet" preview events. Taking place at various downtown Pensacola establishments, each signature event is designed to bring you closer to the show.
Meet the Artists Luncheon
11:30 a.m.-1 p.m. Tuesday, Jan. 15
Skopelos at New World Landing, 600 S. Palafox
This is a first chance to hear excerpts from "Romeo & Juliet," performed by Artists in Residence. Maestro Jerome Shannon will also give an overview of the plot and the characters so you're more "in the know" before you head to the theatre. Presented in partnership with Leisure Learning Society. Reservations required. $30 per person.
Romeo & Juliet Movie Showing (1968 film)
7 p.m. Tuesday, Jan. 15
REX Theatre, 18 N. Palafox
Give yourself a refresher course on the plot of "Romeo & Juliet" by seeing this classic 1968 film directed by Franco Zeffirelli. This film is one of the most well-known and respected adaptations of the Shakespeare story. A celebrated international opera stage director, Zeffirelli lends his operatic touch to this visually and dramatically stunning Academy Award winning presentation. The screening is being presented in partnership with Pensacola Cinema Art. Tickets available at the door 30 minutes prior to show. $5 per person; cash only.
Prix Fixe Meal at V. Paul's
5-7 p.m., Friday, Jan. 25
V. Paul's Italian Ristorante, 29 S. Palafox
V. Paul's offers a prix fixe menu for opera attendees prior to the Friday night performance. Diners are provided with a free performance preview while they dine. Ticket holders are guaranteed to be out the door in plenty of time for the beginning of the performance. $35 per person plus tax and tip, excluding alcohol. Call 466-5855 and mention "Opera Dinner" to reserve your table.
Director's Champagne Brunch
11:45 a.m. – 1 p.m. Sunday, Jan. 27
Jackson's Steakhouse, 400 S. Palafox
Prior to the Sunday Matinee performance, Artistic Director and Conductor Jerome Shannon provides an informative and entertaining preview, including exclusive backstage tidbits, over a gourmet brunch. Tickets typically sell out quickly. $50 per person.
All of the above events are open to the general public. For more information and tickets, call 433-6737 or visit pensacolaopera.com. Pensacola Opera is also hosting additional donor events surrounding this performance.