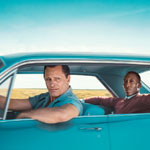 By Sydney Robinson
It's always exciting to realize that someone from Pensacola has done big, history-making things, especially when those things make them worthy of the focus of a Golden Globe Award-winning film.
That's exactly what "Green Book" is.
The film, starring Mahershala Ali and Viggo Mortensen, is based on a notable African American man who was born right here in Pensacola, Fla. It walked away from last week's Golden Globes with three big wins—Best Motion Picture-Musical or Comedy, Best Screenplay and Best Supporting Actor (Ali).
In the film, Ali portrays Don Shirley, who was born in 1927 and grew up in Belmont-DeVilliers. He started learning how to play the piano while he was still in diapers. When he was still a young boy, Shirley was invited to the U.S.S.R. to train at the Leningrad Conservatory of Music. His dedication to the instrument turned into a lifelong passion and career.
A classically trained concert pianist who toured the U.S. and the world in the 1960s, Shirley received widespread acclaim. But as a black man in America, he was still subject to the racism and prejudice of the time. "Green Book" is about that clash in Shirley's life and how he handled the challenges of being a famous musician often treated as a second-class citizen.
Even though the film is now officially award-winning, it's still garnering plenty of criticism and controversy too.
Folks who are curious about the film and want to learn to more about this famous native son are in luck. Arica L. Coleman, Ph.D., a scholar focused on issues of race and ethnicity in American history, is coming to town to speak at an event called "Gallery Talk: Don Shirley and the Real 'Green Book' Story."
Dr. Coleman is a published author of "That the Blood Stay Pure: African Americans, Native Americans and the Predicament of Race and Identity in Virginia."
Dr. Coleman was recruited by the African American Heritage Society (AAHS) for this talk after she made a stir with multiple published articles and media appearances discussing the film.
AAHS Executive Director Cheryl Howard, who invited Coleman to speak, shared details about the event with Inweekly.
"We are so excited to have [Dr. Coleman] come and share what she knows about Don Shirley since she has studied him over the years as part of her academic specialization."
The AAHS focuses on elevating and informing the community about the culture and history of African Americans in the South.
"We're all about informing people about our history and heritage and finding commonality and ways to move forward in our lives," said Howard. "[We aim] to bring America's melting pot together, but we also don't shy away from these things that defined us."
By referring to "these things that defined us," Howard points to the title of the film itself, which was derived from the driving manual used in the 20th century by African American motorists. Attempting to traverse the American South in a time when it was legal and common for hotels and motels to refuse lodging to them, the so-called Green Book was used to note which places African Americans could lay their head for the night in less-than-friendly territory.
In the film, Shirley hires a rough-and-tumble Italian American man to serve as his driver during a tour of the South. Though Shirley is the one hundreds of fans flock to see, he is often forced to sleep in dismal lodgings while his white driver is allowed to stay in conventional, clean hotels.
Despite its recent Golden Globe wins, "Green Book" has garnered mixed reviews since it came out and criticism for not consulting with Shirley's family.
Howard describes it as a delightfully entertaining film which was "designed to inform about the realities of life for our community… You feel every emotion: happy, sad, angry, despair, excited, laughing uncontrollably."
Meanwhile, Dr. Coleman, viewing the movie through a scholarly lens, has called it the "21st-century version of 'Driving Miss Daisy.'"
Dr. Coleman has criticized the film for inaccurately portraying elements of Shirley's life. Attendees of Coleman's talk will no doubt hear both sides of the issue and will be able to draw their own conclusions about the film and Shirley himself.
Whether the film is ultimately good or bad doesn't matter as much as the life that Shirley actually lived—a life which serves as a fascinating element of Pensacola's rich African American and musical history.
Howard encourages attendees to see the movie if they can before attending, but those who haven't seen it will still enjoy and benefit from the talk.
After the talk, there will be a reception where attendees can hear Shirley's music from Dr. Coleman's catalog. The music won't be solely classical piano, as Shirley spent the latter part of his career delving into many other genres, even performing with the great Duke Ellington in 1955.
GALLERY TALK: DON SHIRLEY AND THE REAL "GREEN BOOK" STORY
What: A lecture with Dr. Arica L. Coleman about Don Shirley and the film "Green Book"
When: 5 p.m. Saturday, Jan. 12
Where: Bowden Building Classroom, 120 Church St.
Cost: Free; donations for AAHS are encouraged
Details: aahspensacola.org

The event is being presented by both the AAHS and the University of West Florida and is sponsored by the John C. Pace Symposium Series and the Escambia County Board of Commissioners. The event is free to attend, but donations to the AAHS are encouraged to fund future projects and events like this one. You can reserve your seat in advance on the AAHS website.