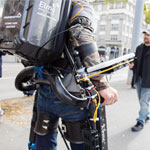 By Duwayne Escobedo
It sounds like something straight out of a Hollywood sci-fi thriller—an exoskeleton that gives people with lower limb paralysis the ability to walk upright.
The Institute of Human Machine & Cognition (IHMC) version gave pilot Mark Daniel the ability to walk the Limmat River promenade in the picturesque historical downtown in Zürich, Switzerland. The stroll brought tears to the eyes of Daniel, who earned a silver medal in the 2016 Cybathlon international competition.
"I fell in love with it right off the bat," said Daniels, whose first introduction happened in 2002, "just the ability to get up and move around like that. It's exciting coming this far with them."
However, IHMC senior research scientist Dr. Peter Neuhaus predicted the powered exoskeleton that he has tinkered with for eight years would take decades to improve the speed, locomotion and stability of the technology.
"We've increased the capabilities and comforts over the years," said Neuhaus, an MIT and U.C. Berkeley graduate. Right now, he would like to eliminate the crutches by upping side-to-side balance in the hips.
So far, his exoskeleton has undergone three prototypes. Now, the Mobility Unlimited Challenge has chosen IHMC as one of five high-tech institutes across the world to bring one to market for consumers to buy. For the $4 million challenge, IHMC plans to team with MYOLYN, a medical technology company based in Gainesville that specializes in functional electrical stimulation. It has led the company to develop the MyoCycle, which provides a cycling workout for people with paralysis.
The Toyota Mobility Foundation and Nesta's Challenge Prize Center recently announced innovative teams from the United States, Japan, Italy and the United Kingdom would each receive $500,000 to develop their ideas further, which range from exoskeletons to powered wheelchairs. The best-developed one will receive $1 million in Tokyo in 2020. The five finalists were selected from more than 80 entries from 28 countries.
Millions of people around the globe live with lower-limb paralysis, commonly caused by strokes, spinal cord injury and multiple sclerosis. While no statistics exist on paralysis worldwide, the World Health Organization estimates 250,000 to 500,000 new cases of spinal cord injury across the globe every year.
Dr. Eric Krotkov, chief science officer at Toyota Research Institute and one of the judges of the Mobility Unlimited Challenge, said he would be very interested to see the final technologies developed.
"There are so many technological opportunities to explore approaches to alleviate challenges stemming from lower-limb paralysis," Krotkov said. "A competition like the Mobility Unlimited Challenge gets innovators to focus on the same problem to identify something of great common interest that serves society. I look forward to seeing how they will take these devices out of their conceptual stage to help our end users."
Neuhaus said he and his team want to prove people wrong who criticize the rate of improvement to devices to increase the mobility of those with lower-limb paralysis.
"In the business world, developing technologies for people with lower-limb paralysis has been extraordinarily hard," Neuhaus said. "We've constantly struggled against people saying the market is too small, and because of that, people aren't putting in the effort, research or investment this field deserves, meaning there hasn't been enough advancement."
The IHMC researcher acknowledges most technologies today undergo use in rehabilitation. But Neuhaus said he expects commercially-viable exoskeletons to one day be available to people for $30,000 to $50,000.
"People might say, 'Wow! That sounds like a lot,'" Neuhaus said. "It's kind of like buying an amazing car with tons of sensors. It may be expensive, but the side effect may be savings in health costs. It remains to be seen what the economies of scale look like. But we shouldn't stop progress on these technologies."
The current state of IHMC's assistive device requires crutches to help with balance by the user. The pilot must wear a backpack-looking device that powers the exoskeleton and its sensors, which, for instance, control front-to-back balance. Real world use has pointed out the exoskeleton's limitations to researchers, such as walking up stairs to enter a church.
More research and solutions are needed, IHMC scientists admit before its product will be safe for those with lower body paralysis and enable greater independence.
Daniel will join IHMC as a pilot again as the Pensacola researchers gear up to enhance their current exoskeleton and eliminate some of its drawbacks. In the Cybathlon, Daniel walked up steps, ramps and took steps on oval markers set on the ground, among other things. He trained about eight hours a day, four to five days a week leading up to that competition.
"We're glad to have him," Neuhaus said. "He is really valuable to this development. He understands what we're trying to do and has suggested improvements to interfaces, designs and fabrications."
A year from now, Pensacola and the rest of the world will find out just what the fourth exoskeleton prototype by IHMC and MYOLYN can do.
———————————–
Mobility Unlimited Challenge Finalists
The Evowalk: Evolution Devices (United States): A smart wearable leg sleeve that helps people with partial lower limb paralysis regain their mobility. The EvoWalk AI system uses sensors to predict the user's walking motion and stimulates the right muscles at the right time to help them walk better.
Moby: Italdesign (Italy): An integrated network of wheel-on powered devices, allowing users of manual wheelchairs the convenience and benefits of a powered chair, accessible via an app-based share scheme.
Phoenix Ai Ultralight Wheelchair: Phoenix Instinct (United Kingdom): An ultra-lightweight, self-balancing, intelligent wheelchair which eliminates painful vibrations.
Qolo (Quality of Life with Locomotion): Team Qolo, University of Tsukuba (Japan): A mobile exoskeleton on wheels, allowing users to sit or stand with ease.
Quix: IHMC & MYOLYN (United States): A robotic, powered exoskeleton with motors at the hips, knees and ankles, as well as additional actuators offering someone with lower-limb paralysis fast, stable and agile upright mobility. Utilizing modular actuation, perception technology from autonomous vehicles and control algorithms for balancing autonomous humanoid robots, this device will deliver the mobility, safety and independence that current exoskeletons cannot. The device will improve accessibility in society, especially at home and work.