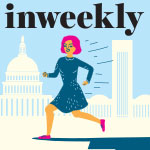 Harnessing the Power of Women in Politics
During last fall's midterm election, we saw an unprecedented number of women elected to congress, and several statewide and local races were claimed by women—a few for the first time ever. This week, we decided to celebrate those victories by talking to the women who ran and a few key behind-the-scenes players too.
Why this week you ask?
Because Pensacola is gearing up to host its 3rd annual Women's March this Saturday. And despite the controversies that keep Women's March Inc. in the headlines, it's hard to deny that the spirit and energy that made the inaugural march the largest single day protest in U.S. history helped shape the current political landscape for the better.
————————————————–
Female Representation in Florida Politics
By Sydney Robinson
Representation—it's a term often used in viewpoints and articles about elected officials and the people who vote for them. But outside of statistics and polling results, the word carries a deeper, more emotional meaning for those who find themselves without it.
Even though women make up more than half of the United States population—97 men to 100 women—female representation in political offices is still lacking nationally, statewide and locally.
While Northwest Florida has a long way to go to represent the true diversity of the area, the successes of women in the 2018 midterm election are noteworthy.
Women Leadership Incubator
The change in electoral representation in Northwest Florida is due, at least in some part, to the formation and growth of the Institute for Women in Politics of Northwest Florida (IWP NWF), a local nonprofit aimed at mentoring women for political office.
Twenty-three IWP NWF members ran for public office in 2018, 14 of which were women and nine were men. Eleven of those members were elected, providing the organization with a 48-percent success rate.
Inweekly sat down with the institute's founding president and current treasurer Diane Mack and discussed the mission of the organization and where she envisions women in politics can go.
"We have a very sharp laser focus—to get more women in office," Mack said.  The organization wants to see the representation of women equal that of the population.
"We feel our job will have been done when every single elected body is half women," said Mack. "And we're not looking for more than that because any community needs the workings of the diverse group, and the diverse group includes men."
Mack served on the Pensacola City Council from 2009-2011. She believes adding a representative number of women to any organization or political body can elevate the atmosphere.
"The real value of being representative of a population is that a critical mass of women in any group brings a calming, collegial, sane atmosphere to whatever happens," she said. "When you've got enough women in the group, the conversation is more polite."
Beyond that, Mack said that having women involved means that issues like childcare, elderly care and other issues that affect society as a whole are brought to the table.
"Women know what it's like to struggle with childcare, with elderly parents, with all of those social issues," she said. "We are the ones who are going to remind everyone that these are important issues for government to look at. They're societal issues, they're family issues, they're community issues."
The IWP NWF was established in 2013 and has grown from seven founding members to 107 members. The organization has increased its influence as well as numbers, and many candidates for office—men included—have joined to show support for women in politics and learn from the women on the board.
During the 2018 election cycle, Grover Robinson (now mayor), Jared Moore (now District 4 city councilman) and Alex Andrade (District 2 state representative) joined the IWP NWFL and remain members today.
Women Winners Reflect
Ann Hill, who was elected to the Pensacola City Council District 6 seat in November, is also a member of IWP NWF and expressed her gratitude to the women who helped her win.
"So many local women leaders have inspired me through their integrity, intelligence and hard work," she said.
Among those Hill credited for her success were Mack, community activist Dianne Krumel, 2018 congressional candidate Dr. Jennifer Zimmerman, and her daughter and campaign volunteer Teresa Hill.
"The future of Pensacola and Escambia County continues to have great women leaders, and I appreciate that the voters of Pensacola City Council District 6 have allowed me to represent their interests," Hill told Inweekly.
Jewel Cannada-Wynn has served on the city council in District 7 since 2012 and served as District 6 council member from 2004-2010. While on the council, she has also served as deputy mayor, council president and council vice president.
She discussed her perspective on the evolving climate for women in politics.
"I think it's growing; it's improving a lot. It's so important that politics be diversified and inclusive. Women bring so much to the table [in the way of] decision-making," she said.
Cannada-Wynn made sure to note that Northwest Florida still has a ways to go.
"We have some mayors [in the area] that have been elected, but I would like to see a female mayor in Pensacola," said Cannada-Wynn. "Also, it's been years since we've elected a woman to the state house from our area. I think we are weak in that area."
Miami native Nikki Fried was elected as Florida's 12th Commissioner of Agriculture and Consumer Services, becoming the first woman elected to that position.
"I'm humbled and honored to serve as Florida's next Commissioner of Agriculture and Consumer Services—and to be the first woman ever to be elected to this position," Fried told Inweekly in a telephone interview.
She continued, "Every day on the campaign trail, I thought about my nine-year-old niece, Ella. Part of why I ran was to serve as an example to Ella—and girls and young women like her—that there are no barriers they cannot break and nothing they cannot do."
In 2018, women played vital roles in other successful campaigns. Francine Moore handled most of the nitty-gritty, organizational details that kept her husband Jared's Pensacola city council campaign running smoothly.
"Women do bring a lot of value in local politics," Francine explained, "and in national politics because they have a different perspective; because they think differently."
Milton Milestone
The city of Milton saw an upset in the November general election. Attorney Heather Lindsey defeated incumbent Mayor Wesley Meiss by 276 votes.
Lindsay, an established attorney of more than two decades who had served as the city's attorney, became Milton's first female mayor when she was sworn into office in December.
Reflecting on her victory, Lindsay said she was above all extremely grateful for the overwhelming support she received from residents of Milton.
"I was so overwhelmed with gratitude at the numbers supporting me and [offering] help," she told Inweekly. "It just feels very gratifying and humbling. I had no way of anticipating that this would be how 2018 ended."
Mayor Lindsay discussed the women in her life that had encouraged her to think beyond traditional gender roles.
"I have throughout my life been encouraged by amazing women to reach my full potential, so it's very gratifying to look back," she said. "I wish some of those women were still alive today to thank them for their encouragement."
She said that she, like many women, had to work to get past the stereotypes about how women should be, where they belonged and where they didn't.
The mayor said, "You grow up thinking women have certain roles until someone tells you that you don't have to think that way."
She talked about how young girls think about politics has changed as they have seen women in leadership positions on the national stage.
"My teenage daughter was six when Hillary (Clinton) first attempted the nomination for president," said Mayor Lindsay. "Children grow up seeing only men as president, so they think that is what's expected.  It has been interesting to watch her reactions to see what it's like for women to try to be elected to different positions."
She appreciates that she has also become a leadership role model for her daughter.
Mayor Lindsay said, 'It is gratifying to me to be able to show her that in Milton, women can be the mayor."
————————————————–
House Party
By Sammi Sontag
Nothing says "new year" more than change, and the 116th Congress embodies just that.
In case you missed the headlines, a record number of women—127—were sworn in earlier this month. These history-making numbers are courtesy of a political trend some call the "pink wave" that took shape during the 2018 midterm elections.
With a breakdown of 106 Democrats and 21 Republicans among these new female leaders, Inweekly reached out to someone who helped elect Democrats for more insight on the record-setting trend.
"I can speak to some of the women we elected through D-trip (Democratic Congressional Campaign Committee)," Rebecca Drago, former deputy press secretary for the Democratic Congressional Campaign Committee (DCCC), said. "They're veterans, they're young, they're moms, they're small business owners."
"They served our country in a variety of different ways, maybe as a prosecutor or in the Navy, and then they felt, again, compelled to serve by running for Congress," she continued.
Demographic change was the logical next step for America, Drago said. 21 percent of House Democratic challengers nationwide were women in 2014 compared to 33 percent in 2018, according to Brookings Institute.
Not only did the 2018 election cycle defy gender barriers; it simultaneously challenged the minority curve. 47 of the 127 women elected are of color, according to the Center for American Women in Politics.
"What I think is so incredible is this freshmen class is so diverse in age, gender and race, obviously," Drago said. "You can just tell by looking at a photo comparing the Republican freshmen to the Democratic freshmen—the Democratic freshmen look how America looks."
The DCCC's job is to elect Democrats to the House. The foundation raises money, recruits candidates and plans races in districts that are known to have close elections.
"It's the campaign arm of the House Democrats, so it's primarily focused on Republican seats, so flipping seats from red to blue," Drago said, "and then protecting vulnerable blue seats."
To date, the DCCC overturned 40 House seats in 2018. There is still potential for a 41st. North Carolina's 9th Congressional District has not been called due to election fraud allegations, Drago said.
"If I were to isolate one of the major themes of this election cycle, it would definitely be 'a call to service,'" she said. "When you asked a lot of these candidates why they were running, their responses were that these women felt a 'call to serve in Congress.'"
As barriers continue to fall, the DCCC wants to keep the female empowerment movement going. In a previous interview, the DCCC's new chairwoman Cheri Bustos said she won't stop until half of Congress is female.
"I think that Congress should reflect the country," Drago said, "And there are a lot of women in the country. And, yes, there are more women in Congress now, but they're still not equal."
Gearing up for the 2020 election cycle, it's obvious the "pink wave" will still be on the radar. Drago expressed the importance of increasing women's presence in all sectors of government.
"I think as many people should run as possible," she said. "Hilary Clinton's job in 2008 was kind of to break that glass barrier, to prove that a woman could do just as good of a job as a man. People had concerns such as, 'Could a woman be commander and chief?' Then in 2018, people agreed that women could do the job. People saw their gender less as something they need to overcome and instead as an advantage. I think so much progress has happened within the last two years in terms of our attitudes about women."
Political participation was another important piece of the 2018 election cycle and will be integral in 2020, Drago said.
"Look at your school board," she said. "Who's on your City Council? There are all of these offices and so many ways to get involved, and I think that if you don't like what's happening in your town or your community, step up; get involved."
She added, "It's easier than ever to run. People think the barrier to entry is higher than it is. And if you don't want to run, find a campaign and or a candidate you love and participate. Everyone has a place in politics, and if you feel like you don't, it probably means your opinion is more important."
"It has been an honor just to see these women up close," she said. "I'm excited to give them a chance to lead and legislate, and I can't wait to see what they do."
————————————————–
March On
The 2019 Women's March will begin at 10 a.m. at City Hall and will conclude with a rally and speakers at Seville Square.
The speakers will include Michelle Yabui, Dr. Cassandra Curbelo, Regina Ray, Shelby Shoup and Lily Bell. Local grassroots organizations will also have information tables set up, plus tables showcasing local artists.
The theme is "Truth to Power" and anyone who supports the organizers' "vision of liberation for all women, especially for the marginalized among us—women of color, transgender women and non binary femmes, migrant and houseless women, etc." is welcome.
2019 PENSACOLA WOMEN'S MARCH
WHEN: 10 a.m. Saturday, Jan. 19
WHERE: Pensacola City Hall, 22 W. Main St.
DETAILS: facebook.com/pensacolawomensmarch