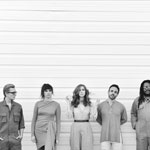 By Savannah Evanoff
Lake Street Dive has music down to a science—especially in the way Bridget Kearney describes it.
The band is a diverse confection of genres—pop, jazz, folk rock—but not concocted without precision. The group, featuring lead vocalist Rachael Price, was born in the New England Conservatory of Music in Boston.
"We're huge music nerds," Kearney said. "That's how we met. We were in classes together studying harmony and rhythmic concepts. That's the foundation of what we do together. It's all sprinkling that on top of a base of just really great grooves and music that makes you dance and makes you feel good."
Upright bassist and vocalist Kearney doesn't hesitate to reveal her inner music nerd when talking to Inweekly.
"I'm always excited about music that combines the easygoing, feel-good side of things that makes me want to dance and have a good time," Kearney said, "but also contain some of these more technical elements of advanced harmony—the kind of stuff I learned in music school that makes my brain excited. If the music can excite my body and my mind, that's firing on all cylinders for me."
Kearney makes every song sound like a science experiment. It makes sense because Lake Street Dive's latest full album, "Free Yourself Up," featured more co-writing than ever. Kearney co-wrote "Hang On" with guitarist Mike "McDuck" Olson.
She has evidence of the band's songwriting chemistry. The "Free Yourself Up" album tour was the first time the band played all of the songs from an album in the show—a testament to how much they believe in the songs on this particular record, she said.
"That was an exciting discovery on this record for us because we were able to combine our powers in a way that we hadn't really done before," Kearney said. "We've been together a long time, so it's nice to look for opportunities to mix it up."
"Free Yourself Up" isn't only the album title and a song lyric but also the band's approach to the record and current motto.
"That was something we were all looking to do on the record in terms of what styles and lyrics we were willing to embrace," Kearney said. "We wanted to push ourselves beyond our normal habits, free ourselves up to try new things. That was something we thought could be a good stamp for the record and also a good mantra, words to live by."
The band also recently released the five-song EP "Freak Yourself Out," which came from the same sessions. It's a different spin on the same concept, Kearney said.
One song from their latest record is statistically proven to energize the audience, "Good Kisser."
"That's one that, needle drop, once the first couple of words come out of Rachael's mouth, the whole audience erupts and starts dancing," Kearney said. "People like to sing along to that song, too. I think it's just a fun lyric to sing, 'Tell 'em I'm a good kisser.' Everyone likes to scream that at the top of their lungs. It's fun."
The track "Shame, Shame, Shame" especially resonates with Kearney. The songwriting content is outside of the band's wheelhouse, she said.
"It's less about a romantic situation and more about things that are going on in the world and trying to make the world a better place," Kearney said. "The major lyric is 'Change is coming, oh yeah' … It's been really powerful to be in a big room with a bunch of people and everyone is singing and embracing this message of positive change in the world."
It seems to be no coincidence the song is also her most challenging. Kearney is undoubtedly a musical scientist—sans lab coat.
"It has a very active bass part, but I'm also the harmony singer on that song," Kearney said. "There are these two separate roles I'm trying to execute at the same time, simultaneously trying to make it feel good and feel relaxed and natural. It definitely took some hours of wood-shedding, as they say, on that to make those parts feel natural together."
The band is drawn toward musical challenges. Each record has new ingredients.
"Always what we're listening to at the time is something that makes its way into our writing," Kearney said. "On this record, we've been into more modern pop and R&B music than in the past, when we were listening to more retro throwback music."
Despite its experimentation, they have a foundation of the pop music they grew up on—the music our parents listened to, Kearney said, citing The Beatles and Paul Simon. Because of those influences, the band's aesthetic is undeniably vintage inspired.
"Music of that era is something that is deeply, deeply ingrained in all of us," Kearney said. "But, we're pretty clear with one another that we don't simply want to be recreating something of the past. We always want to be breathing new life into that and bringing in new influences whether it be current pop music, music from different parts of the world or classical music.
"I think that's how we end up with this un-nameable combination of things that is the sound of our band."
LAKE STREET DIVE
WHAT: Lake Street Dive with Mikaela Davis
WHEN: 7 p.m. Monday, Jan. 21
WHERE: Vinyl Music Hall, 2 S. Palafox
COST: $30
DETAILS: vinylmusichall.com