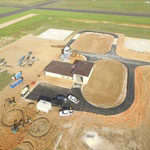 By Duwayne Escobedo
More than 13 years after U.S. Navy and Pensacola leaders first raised the idea of a land swap for the 636-acre Outlying Landing Field (OLF) 8, Escambia County finally looks to benefit.
The five-member county commission entertained two buyers, who would pay a combined $22.2 million for the property.
That would equal a $4.9 million profit for the site the county bought for $17.3 million. Navy Federal Credit Union committed to paying $4.2 million, or market value, for the 100 acres adjacent to its Heritage Oaks campus. Meanwhile, a partnership involving Hemmer Consulting and 68 Ventures offered recently to give the county $18 million cash for the remaining 536 acres.
The offers have commissioners debating whether to make money or wait until the county creates a master plan for the site before entertaining further offers.
FloridaWest CEO Scott Luth cautioned the commissioners on moving forward since the parcel has become the largest tract that exists in the county left for economic development near Interstate 10.
"I highly recommend going through the master plan process before you make any determination to sell," Luth said. "This is a great amenity overall for the community."
A master plan could help the county split up the property and sell various parcels, depending on the highest and best use, Luth said. For instance, it may decide to break off land along Nine Mile Road and sell it for restaurants or retail.
The county must develop a master plan for the site before becoming eligible for $30 million in Triumph Gulf Coast funds for development. About 474 of the 636 acres can have structures built on them, with the rest either wetlands or low-lying areas.
District 1 County Commissioner Jeff Bergosh, whose district contains OLF 8, said he wants to avoid the property being overrun with housing. Plus, he wants to see amenities along the Nine Mile corridor, the main commercial artery in the Beulah community. That's why Bergosh said he favors going through the master plan process.
"Tom Thumb is the only place you can get hot food," Bergosh said.
However, District 2 County Commissioner Doug Underhill took the opposite view. He said the government gets in the way of private development.
"We have to figure out a way to invite the private sector, which has the resources, skills and can risk capital, and let them profit within the framework of the public goals we've stated," Underhill said.
Escambia County Chairman Lumon May said he would schedule a special meeting to iron out differences and decide on how to proceed with the development of the grassy lands. The Navy has used it for flight training since it bought the tract for $9,150 in 1940 to generate pilots as it ramped up for World War II.
The idea for a land swap between Escambia County and the Navy first came up in 2006 when OLF 8 used by NAS Whiting Field began to suffer encroachment as more and more houses popped up there. Pensacola contractor Jim Cronley and Robert Kelly, a retired four-star U.S. Navy admiral, then spearheaded the plan about five years ago. Back then, an appraisal by Hoffman & Associates valued the property at $4.75 million.
Originally, Pensacola leaders envisioned a commerce park on the outlying landing field because it is so close to a major interstate.
Because no more easily developable public sites exist near I-10, FloridaWest's Luth said he passed up on a company recently offering 150 to 175 jobs.
Despite Bergosh's staunch opposition to residential development there, Theresa Blackwell of the Beulah Coalition, which represents residents in the area, likes the idea of people living there and working nearby. She said the Beulah area would grow to 35,000 residents in the next three years.
"We have to look forward and not to the past for solutions," she argued. "We have to figure out how to make that work."
The county is increasing Nine Mile to four lanes by next year, developing a new interchange at Beulah Road, and installing a traffic light at the intersection of Mobile Highway and Beulah Road, as well as making other improvements to help alleviate congestion.
Commissioners mentioned working closely with Navy Federal. They want to look at eliminating the 300-foot frontage on Nine Mile Road that Navy Federal proposed as part of its offer to buy 100 acres and create 300 more jobs in addition to the 10,000 it has already promised. OLF 8 possesses about 2,900 feet of frontage along Nine Mile.
Navy Federal spokesman Bill Pearson pointed out that Navy Federal supports the master plan process. The company even offered to pay the estimated $2 million cost for the county. But Pearson said company leaders would have to work with county officials to decide ultimately.
"We see benefits to having frontage," Pearson said, such as maintaining the look of the campus.
But he added that the major Pensacola employer supports the master plan process. "Quality of life and amenities are important to us," he said.
Will Stokes, a Clark Partington attorney representing the private developers, said the group never planned on building "thousands" of residential properties. Instead, it would develop a mixed-use plan that includes both residential and commercial sites. He said the company would even help to put in public amenities, such as a walking path, park and fields to play sports.
Fred Hemmer, Hemmer Consulting president, said the large tract presents many opportunities for growth of the area in the northwest part of Escambia County.
"It's a big deal, and it has to be done right," he said.