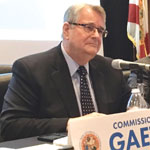 By Duwayne Escobedo
Nearly nine months ago, the Triumph Gulf Coast board set aside a little more than $3 million for the Escambia County School District to train the students of today for the workforce of tomorrow in industries vital to the Northwest Florida economy.
However, negotiations have stalled with Escambia County School Superintendent Malcolm Thomas. Triumph board chairman Don Gaetz said the money is in jeopardy. He warned that Triumph would look for another educational organization to fund instead.
The hang-up is Triumph's "clawback" mandate that requires entities to return the funds if they fail to meet performance standards, Gaetz said.
"Performance requirements are counter to the culture of traditional public education," said Gaetz, a former Florida Senate president and Okaloosa County School District superintendent. He said public education is used to receiving money with no strings attached. "We are not like the Legislature. We don't just send money and hope it all works out. We want students to be qualified for the jobs they are trained for."
Inweekly tried several times to reach Escambia County Superintendent Malcolm Thomas. However, after three days, Thomas passed the newspaper's inquiry to Michelle Taylor.
Taylor, who helped draft the application, said the school district would like to resume negotiations with Triumph. However, it takes issue with the clawbacks if it falls short of producing enough aerospace, aviation, cybersecurity, information technology and commercial drivers. If it meets two-thirds of a Triumph performance requirement, then the school district should pay back one-third of the funding, not all of it, Taylor argued.
"Let's make it proportional to what we didn't meet," she said. "We're optimistic we can get it resolved in the next few months."
Triumph funding comes from BP for its 2010 Deepwater Horizon oil spill. Oil damaged the unique Northwest Florida coastline, regularly recognized for the beauty of its white sand beaches. BP and Florida agreed to a $2 billion payment over the next 18 years with $1.5 billion earmarked for economic development projects for Bay, Escambia, Franklin, Gulf, Santa Rosa, Okaloosa, Walton and Wakulla counties.
Other school districts have jumped at the funding, despite the possibility of having to return the money if they miss the performance goals.
For example, Wakulla County School District received more than $3.9 million for its Career and Technical Education Center. To keep the money, it must have 300 students in grades K-5, and 50 middle school students must earn digital tool certificates. Also, the school system must graduate 30 students in both the HVAC and automotive industries. Once in the workforce, 50 percent must obtain an average entry wage, and 70 percent must complete a certification program.
Sunny Chancy, Wakulla's chief academic officer, said the school system found the clawback goals doable.
"We have very high performing schools," she said. "If we get funding, we take it very seriously. That's what we signed up for, and that's what we are going to do."
Wakulla isn't the only school system to receive funding either. Walton, Franklin and Gulf counties have also entered into agreements with Triumph for money to help develop its future workforce.
Walton County and Emerald Coast Technical College will receive more than $2.2 million for tech education and certification programs. Franklin County received about $2.3 million for industry certifications in medical, welding and computer technology fields. Gulf County received $750,000 and over five years must have a minimum of 200 students earn industry certifications in unmanned aircraft systems, or drones, for safety, agricultural use or as a Visual Line of Sight Operator (VOS).
Gaetz said the Triumph performance standards for Escambia "were set low." Triumph demands certificates over a three-year period for 210 K-5 students for science, technology, engineering and math (STEM); 70 middle school students for information technology; 20 high school students for aircraft assembly; 20 high school students for manufacturing; 100 high school students for cybersecurity; 50 post-secondary students at George Stone Technical College for airframe and powerplant; 30 post-secondary students for cybersecurity; and 25 post-secondary students for commercial driving.
In Triumph meeting minutes on its website, board members expressed the importance of Escambia County developing its workforce. For example, ST Engineering Aerospace by the end of this years will have 300 Pensacola area residents doing aircraft maintenance at its hangar that opened last year at the Pensacola International Airport.
Triumph board member Frank Fuller expressed that "the proposal is so significant that it is worth pushing forward." Fellow board member Jason Shoaf added that "building a workforce pipeline is critical to the future of the region."
Meanwhile, the Escambia County School District continues to operate Escambia High School's ACE National Flight Academy, Booker T. Washington Aviation Technology Academy, Warrington Middle School National Flight Academy and George Stone's aviation program.
"It's important to us the (Triumph funds) come to fruition," Taylor said. "We need to train and educate our students for the jobs of the future."
Gaetz said the Triumph board would like to work with Superintendent Thomas.
"We are ready, willing and able to cut a check to the Escambia County School District," the board chairman said. "If we can't, there are other education providers that we may be working with who are used to delivering based on performance."