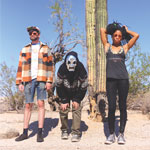 By Sydney Robinson
It's almost all the way through the first month of 2019, and what have you done? Worked, ate sad 'new year, new me' salads and stared out the window at the dreary weather? If that sounds a bit too close to home, it's time to cut loose and try something a bit more weird.
Funkadelic Atlanta-based band CHEW will be coming back to Pensacola this weekend, and it's a visit that fans won't want to miss.
Brett Reagan and Sarah Wilson's instrumental brainchild will be setting up shop at chizuko on Saturday evening, where they have become as well known as the boiled peanuts.
For the uninitiated, CHEW describes their sound as "fuzz-laden psych" and their shows are anything but ordinary, evoking Tim-and-Eric style visuals and an energetic sound that will have you on your feet. The group has toured all over the United States, played some music festivals and have appeared on Adult Swim's "Bloodfeast."
CHEW is capping off the Florida leg of their Mind Abduction Tour with a return to Pensacola—which they now consider to be a home away from home.
"We love playing Pensacola. It's probably one of our favorite cities to play," said Wilson. "The audience is a ton of fun, and they really support us out there."
CHEW played at Sluggo's before its 2016 closing and have played five or more shows at chizuko as well as private events around town.
When asked why the band has returned to Pensacola again and again, Reagan replied, "We're treated like family."
According to local artist Poppy Garcia, who has been instrumental in booking CHEW for some of their recent local shows, the fuzzy feelings are mutual.
"CHEW is one of the most dynamic groups to come through Pensacola in a long time—not only because of their sound but the energy that comes along with their live performances."
Garcia continues, "CHEW is one of the few bands to have played inside the Pensacola Museum of Art thanks to Matt Pham. It was one of the greatest shows I've seen in this town ever."
"I look forward to seeing them play any venue any time for the rest of my life on into infinity," Garcia proclaimed.
chizuko co-owner Jess Laws expressed similar sentiment.
"We love having CHEW at chizuko. They totally match our vibe," she said.
Speaking of energy, Wilson says anyone who attends their show won't be bored.
"We are definitely very high energy. We don't just stand there. We are all moving, we have lights and our music creates a fun high energy mood and vibe. We're all about having a good time and letting loose, and we hope people will dance and have a good time with us," Wilson told Inweekly.
The show will also feature some new material from the group's soon-to-be-released third EP, "Darque Tan"—which Wilson describes as a bit more "dreamy" than previous releases from them.
Guitarist/electronicist Reagan and drummer Wilson have been writing, playing and performing since the founding of the band in December of 2015. In that time, the duo, along with a plethora of bassists—currently "Young" Jamie Austin—have released two EPs and are currently recording their third.
Now in their fourth year as a band, the group feels that their sound is maturing a bit.
"['Darque Tan' is] maybe not quite as heavy as the last ones and maybe a little more. I wouldn't say chill but different," said Wilson. "We have evolved and matured musically."
The band sees lots of musical exploration for the new year.
"We have lots of tricks up our sleeves for a proper full-length album," said Reagan.
In the meantime, Reagan and Wilson both say they want to tour as much as possible, hitting spots in the U.S. they have missed in previous years and even performing internationally in Canada and Mexico.
"We'd love to stay on the road and kind of continue with that and tour everywhere all the time," said Reagan. "We want to be the first band to play the International Space Station."
CHEW
WHAT: CHEW with Faux/Fox and Action Doug
WHEN: 9 p.m. Saturday, Jan. 26
WHERE: chizuko, 506 W. Belmont St.
DETAILS:  facebook.com/chizukopensacola or facebook.com/3dchew