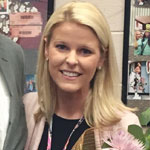 Winners
Caroline Buechner
The Santa Rosa Education Foundation Teacher of the Year Selection Committee named the choral music educator at Navarre High School the Santa Rosa Teacher of the Year 2020. Buechner is Santa Rosa's nominee for the Florida Department of Education's Teacher of the Year 2020. The Florida Teacher of the Year will be selected in May and will serve as Florida's nominee for National Teacher of the Year to be announced in January 2020.
Terry Horne
The former publisher of the Pensacola News Journal and regional president for the USA Today Network has been named the interim executive director of the Center for Civic Engagement. The center, patterned after Sen. Bob Graham's Center for Public Service at the University of Florida, is a community resource center designed to educate and empower citizens to be their own best advocates, hold their leaders accountable and organize with their neighbors to build stronger communities.
Tommy Thrall
The voice of the Pensacola Blue Wahoos and 2015 Southern League Broadcaster of the Year will join the Cincinnati Reds broadcast team to be a part of their radio broadcasts during the 2019 season. The lead play-by-play and television broadcaster for the Blue Wahoos since their inaugural season, Thrall will join legendary Reds radio voice Marty Brennaman.
Losers
Opioid Crisis
AP reports that over the past 20 years, the opioid crisis in America has claimed more than 400,000 lives. In its special package on the crisis, the wire service reported 47,600 Americans died of opioid overdoses in 2017, which is a higher death count than those who died in traffic accidents. Opioid deaths were 13 percent higher compared to 2016.
Mike Ertel
The newly appointed Florida Secretary of State abruptly resigned after the Tallahassee Democrat obtained photos of him in blackface and dressed as a "Hurricane Katrina victim" at a 2005 Halloween party that was held two months after over 1,800 people died when Hurricane Katrina struck New Orleans and the Mississippi Gulf Coast. It's hard to believe Ertel was the Seminole County Supervisor of Elections for 14 years before DeSantis appointed him to the Secretary of State post.
Florida Department of Transportation
The agency told Florida Politico that it didn't know how many Florida drivers have been mailed hefty SunPass bills in January, but they confirm it's a ton. During one seven-day period in January, FDOT spokesperson Ann Howard said the state sent out more than 417,000 toll-by-plate bills to drivers, their first bills in at least seven months following the failed SunPass system upgrade in June.
——————————————————————————
Correction: Inweekly incorrectly stated the "donkey kick" incident that happened at Workman Middle School occurred at Booker T. Washington High School. The 1/24 post was about poor decisions at the administration level and wasn't intended to disparage the high school's hardworking teachers and students.