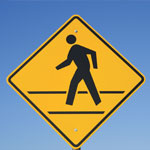 By Jeremy Morrison
Pensacola can be a dangerous place to cross the street. Or ride a bicycle. Or, for that matter, drive a vehicle.
Pensacola Police Chief Tommi Lyter considers traffic incidents involving pedestrians or people riding bicycles to be one of the city's biggest problems.
"It's the biggest threat to public safety," Lyter said, contrasting the rising incident rate of pedestrian-involved accidents with violent crimes like homicide, which have decreased in recent years.
One reason cited for the city's issue with accidents involving pedestrians and cyclists is the design of its roadways, which were engineered to allow for the efficient passage of huge, heavy hunks of rolling metal. With many streets offering wide, unfettered expanses absent of any medians or islands to calm their flow, drivers are encouraged almost on an instinctual level to take full advantage of the terrain and treat local roads like a NASCAR track.
To deal with this issue and make the city a more accommodating landscape for walkers and cyclists, city officials will soon begin discussing the concept of Complete Streets planning. Again.
Complete Streets is a planning approach that emphasizes pedestrians over vehicular traffic. It includes ensuring walkability via sidewalks and crosswalks. It also includes redesigning roadways so that they feature safe bike lanes as well as traffic calming features like medians.
A lot of items on the Complete Streets checklist—such as the redesigning and, in some cases, reconstructing of roadways—are heavy lifts. But the city will soon begin exploring how the planning approach can best be implemented in Pensacola, and City Councilwoman Sherri Myers thinks there's a lot the city can realistically do to make the area roadways more pedestrian and bicyclist friendly.
"You start with the low hanging fruit," Myers said, suggesting taking a look at restriping some roads before getting into more involved and expensive "road-diets." "It's doable. There's nothing that I can think of that's not doable."
Walking the Gauntlet
Earlier this year, a woman was hit by a car while crossing the road while walking home from a public meeting regarding the city's walkability and traffic issues. She's fine, but a couple of weeks later, another pedestrian was killed in an accident near Pace Boulevard and Fairfield Drive.
"We have a higher rate of bicycle and pedestrian fatalities than the city of New York and Chicago combined," noted Drew Buchanan. "When I tell people that, it kind of sobers them up."
Buchanan sits on Mayor Grover Robinson's transition team and has been tasked with assessing the city when it comes to issues like walkability, bikeability and traffic. In gathering public input on this subject, he's been encouraged to hear only a minimal amount of what he referred to as "pedestrian shaming," or blaming accident victims for things like wearing dark clothing or jaywalking.
"That goes on everywhere," Buchanan said. "It's a culture thing, a mindset thing of driver superiority."
Buchanan would like to see area drivers adopt a mentality that better accommodates pedestrians and bicyclists.
"We have to change our mindset and how we look at things and say, 'Roads were never intended just for cars,'" he said.
Buchanan also envisions physical changes that will help move this mental evolution along. These changes include aspects like more sidewalks and lighting as well as rethinking some of the roadways in the city to incorporate bike lanes and traffic-calming measures.
Pointing to some of the city's better-known speedways—"the roadway encourages you to go 55-60 because it's made for cars, it's so wide"—Buchanan ticks off the same troubled areas as Chief Lyter: West Cervantes, Garden, Pace, Bayfront Parkway, Ninth Avenue.
"Those are typically the worst roadways," Buchanan said, "because they're the widest and have the highest speeds."
Such roadways, some of the state roads, make for daunting gauntlets, with walkers facing four lanes of whizzing traffic. Take West Cervantes, for instance, where crosswalks are few and far between.
"There's a huge sector of the population over there that doesn't have cars. They've gotta walk where they want to go," Chief Lyter said, noting the lack of crosswalks along the stretch of road. "It's hard to blame the pedestrians. I don't think it's really realistic for us to expect them to walk that far out of the way to cross the road."
Lyter noted how roadways within the city were primarily designed with vehicular traffic in mind and at a time when fewer cars were on the road.
Also, more people have begun walking and riding bicycles in recent years.
"The culture is shifting," Lyter said. "I think there are much more people that are more inclined to walk, and I see a lot more bicyclists."
Screaming that for Years
This is not the first time the city of Pensacola has embraced the Complete Streets philosophy. The city council put together a committee a few years back to look at the issue, with Myers and former Councilwoman Megan Pratt leading the effort.
"It's been one of my priorities for many years," Myers said.
The councilwoman recalled that the committee's work was "basically torpedoed" by the previous city administration, "At first, Ashton was giving us staff, and then he wouldn't let anyone work with us."
"Basically, that has produced absolutely nothing tangible," Buchanan said of the city's past efforts towards formally establishing its Complete Streets ambitions.
This month, Myers put the issue back on the table when she asked the city council to dissolve the city's Bicycle Advisory Committee—which dealt with overlapping territory—and establish a committee to explore the issue of Complete Streets, with the eventual goal of writing an ordinance codifying the city's intent to work towards safer streets via municipal planning.
"We can modify a Complete Streets policy for our needs," the councilwoman said, suggesting the city focus on hotspots like West Cervantes and Ninth Avenue.
Myers found a receptive audience when bringing up the issue, particularly with Mayor Robinson—"I do believe that's where we're headed." She's expecting to get rolling with a committee in February and work toward a Complete Streets ordinance from there.
"We've been talking about it. The mayor's been talking about it. Let's just get it done," she said.
As for actually getting anything done, that will likely depend on a combination of logistical practicalities, fiscal realities and political will. Buchanan will be suggesting aiming for the lower-hanging fruit first, like restriping to accommodate bike lanes.
"That dramatically—just by restriping the road, a coat of paint—dramatically reduces the number of bicyclists' deaths," Buchanan said.
Chief Lyter is just happy to see that the city is actively discussing the issue of planning as it relates to safety.
"They're having all the right conversations," Lyter said. "We've been screaming that for years."