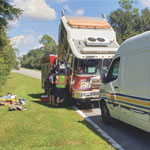 By Duwayne Escobedo
Firefighters in Escambia County posted one picture on their Facebook page of a fire engine broken down on the side of the road undergoing repair. The fire department has just one mechanic in the entire county to work on all emergency vehicles.
Other posts also highlight deficiencies with the hashtag #WhatWillItTake.
Both Fire Chief Rusty Nail and Union President Nick Gradia are putting pressure on Escambia County commissioners to find a solution to what they describe as a "dire financial crisis." The budget has stagnated and without a jolt of funding will put at risk firefighters and the public they have sworn to protect.
Gradia said the fire department has 208 positions, and 20 are unfilled. The department also relies on volunteers but only has about a dozen signed up instead of the 30 it needs.
"One good fire in one of these buildings in the city or Ferry Pass scares the shit out of me," Gradia told Inweekly. "Firemen don't have the resources they need. That is 100-percent reality."
Nail, who also oversees EMS, took over as the new fire department leader in April and has 26 years of experience for Palm Bay Fire Rescue and the Orlando Fire Department. Nail said in an interview with WEAR that his department loses firefighters, for one, because of low pay. The starting salary of $10.79 an hour is the lowest in Northwest Florida.
On top of that, it must make do with aging emergency vehicles and worn out firefighting apparatus. It all adds up to an even bigger problem—lack of coverage and the ability to protect homeowners and business owners from fires and other emergencies.
"You need to have the tools to do your job," Nail said. "Response times are the key to what we do—saving life and property. Seconds count."
The extra attention from area media and citizens becoming more aware of the fire rescue funding woes has resulted in commissioners waking up to firefighters' demands.
Firefighters have taken an aggressive position. On the firefighting Facebook page, area residents have responded almost unanimously with anger toward county officials and support for having better fire service. For example, one citizen commented, "The county has plenty of money to resolve the issue, but as said by others, the BOCC [Board of County Commissioners) cares about themselves only." Another posted, "Every resident, visitor, member and family member of your department should be taking action to resolve this."
District 1 Commissioner Jeff Bergosh has devoted a blog to the problem. Bergosh vowed that he would work with fire and rescue personnel.
"We all support first responders," he said. "We want to do something."
Newly elected District 4 Commissioner Robert Bender also promised to provide his help with a solution.
"It's important to us," Bender said. "Don't think we didn't listen to you guys and it fell on deaf ears. Don't think it wasn't noticed."
Gradia, however, said he wants to see more action, "not political grandstanding," at a commission meeting. In a three-page letter he sent the commission on Escambia County Professional Firefighters letterhead, Gradia, who became a full-time firefighter in 2008 and the union president in 2014, wrote, "We're dealing with people's lives. Open your eyes. We have something big here that needs to be addressed."
Gradia, his wife and four children must live on a tight budget. Other firefighters take on second jobs to support their families, he said. He proposes to increase the MSBU or inject money into the fire department for its growing list of needs from the county's general fund.
"This shouldn't be a public spectacle," Gradia said. "Politics is so ineffective. I'm tired of hearing excuses for stuff."
In his blog and at a recent commission meeting, Bergosh has proposed an alternative solution. He suggested transitioning the budget for fire safety to a Municipal Services Taxing Unit (MSTU) that would tax landowners .9969 mills—almost $10 per $1,000 in property value. Tax dollars now come from the Municipal Service Benefit Unit (MSBU) that is assessed on residential, commercial and unimproved properties.
Among other "creative" funding sources, Bergosh recommended using the county's one-cent sales tax to buy fire trucks, emergency vehicles and other equipment.
"As we get closer and closer to starting the budget for next year, I have a feeling we will be discussing the fire service budget and steps we can take to shore up this budget going forward," said Bergosh. "I look forward to these conversations."