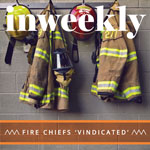 By Rick Outzen
Did you hear the City of Pensacola settled the discrimination lawsuits filed by former Fire Chief Matt Schmitt and Deputy Fire Chief Joe Glover for $575,000?
You wouldn't be the only one if you didn't know about the settlement that was finalized in the last weeks of Mayor Ashton Hayward's administration. The mayor didn't post it on Instagram, Facebook or Twitter. He didn't upload a video explaining why he settled. His office didn't release an announcement or put a blurb about it in his Upwords newsletter.
However, the fire chiefs' attorney Rocco Calamusa of the Birmingham law firm Wiggins, Child, Pantazis & Goldfarb was willing to talk about it.
"Chief Schmitt and Chief Glover are glad the matter's been resolved," Calamusa told Inweekly in a phone interview last week. "They both stand by the allegations that they were retaliated against. Their leave, the investigation and their terminations were in retaliation for complaining about discrimination and filing EEOC charges against the city and its management."
He added, ""They are both glad that they stood up for what they believed was right, and with this resolution, their resignation, and the payments, they have been vindicated and are ready to move on with their lives."
Mayor Hayward fired Schmitt and Glover in May 2016 after a three-month investigation done by Beggs & Lane attorney Russell Van Sickle of a complaint filed against the chiefs by the city's chief human resources officer, Edward Sisson.
The city's announcement of the firings stated, "The decision followed an investigation into the facts and circumstances surrounding fire department management practices. After a review of the investigation, Mayor Hayward determined that the findings of fact that emerged were sufficient to warrant the dismissal of both individuals."
Hayward told PNJ reporter Will Isern that firing the chiefs was likely the hardest decision he's had to make in his first six years in office.
"Tough choices are bound to bring criticism, but it's my responsibility to make them," Hayward told Isern. "I think after you read the report and the way they managed the office, you just lose confidence."
The mayor added, "I think it was looking at the overall report and all the facts that are in the report, I was able to make the decision."
Schmitt and Glover believe the investigation and their terminations were in retaliation for the Equal Employment Opportunity Commission (EEOC) complaints they had filed against the city, Sisson and City Administrator Eric Olson.
Glover, a 26-year veteran of the Pensacola Fire Department, had served as deputy chief since 2011. The mayor told Glover that he wanted him to be the fire chief, but only under the condition Glover dropped a race discrimination suit that he and a group of black firefighters had filed in 2005. Glover refused, and the case eventually ended in 2013.
In December 2015, Glover filed an EEOC complaint that Sisson and the city were discriminating against him based on race. He was not paid at that time the same salary as the previous three white deputy chiefs. Chief Schmitt had agreed and complained to Olson on Glover's behalf in the fall of 2015. Olson did nothing.
Schmitt had over 36 years in the Pensacola Fire Department and had served as interim fire chief since 2010. He filed his EEOC because he believed Olson and Sisson were retaliating against him because of his complaint to Olson about discrimination and retaliation on behalf of Glover.
EEOC complaints aren't uncommon, and government agencies may deal with several during a year. However, Hayward, Olson and Sisson chose to handle the complaints filed by Schmitt and Glover differently.
The Investigation
On Feb. 2, 2016, Assistant City Administrator Keith Wilkins and Human Resources Manager Tracy Walsh met with Schmitt and Glover at city hall and told them they were being placed on administrative leave effective immediately. The chiefs were told the leaves were based on an ongoing investigation. They were ordered to turn over their city-owned cell phones, radio, and keys to city buildings and vehicles. They weren't given any details about the complaint filed against them.  Meanwhile, Olson and Sission were allowed to stay on the job.
At the time of the suspensions, Inweekly polled several HR experts, attorneys and officials with other local government agencies about EEOC complaints. The newspaper was told to place an employee on leave and let the accused remain on the job causes a "chilling effect" on the rest of the workforce.
"This is the exact opposite thing you want to do," said a government official. "You don't want any perception that you are punishing or retaliating against the employee."
After refusing to answer questions from the News Journal and Inweekly, Olson went on NewsRadio 1620 and discussed why Schmitt and Glover had been placed on administrative leave. The city administrator said investigation concerned the EEOC complaints.
"Any time the city receives an EEOC complaint, our insurance carrier is notified," said Olson. "When our insurance carrier is notified, our insurance carrier then takes one of the attorneys that it has on retainer to check into the matter. In this case, it happened to be Rob Larkin from Allen, Norton & Blue."
He said that Larkin advised that the fire chief and deputy chief be placed on administrative leave and the city retain an outside counsel to conduct an investigation.
The court documents include notes from Van Sickle on how his investigation began.
"On Friday, Jan. 29, 2016, I was invited to a meeting at city hall where I was asked to conduct an investigation related to the chief and deputy chief for the Pensacola Fire Department," the attorney wrote. "The decision was made to place the chief and deputy chief on administrative leave with pay pending the completion of the investigation."
According to the attorney, Olson, Wilkins, Sisson, Larkin, City CFO Dick Barker and Assistant City Attorney Rusty Wells were at the meeting, and Hayward joined towards the end.
Sisson met with Van Sickle on Feb. 4 to discuss his allegations against the chiefs. He provided supporting documentation five days later. On Feb. 11, the attorney sent letters to Schmitt and Glover explaining the complaint against them.
In the letters, Van Sickle said Sisson had raised several allegations against them. The issues were:
•Schmitt and Glover intentionally and deceptively deviated from hiring protocol for the recent firefighter hiring round in late January 2016;
•Schmitt and Glover intentionally and deceptively severely retaliated against Edward Deas, an African-American Fire Lieutenant, because Deas made a written complaint about Glover;
•Glover poorly managed a "Firefighter Apprenticeship Program," unnecessarily antagonizing Sisson in the process, where one of the issues was Glover's alleged poor judgment in renting a BMW 5 Series for in-state travel for two persons;
•Glover and Schmitt handled raise requests for the battalion chiefs poorly and then improperly tried to place the blame on Sisson;
•Glover publicly demeaned Sisson during the Firefighters Annual Awards ceremony; and
•Glover improperly tried to obstruct a random drug test.
The Terminations
In early May 2016, Van Sickle delivered his report to Mayor Hayward. The attorney made no recommendations on whether Schmitt and Glover should be fired.
Van Sickle found the allegations against Glover for using a BMW, "publicly demeaning Sisson" and obstructing a drug test warranted no disciplinary action. His review of the alleged mishandling of the raises for the battalion chiefs found there was "blame to go around to all on this issue," meaning Sisson and Olson were also at fault.
Concerning hiring protocol, Van Sickle concluded the chiefs used "poor judgment" to conduct the hiring process without firefighters' panel. However, he did not find that Schmitt or Glover were attempting to manipulate the hiring process to include or exclude any particular applicant. The attorney failed to mention that Schmitt was the hiring authority for the department, not Glover.
Sisson's allegation of retaliation against Lt. Deas was the most serious. Van Sickle stated that "both Lt. Deas's demotion and his subsequent reprimand by Schmitt and Glover were unjustified and constituted improper retaliation."  He determined the chiefs "intentionally violated city policy as to their handling of a firefighter who had made a complaint." Van Sickle wrote the chiefs had committed an "inexcusable act."
After he fired the chiefs, Mayor Hayward repeatedly told reporters that Van Sickle's report was the basis of his decision. In an interview with WUWF, he said, "We got the report back and took our time reading it, got the input, and made the decision."
Hayward said the charge of retaliation against Deas was only part of his decision. He said, "The overall totality of the report—the facts supported what we talked about, so it was easy to look at the report and take my time but most importantly make the decision."
The mayor told WEAR-TV, "There are substantial facts in the report that made it for me easier than I anticipated."
In an interview with Pensacola Voice publisher Jacqui Myles, Hayward said, "I think, most importantly, as we said, we worked smartly. We took our time, out of respect for the gentlemen. We got the report back; we took our time reading it. Obviously, I spoke to counsel, and we made a decision."
He continued, "And I think, Jacqui, the most important thing is, you know, leadership means having to deal with situations that are not pleasant. Tough choices are bound to bring criticism, and it's my responsibility to make them."
Several council members were upset when Hayward fired the chiefs. Over the objections of the mayor and Barker, Council President Charles Bare called a special meeting to discuss the terminations.
Barker sent a memo to Olson warning that any public discussion of Mayor Hayward's investigation and termination of Schmitt and Glover by the city council could lead to the city's insurance carrier not covering any claims filed by the chiefs.
Hayward published an open letter to the citizens on his Transparent Pensacola webpage. The mayor called the special council meeting "ill-advised" and "a staged rally for the terminated employees." He said that his firing of the two men was "an irrevocable decision."
When he was criticized by the News Journal, Inweekly and several council members, Hayward sent a memo to the council on May 28, 2016. He said the investigation was "fair," "conducted independently of city input," and "had no predetermined outcome."
He specifically noted the attorney's analysis of the allegations concerning Deas and not following hiring protocols. Hayward said, "If Council was truly concerned about retaliation and the failure to follow policies, the Council would have fully supported the actions taken in on May 10 to remove the former interim and deputy fire chiefs."
He added, "These are tough choices and are bound to have criticism, but it's my responsibility to make them."
The Depositions
A little more than18 months after he sent his memo to the city council, Mayor Hayward could not remember much about the report and his "tough choices" to fire the chiefs, according to court documents.
During his December 2017 deposition, Hayward said that his administrator, Olson, and attorney Larkin recommended he fire Schmitt and Glover. He didn't remember if he discussed the report with Van Sickle.
He said he fired the chiefs because of the "findings in the report." However, when he was questioned about the six issues in Sisson's complaint, which Calamusa said Van Sickle had found to be unfounded, Mayor Hayward replied the same each time.
Were they fired for not following hiring protocol? "I don't recall."
Were they fired for retaliation against Deas? "I don't recall."
Were they fired for failing to address battalion chief pay raise requests on a timely basis? "I don't recall."
Was Glover terminated for mismanagement of fire apprenticeship program and rental of a BMW? "I don't recall."
Did you terminate Glover for comments made during the firefighters' annual awards ceremony? "I don't recall."
Was Glover terminated for unreasonably resisting a drug test? "I don't recall."
Calamusa deposed Olson the day after Hayward was questioned. The city administrator said he wasn't aware of any performance or discipline issues with the fire chiefs before January 2016. Contrary to the mayor's statement that the administrator had recommended the terminations, Olson said, "I wasn't involved in any decision."
The administrator said he had done no investigation of Chief Schmitt's complaint that Chief Human Resources Officer Sisson was discriminating against Deputy Chief Glover, even though city policy mandated such claims should be investigated.
In the six months following his deposition, Olson would face two allegations of a hostile work environment and an Equal Employment Opportunity Commission complaint of discrimination.
Constituent Services Administrator Latasha Buchanan in March 2018 filed a harassment complaint against Olson's executive assistant that cited "Mr. Olson's inaction to resolve the problem." An investigation done by the HR department found Olson's failure to correct the situation from the beginning (February 2017) had produced "a toxic work environment for many of the staff in the mayor's office."
Former Escambia HR Director Rod Powell conducted a separate independent investigation. He found Olson failed to take timely corrective action and report the incident to HR immediately. Olson resigned as city administrator in August 2018. He was never placed on administrative leave while under investigation.
During the deposition, Olson couldn't explain why the Parks and Recreation Director Brian Cooper had been given only a written reprimand when he violated hiring policies and had not been suspended. He couldn't tell why Schmitt and Glover hadn't been reprimanded for the alleged discrimination against Lt. Deas in 2015 and instead the chief had been allowed to give Deas a written reprimand.
Chief Human Resources Officer Sisson was deposed on Dec. 19, 2017. He couldn't remember discussing with Larkin any issues with the chiefs before the EEOC complaints.
In the drug testing incident, Sisson had emailed Glover that the city administrator had directed the deputy chief be tested. However, Olson said he never did. Sisson couldn't recall why he put that statement in his email. The delay in testing was apparently 30 minutes. When asked what was his basis for saying Glover didn't  cooperate, Sisson said, "I don't know."
Except for the hiring protocol issue, all of Sisson complaints were for incidents that happened in 2015. The chief human resources officer couldn't recall why they weren't investigated and any reprimands issued when the alleged events occurred.
Sisson couldn't explain why Schmitt and Glover were singled out for investigation over not following the hiring process and Battalion Chief Brock Jester, who failed to notify HR of the physical abilities testing date, was not investigated. Jester is currently the deputy fire chief.
He didn't know why Schmitt and Glover were treated differently for not following hiring protocols than Brian Cooper.
Sisson said he consented to the written reprimand for Lt. Deas as an accommodation to the chief and his "authority to discipline his employees." However, he said his investigation of the incident was still open because of a rebuttal submitted by the firefighter in late December.
He said had overturned other disciplinary actions that employees appealed to him. Did he request investigations into their department heads?  Sisson said, "I don't recall."
Attorney Van Sickle was deposed about his report. He said no city rule laid out the specific hiring process for firefighters.
He said his report made no recommendations concerning the chiefs. Van Sickle stated, "I did not involve myself in making any decisions about whether to do something or not do something with either Mr. Glover or Mr. Schmitt."
The Settlement
After depositions, the attorneys held discussions for several months. Mayor Hayward announced he would not seek a third term. Olson resigned. Mayor Hayward agreed to settle the lawsuit as the 2018 general election approached. The Pensacola City Council and the citizens were not notified.
Glover told Inweekly that he was happy that his three-year ordeal to restore his name and reputation had ended. The incident, particularly how Wilkins put him and Schmitt on administrative leave, brought back bitter memories of the discrimination he had battled in the Pensacola Fire Department.
"It took me back to the time where I found the noose that was left for me in my workspace in 1999," he said. "I had just come back off of reserve duty when I found the noose in '99.  When they summoned me to city hall in 2016, I'd just come back off of reserve duty. I feel like I was lynched by that noose."
He firmly believes the investigation and his termination were retaliation for the EEOC complaints filed against Sisson and Olson. His belief is supported by the Florida CFO's website that lists the details on every firefighter in the state. The records for Glover and Schmitt showed their employment with the city ended on Feb. 15, 2016, not May 10, 2016.
"Despite Hayward's assertion that he waited for the report before making any decision on our jobs, the records prove the decision had been made before Van Sickle had even interviewed us," said Glover.
He said the mayor never met with him to discuss Van Sickle's report before he was fired.
"There was no notice whatsoever," he said. "It was just done abruptly. The mayor didn't meet with Chief Schmitt or me. We again met with Keith Wilkins and Tracy Walsh, and they just simply handed us a termination letter and let us know that we were terminated."
For Glover, his lawsuit against the city wasn't ever about the money.
"It was extremely hard on myself and my family after putting 26 years into a profession that I tried my best to make better," said Glover. "My family really struggled with it because they just couldn't understand why."
He added, "What was really troubling for me was I couldn't explain the investigation to them. I sincerely couldn't understand fully what was going on."
The settlement did give the former deputy chief a sense of vindication.
"Based on the fact that they ended up settling with a large sum of money, which I know they did not want to do, I feel vindicated in that regard," he said. "I feel vindicated because they weren't able to prove their case. There was really no case."
Glover added, "I think that when everyone examines everything that happened, and they deconstruct the depositions and all of the court documents that have been filed, they'll see that it was definitely a case of retaliation."