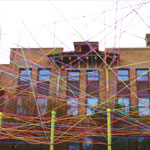 Foo Foo Presser The nonprofit organization, Art, Culture, and Entertainment, Inc. (ACE) has announced the 6th Annual Foo Foo Festival will take place Oct.31-Nov.12.
A new committee will steer the 2019 festival and the deadline for organizations to submit grant applications is April 26. ACE will host a public meeting to announce the new Foo Foo Festival committee, grant structure and deadlines 10:30 a.m.-noon Friday, Feb. 1 at The Palafox House, 196 N. Palafox St.
All Pensacola nonprofit and cultural organizations are encouraged to attend. For more information about ACE, visit acepensacola.org.
Racist Past When the Pensacola City Council was trying to figure out what Mayor Ashton Hayward was doing with Fire Chief Matt Schmitt and Deputy Fire Chief Joe Glover in 2016, a retired Pensacola firefighter gave them a history lesson.
John Newton was hired as the city's first black fireman in 1969 with the help of Gen. Chappie James. He reminded the city officials of how difficult it has been for any African-American to work for the Pensacola Fire Department. Newton was concerned that when Joe Glover was made deputy fire chief that his pay was not at the level of the two men he replaced, even though he had more education and experience.
"I'm going to give you a history lesson. In 1969, a man came up and asked me would I take the test for the fire department because he said that the personnel manager said few blacks took the tests or those that did take it couldn't pass it," said Newton.
He took the test and had the highest score. Newton said, "I didn't think any more about it until I found out that they hired 12 people without any call to me for an interview, which was against the Civil Service regulations."
James heard of the slight.  He had lawyers in Atlanta contact Newton.
"They gave the city notice that we were going to file a suit against the city," recalled Newton. "The fire chief called me and asked if I could come down for an interview. He said that he had promised the opening to somebody else and he would give me the next opening.
The next day, the Florida Highway Patrol contacted Newton and said the fire chief had called the agency and told it to offer him a job. Newton said, "They didn't want any blacks on the fire department back then."
James intervened and promised to pay for lawyers to fight for him.
"The next day, the chief called me and asked, 'When do you want to go to work?'" Newton told the council. "I spent 10 years at a station where I was the only one sleeping in my bed. I didn't have to take the linen off the bed at the end of each watch because nobody was sleeping in my bed."
He continued, "I tell you, one time I came to work, and all the beds were out on the hose rack. I asked what was wrong. They said they had bed bugs. I said, 'Well why did y'all put my bed out there?' 'Yours didn't have any bed bugs.' After that, everybody wanted to sleep in my bed."
When Newton got hurt on the job, he was transferred briefly to inspections. He overhead the fire chief say he wouldn't be returning to the fire department. According to Newton, the fire chief said, "We never had any blacks in a white shirt in this department, and as long as I'm the chief, we won't have one."
Newton added, "I'll say 'blacks,' but that's not the word he used."
Attorney John Lewis Allbritton called for a meeting with Assistant City Attorney Rusty Wells, the city attorney, city manager and the fire chief.
"After a few questions that the attorney asked the fire chief, Rusty Wells stood up and said, 'This meeting's over with. Chief, you can leave. Chief doesn't know what he's talking about,'" said Newton. "The chief ended up retiring at the end of the year, two months later."
First Town Hall During his first town hall meeting last week, Pensacola Mayor Grover Robinson heard from citizens on a range of issues, from on-the-ground concerns like sidewalks and street lighting to bigger-picture concepts like the future of the city's port and the potential for municipal expansion via annexation.
Robinson, along with City Councilman Gerald Wingate, held the town hall at District 5's Woodland Heights Resource Center. The mayor plans on hosting similar events in each of the city's seven districts within six months.
Robinson began hearing concerns at Woodlands Heights before he'd even wrapped up his introductory comments, with John Jerralds, a former city councilman and current president of the Northwest Neighborhood Association, taking a nod from the mayor as an opportunity to speak.
"We're with you when it comes to sidewalks," Jerralds said, describing safety concerns about how drivers just outside the community center "drive around that curve like it's a racetrack."
"We are in desperate need of speed bumps and traffic calming devices," he said. "It's a hazard."
Several speakers mentioned the need for similar neighborhood improvements, such as more sidewalks and better lighting, as well as efforts to slow traffic. The mayor responded that he was looking to address such issues.
"We absolutely are focused on that," he said.
Resident Kimberly Gulley, who lives near the community center, spoke with the mayor about flooding issues in the area. She said her neighborhood was all too familiar with flooding but that she had found the city unresponsive in dealing with the matter.
"I've had to have my floor raised twice in my den," Gulley said. "I've been begging and begging for the last several years, and nothing has been done."
Robinson directed Gulley to Director of Public Works Derrik Owens, who was seated nearby.
"We'll come out there and try to figure out what we can do," he said.
The issue of expanding the city's boundaries also came up during the town hall meeting, with a couple of people urging the mayor to pursue annexation of areas outside the city limits.
"I think we should really work to get this city the size it should be, over 100,000," said Samuel Horton.
"I would love to do annexation," Robinson agreed that increasing the city's population would have its benefits but noted that residents living in the areas eyed for annexation would need to be on board.
Another concern raised during the Jan. 25 town hall was related to the city's hiring of African-Americans. Jerry McIntosh said that Pensacola needed to make more of an effort toward hiring black employees and also raised the issue about what he said is a general perception of the area as being unwelcoming to African-Americans.
"Too often, the perception here is that it's a hostile atmosphere," he said.
Robinson said the city would continue to focus on minority recruitment and creating an inclusive environment.
"That's a priority of mine," the mayor said, "to make sure we all feel like we're working together."
UWF Nabs National Event Every year, the University of West Florida sends about 50 students to the National Conference on Undergraduate Research (NCUR). In 2022, universities across the United States will send about 4,000 students to Pensacola for the three-day scholarly conference. NCUR will be one of the largest events hosted by the area.
The NCUR event, which began in 1987, features scholarly research, networking and recruiting by graduate schools and corporations.
Not only do UWF, its undergraduate students, its faculty and advisors benefit but so will Pensacola. For the past six years, SkillsUSA has brought 3,500 people to the Gulf Coast area to explore its white sandy beaches, history and other attractions. Visit Pensacola reports it recently applied to support the event, which generates $1.4 million in economic impact, for another three years.
The NCUR event—scheduled for April 6-9 in 2022 in Pensacola—is open to undergrads in all majors, from chemistry to English to art.
The variety of degrees is one aspect that Allison Schwartz likes about the conference. The director of undergraduate research said the university, which is one of the top 20 institutions in the number of attendees, plans to bring an additional 50 students to observe the upcoming annual event this spring at Kennesaw State University. So far, 51 UWF students have applied to present at the conference.
"A few years ago, when we started, we were blown away at how much fun students had and what a great opportunity it was," Schwartz said. "It's an exciting opportunity and big deal, not just for our students but for Pensacola, as well. These students will be taking over our town."
Hiring Events The National Flight Academy (NFA) is hosting a hiring event for all seasonal and part-time camp counselor positions 9 a.m.-noon, Saturday, Feb. 2. Doors will open 15 minutes before each start time.
Staff are expected to be available to work the full summer session—May 26-Aug. 16. However, the NFA is willing to work with prospective staff who may not be able to commit to working the entirety of the summer. Applicants must be age 19 or older, pass a level two background screening and have a state-issued driver's license or identification card.
"While working at the National Flight Academy, staff members will have the opportunity to make a positive impact upon the lives of our campers as well as on their own lives," said Carlee Clark, program manager. "Staff members participate in a two-week-long training period and learn about the NFA's educational program as well as child development issues, conflict resolution, team building, communication and leadership skills."
Interested applicants will gather in the National Flight Academy's Wardroom for an introduction and overview of our mission before being given a tour of the facility. Following the tour, applicants will return to the Wardroom for a question-and-answer session. The National Flight Academy will have signup sheets for interview slots available for anyone interested in applying. All applicants are guaranteed an interview.
The National Flight Academy is located at 1 Fetterman Way, Naval Air Station Pensacola. All unescorted visitors to the Naval Air Station who do not possess a valid Department of Defense identification will be required to enter the base via the West Gate, located at 1878 S. Blue Angel Parkway.
Also, on Saturday, Feb. 2, Pensacola State College will host the 24th Multicultural Job Fair from 9 a.m.-noon in the Student Center, Building 5, on the Pensacola campus, 1000 College Blvd.
The public is invited to meet with employers such as ST Engineering Aerospace, CareerSource Escarosa, Cox Communications, Escambia County School District, LandrumHR, Mediacom, the City of Pensacola, Regions Bank, the United Way of Escambia County/VISTA and more.
Come dressed to impress and bring your resume and cover letter. This free event is sponsored by the college's Student Job Services and Black History/Multicultural Committee. For more information, call 484-2116.
2019 Annual Winter Conference Educators and interested individuals are invited to attend the Emerald Coast Teachers of English to Speakers for Other Languages (ECTESOL) annual winter conference on Saturday, Feb. 9, at the University of West Florida International Center, Building 71, from 9:30 a.m. until 3 p.m.
The theme of the conference is "Exploring Paths to Literacy Proficiency." Guest speakers include keynote speaker Ginger Alberto, program director of the Florida Department of Education Student Achievement through Language Acquisition Bureau, who will speak on "Meeting the Needs of English Learners in Literacy Proficiency."
A featured speaker, Dr. John Pecore from the University of West Florida and president-elect of the Foundation for Public Schools of the Escambia School District will share his expertise in writing winning grants.
From attending the conference, participants can expect to learn best classroom and policy practices based on current research and pedagogy that are applicable in language acquisition and academic achievement, earn in-service credits, receive a year's membership to ECTESOL and enrich one's cultural knowledge.
The registration form may be downloaded from emeraldcoasttesol.org. The registration fee is $25. For more information, please visit emeraldcoasttesol.org.
Mark Your Calendar Elaine Sargent, chair of the City of Pensacola's Climate Mitigation and Adaptation Task Force, will address the committee's recommendations for how Pensacola can confront the global climate crisis at 350 Pensacola's monthly speaker series on climate change and related issues. The event is 6 p.m. Monday, Feb. 4, at the Downtown Public Library, 239 N. Spring St.
The Office of Supplier Diversity, City of Pensacola and the Gulf Coast Minority Chamber of Commerce present the 2019 Pensacola Supplier Diversity Exchange 8 a.m.-3 p.m. Tuesday, Feb 5, Sanders Beach-Corinne Jones Resource Center, 913 S. I St. The Pensacola Supplier Diversity Exchange will include a panel discussion, networking opportunities and one-on-one interviews.
The Pensacola MESS Hall's annual gala, MESS Hall Goes Gourmet, will be held Friday, Feb. 8, at Sanders Beach Corinne Jones Community Center. Guests will enjoy a five-course meal prepared by top local chefs. Featured chefs include Jordan Hewes, Craft Gourmet Bakery; Irv Miller, Jackson's Steakhouse; David Penniman, Classic City Catering; Blake Rushing, Union Public House; and Josh Warner, The District. Each chef will share a little of the science behind the menu during each course. Tickets for the event are available at pensacolamesshall.org/gourmet.