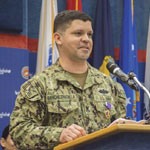 Winners
Eduardo Sanchez-Padilla
Hospital Corpsman First Class Eduardo Sanchez-Padilla was recently awarded the Purple Heart at a ceremony at the National Naval Aviation Museum at Naval Air Station Pensacola. While deployed with a Marine Corps unit in the Helmand Province in southern Afghanistan, a roadside bomb exploded 10 feet away from Sanchez-Padilla. He helped two others who had been injured, not realizing that he had also been wounded by the enemy.
Jack Fleming
A medical pioneer and patron of local arts and a proud son of Pensacola recently passed away at the age of 94. At Baptist Hospital, Dr. Fleming helped to establish the first intensive and cardiac care units in the region. At Sacred Heart Hospital, with Drs. John Wimberly and Curtis Williams, he started the hospital's first open-heart surgery unit. He joined forces with Dr. James Andrews and Dr. Ken Ford to establish the region's first nuclear cardiology department. He and his wife Carolyn Fleming wrote the award-winning musical "Seaplane," helped create the "Evenings in Old Seville Square" and co-authored the books "Thinking Places, Where Great Ideas Were Born" and "Perils!" He will be missed by Inweekly and the rest of this community.
Kara Bloomberg
LandrumHR appointed Bloomberg as its chief operating officer. She will assume responsibility for leading the overall strategy and operations for LandrumHR. In this role, Bloomberg will direct the operations of the company and be responsible for growth strategies as the company expands its services nationwide.
Losers
Andrew Gillum
The Florida Commission on Ethics released documents last week supporting the panel's unanimous finding of probable cause that the 2018 Democratic nominee for governor violated ethics laws with trips to Costa Rica and New York and tickets to the Broadway hit musical, "Hamilton." The five charges carry potential sanctions of public censure and reprimand and fines of up to $10,000 each. Gillum has requested a hearing in the case and has steadfastly maintained that he hasn't broken any laws or committed any wrongdoing.
U.S. Military Academies
Sexual assaults rose sharply at United States Military Academy at West Point, the United States Naval Academy and the United States Air Force Academy over the past two years. Despite the Pentagon's efforts to encourage students to report assaults, unreported cases surged by almost 50 percent during the 2017-18 academic year, a Defense Department study found. More than half involved alcohol, and the survey found nearly a third of male students and 15 percent of females said they drink heavily.
City of Pensacola
The National Council for Home Safety and Security last month announced its ranking of the Safest Cities in Florida for 2018. Last year, Pensacola was ranked 111 on the list. The "City of Five Flags" failed to make this year's ranking of 134 safest cities. These findings were achieved by examining data from the FBI's Uniform Crime Reporting tool and combining it with the council's internal population research.