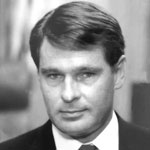 By Duwayne Escobedo
Russell Edgar Jr. has traded his law books for fishing rods. A fixture in the courtroom, the state prosecutor now spends his days tinkering on his 34-foot sailboat. The other day, he replaced a critical wire to the engine, started to put together a weather vane in the bow and installed sleek wooden racks below deck to hold his poles.
"I don't miss it one bit," said the nearly 70-year-old of his court battles.
Edgar often took the helm in the largest and most significant trials in Northwest Florida. Not only did he put the bad guys behind bars, but he also weighed in on huge issues plaguing Florida and American society.
Most recently—and the main reason he delayed finally retiring—he tackled charter schools. Seen as one way to improve education, Edgar exposed that the lack of oversight and regulations can lead to corruption. When physicians made millions writing prescriptions for OxyContin and other opioids, he convicted the first doctor in the country operating a "pill mill" that made the physician a millionaire. He successfully abolished the Escambia County comptroller position by unmasking Joe Flowers' investments in risky derivatives that lost taxpayers at least $15 million.
Edgar served as legal advisor to grand juries that issued comprehensive environmental reports exposing just how toxic the county's air, water and drinking water is. He took on payday lending, nursing homes and internet gambling, too.
"I wish I could have done more," Edgar told Inweekly in an exclusive interview around his large cherry wood dining table off the kitchen.
His wife for more than 30 years, Sharon Barnett, also an attorney, sat across from him at the table. She admires what her husband has achieved in the courtroom.
"We joke that together, we make one perfect lawyer," said the 65-year-old mother of three. Edgar concurred, "She makes me a better lawyer."
Childhood Dreams
Edgar grew up a military brat traveling the world from Patrick Air Force Base in South Florida to Japan. His dad made a career out of serving in the U.S. Air Force. His mom was an artist.
At 10, he made up his mind on a few important life choices. He wanted to live in Florida. He wanted a boat so he could fish. He wanted to be an attorney.
"It's all I wanted to do," Edgar said.
The young Edgar, who recalled a happy household, attended four different high schools. All the moving made him able to make friends easily.
"I was always able to get along with people pretty well. I like people, but I like dogs better," he said laughing.
Edgar said growing up his father was "pretty tough." He said, "He was no-nonsense, but he was a good guy. We would go fishing a lot."
If the young Edgar happened to step out of line, he recalled his two sisters always willing to diss on him.
At 17, his dad dropped him off at Florida State University. His mom had some reservations since he would be living in a coed dorm. While his mom fretted, his dad said, "C'mon, let's go."
Edgar ended up working his way through college and law school painting houses, working in a paper mill and doing other odd jobs. After graduating, he followed his father into the Air Force and joined the JAG Corps.
As a defense attorney who retired as a lieutenant colonel, he won two cases in Guam and said after that, he was banned from trying any more cases on the small island west of the Philippines. He also provided legal services to Duke Field, Hurlburt Field and Eglin Air Force Base.
Edgar's wife said they would often enjoy "spirited" legal arguments around the dinner table. It led their three children to roll their eyes and plead, "No law talk. No law talk."
Speaking of, the two still remain on opposite sides of the death penalty—Edgar for; his wife against. The question briefly inflames another debate. "Good Lord judge me if I'm wrong," he resigned with a sigh.
Working for a Living
Edgar ended his career with the JAG Corps after a four-year stint. He then joined forces with State Attorney Curtis Golden as an assistant felony prosecutor. There, he began what some might call a highly successful, if not legendary, career.
One of the most well-known cases involved serial killer Judy Buenoano in 1984. It was Edgar who gave her the nickname that stuck—Black Widow. He said during the trial, "I likened her to a black widow who fed off her males and her young."
That's because Buenoano used arsenic to kill her husband, Air Force Sgt. James Goodyear, in 1971. Edgar called a San Diego expert in arsenic poisoning to testify. She also drowned her paraplegic 19-year-old son, Michael, in a canoe in the East River near Milton in 1980. In 1983, she maimed fiancé John Gentry in a car bombing in Pensacola. All of her crimes were committed to collect insurance money.
Additionally, she allegedly poisoned to death her common-law husband, Bobby Joe Morris, in 1978 in Colorado. She also was linked to murders in 1974 in Alabama and the murder of boyfriend Gerald Dossett in 1980. She avoided trial on those killings because they came to light after her conviction in Pensacola.
Edgar said evidence suggested she poisoned one husband simply because he refused to pay for her cosmetic surgery. After he died, she had the surgery performed, Edgar reported.
Her three convictions earned her a death sentence in Florida's electric chair in 1998. She became the first woman executed in the state since 1848 and the first woman put to death in an electric chair since 1957. Buenoano also became the third woman executed in the United States since the country reinstated capital punishment in 1976.
It was "twisted greed," said Edgar, who prosecuted 3,000 felony cases.
Tailgating at Doctor's Office
In another case in 2002, Edgar convicted Florida's No. 1 prescriber of the powerful painkiller OxyContin. Dr. Joseph Graves cleared $500,000 at his Pace and Brewton, Ala., clinics where drug addicts tailgated in the parking lots. Four patients died on "Graves' Cocktails," a concoction of painkillers, tranquilizers and muscle relaxants.
During the six-week trial, Edgar called more than 250 witnesses to earn a conviction on four manslaughter charges.
"He is no different than a drug dealer," Edgar told the jury.
Meanwhile, because Graves became the first doctor in America convicted of operating a pill mill, Edgar traveled across the country to share his trial playbook.
"Doctor or drug dealer? What's the difference?" Edgar asked in his recent Inweekly interview. "People said we couldn't prove it. No one had been checked out before. I got a lot of people calling me to learn how to do these cases."
Educating the Educators
Whistleblowers came forward to the state attorney's office with claims of fixed state tests, stolen Student Government Association funds and an inappropriate relationship between a teacher and student.
In the middle of the night, Edgar remembered seeing several worthless checks totaling thousands of dollars. That's when he requested hundreds of pages of banking and other financial documents from Newpoint Education Partners charter school. It unveiled that owner Marcus May robbed the school districts of Escambia, Bay, Broward, Duval, Hillsborough and Pinellas counties of more than $5.2 million. May used the money to finance exotic trips, expensive sports cars, multiple homes and jewelry.
May earned a 20-year prison sentence in November 2018 for his unprecedented fraud scheme.
"The education of our young shouldn't be taken away for pure greed," Edgar said at the sentencing.
The case partly delayed Edgar's plans to retire. He wanted to inform other education officials, lawmakers and prosecutors how to build a case against charter schools that break the law. Charter schools have popped up across the country as a way to improve education by imposing less oversight and fewer regulations.
"Charter schools in Florida are a real problem," Edgar said. "It was the first charter school case in our part of the country."
Exposé on Environment
Edgar also headed grand juries that released comprehensive environmental reports in 1999 and 2003. They concluded that environmental regulators, such as those at the Florida Department of Environmental Protection, failed to enforce laws. They allowed utilities and corporations to continue to operate despite air and water quality violations.
It uncovered that 35 waterways in Escambia County suffered from pollution. It also discovered that the sand and gravel aquifers across the county contain harmful chemicals from mismanagement by ECUA and toxins from six Superfund sites and other sources.
Together, the two special grand juries issued 51 recommendations to clean up Escambia's air, waterways and drinking water for future generations.
The grand jury reports fulfilled Edgar's desire to work for the public good.
"You don't see many fishing boats in the bay," Edgar pointed out. "And we laid out the groundwater contamination. Three-quarters of our wells have filters on them."
Using R.I.C.O.
Edgar estimated during the past 10 to 15 years that he has used the Florida Racketeer Influenced and Corrupt Organizations (RICO) Act to prosecute more than 100 cases against a variety of entities in traditional and non-traditional criminal activities. It requires proving a person has participated in an enterprise involving racketeering. The state law closely mirrors the federal one created in the early 1970s and carries up to 30 years in prison.
His reputation for employing RICO began with a case against Dean Baird Jr., aka "Capt'n Fun." Baird was convicted of operating an illegal betting ring that included some of Pensacola's most prominent citizens from more than 50 law firms, a doctor's office, banks, restaurants, bars and retail stores. He made about $6 million annually between 1981 and 1986.
Edgar remembered a story from that case involving State Attorney Curtis Golden. Edgar rebuked the founder of a high-profile Pensacola law firm at Baird's bond hearing.
"After I had done that, I thought, 'Oh, no, there are going to be some ramifications,'" Edgar said. He approached Golden about the confrontation. "He said, 'That was what you're supposed to do.' That's the kind of support I've enjoyed at the State Attorney Office."
He added, "I had a lot of freedom in my job to do cases prosecutors have rarely ever done. I never did a case I didn't agree with or think shouldn't be done."
That support makes him regret running for judge in 1988. He said he exhausted his campaign funds and withdrew after making the run-off.
"I'm glad I didn't get it," Edgar said. "I think it was ill-considered."
Pensacola defense attorney Barry Beroset went head-to-head with Edgar in several prominent cases over the past 40 years, including a gambling case when the racketeering law was still relatively new.
"He was a very formidable opponent," Beroset said. "In my mind, he's the best prosecutor in white collar and complex cases. I remember challenging the racketeering charge. Russ Edgar had the person who wrote that statute as a witness. Needless to say, I didn't win that motion."
Beroset is not the only one impressed by Edgar's legal skills. So is State Attorney Bill Eddins.
"You don't replace a Russ Edgar," Eddins said. "He's one of a kind. He was involved in every big economic case we had. He had an extreme load for more than 40 years. I could go on and on about the significance and importance of all of his cases for the First Judicial Circuit."
Not everyone liked Edgar's aggressive courtroom style. In fact, disbarred attorney Harvey Tipler received a 30-year prison sentence in 2013 for racketeering. He tried to hire someone to kill Edgar.
"I've had a good career," Edgar said humbly as he flipped through one of more than a dozen binders filled neatly with newspaper clips detailing his cases. "Thinking about it makes me kind of tired."
Time to sail away.