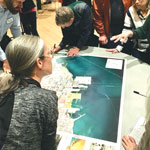 By Jeremy Morrison
Pensacola's downtown lives on the water's edge, with the bay lapping up against a variety of landscapes. Gena Wirth is pretty familiar with the territory.
"There are great spaces along the waterfront," said Wirth, a landscape architect. "There are oyster reefs, there's marsh habitat, there's incredible memorials, there's parks, there's coves, there's slips, there's Maritime Park and lots of programs and activities, there's great immersive spaces—like Bruce Beach recently opened up—but they're very difficult to connect."
Recently, Wirth and some colleagues from SCAPE, an urban design firm with studios in New York and New Orleans, went on a bike ride along Pensacola's waterfront.
"The views were gorgeous," said Lee Altman, an associate with the firm, "There's robust ecology and a lot of real interesting things going on, but if you wanna walk along the waterfront from one end of the city to the other, you just can't."
Actually, you can. And they did. It just wasn't easy or inviting. It was "inhospitable" and "not the safest, necessarily."
"You have to hop curbs, sidewalks. You have to know something is behind a corner. You have to move out of a right-of-way of private property," explained Wirth. "There's a lot of barriers."
The folks at SCAPE were already aware of downtown's waterfront accessibility and connectivity issues. The team got to know the terrain during a visit as featured speakers at last year's CivicCon, a series of presentations aimed at stoking civic engagement on a variety of fronts, sponsored by the Pensacola News Journal and the Studer Community Institute.
The CivicCon concept recently spun off a full-time organization, the Center for Civic Engagement, with the mission of equipping citizens with the tools and knowledge needed to engage in the civic conversation effectively. The center's first initiative, which is funded by Quint and Rishy Studer, involves inviting SCAPE back to town to reimagine Pensacola's downtown waterfront from the Bay Bridge to Joe Patti's.
The landscape architects are looking to reconnect the city with its waterfront and ensure it flows for foot traffic and cyclists. The firm is assessing the downtown waterfront at a particularly ripe time, with the new Bay Bridge nearing completion, the Port of Pensacola struggling through an identity crisis, multiple undeveloped waterfront parcels at Maritime Park and another vacant 19-acre question mark looming just across the street.
"I think the potential of Pensacola's waterfront is wide open," Wirth said.
Places That People Really Want To Be
The SCAPE team has been digging into Pensacola's waterfront for about a month already, researching the city's history, its environment and ecology, its assets and challenges. In the final week of January, the landscape architect firm came to town for a closer look.
In addition to getting an on-the-ground feel for the waterfront, SCAPE sought public input.
"To learn and understand from you what you are interested in this space being," Wirth told a packed house at a Jan. 29 public forum.
SCAPE also met with elected officials as well as waterfront and downtown property owners. The firm wanted to return to its studios with a good understanding of how the community envisioned the downtown and its silvery, lapping waterfront.
"It's very important for us, as part of our practice, to work with residents and with communities and different stakeholders," Altman said.
SCAPE will take five months to complete its work, returning to Pensacola for further public engagement during the process. Initially, the firm will work on creating a framework plan for the waterfront—emphasizing connectability—and then begin focusing on two particular points of interests, what the firm refers to as "catalytic" points.
"With a catalytic project, we're trying to find a couple of points that will help trigger further development that would have a return on investment for the city, for property owners around the waterfront," Altman explained. "You can get more bang for your buck."
As of yet, SCAPE hasn't identified these catalytic points. They could take a variety of forms. Improvements enhancing Bruce Beach could be catalytic. Something at the port might be catalytic or perhaps that holy-grail collection of parcels at Maritime Park and the nearby 19 acres, the latter of which the Studers own. Last fall, the city agreed to have the developer and philanthropist develop a master plan for the park and the former ECUA site.
"Many sites could potentially be truly catalytic with some change," Wirth said. "I definitely think the 19 acres is a great opportunity and must be done right, but there are equally catalytic moments that are much smaller, much more strategic that could help unlock the potential of continuity and access."
He added, "I feel like we really are in this listening stage, and we don't have the answers yet, so I can't tell you what is the most catalytic site right now."
Once SCAPE completes its work, the firm will present the Center for Civic Engagement—and for all practical purposes, the city's citizens and elected officials—with "an array of potential projects that build into a larger, collected waterfront vision." That vision, Wirth said, will be built on the concept of a fluid public sphere.
"I think a continuous public realm could improve connectivity and amplify the experience of places that are already great," she explained, "places that people want to be, places that young people want to come to and stay in Pensacola because of."
Imagine What Would Be Possible
When Wirth visited downtown Pensacola, one of the things she noticed—or, rather, didn't notice—was its waterfront.
"When you walk along Main Street, you don't have a strong sense that the water is right there," she said.
In addition to drafting a vision for a continuous, accessible waterfront in a physical sense, SCAPE will also be striving to strengthen downtown's emotional connection to the bay—drawing inspiration from the city's maritime culture and attempting to foster a "deeper connection to the water."
"Trying to create more emotional ties between the waterfront experience that the city is founded upon and the everyday experience of living in the city of Pensacola," Wirth said.
Over the course of SCAPE's work, the firm's vision of Pensacola's waterfront will likely evolve and will be built by dreamers and workshopped by realists.
"We start in the clouds, and we try to bring it down to Earth," said Altman, stressing the importance of suspending disbelief, of being open to anything, during the creative process. "So, you have to imagine what would be possible with no limitation, and then look at the situation on the ground and understand what the limitations are, how you work with them, how you get around them, what's the best way to implement a version of the vision."
When SCAPE presents whatever version of its vision that it feels will best benefit Pensacola, it will then fall upon the community to decide if it should be pursued. If it is—or a version thereof—Wirth believes it will create an array of benefits for the city.
"In terms of establishing a strong sense of place, improving community connectivity, really connecting the east and west of Pensacola, those are things I think have great benefit and are almost immeasurable," she said.