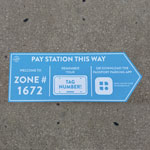 New Parking App On Friday, Feb. 1, the Downtown Improvement Board (DIB) launched a new mobile app, Passport Parking, for downtown parkers, along with improved parking signs, sidewalk decals, printed info cards and a street team ready to assist drivers at DIB-managed parking spaces.
The Passport Parking app covers parking in DIB-managed parking spots including those inside the Jefferson St. Garage. Integrating with the DIB's existing software, Passport Parking's dashboard will provide DIB parking ambassadors and management with real-time access to data—critical information when customers need assistance.
The new app will cut costs for downtown parkers as well—the price to start a parking session decreases from 32 cents to 18 cents. And, unlike the previous app, there is no repeat charge when a parking session is extended. The free Passport Parking app is available in the Apple and Google Play stores.
With or without using the Passport Parking app, it's no longer necessary for visitors to return to their vehicles to put a receipt on the dashboard. However, when paying to park from a pay station, they will need their tag number.
The DIB "parking street team" will be giving out wallet cards to help drivers remember their tag numbers at its next parking info workshop, 8 a.m. Tuesday, Feb. 19, at Jewelers Trade Shop, 26 S. Palafox.
"When a visitor parks at a teal DIB parking sign, they should expect the very best parking experience possible," Lissa Dees, DIB executive director said. "And we are committed to delivering it."
Dees added it is the DIB's mission to provide the lowest parking prices, offer multiple payment options and a convenient app, maintain a policy against booting and towing and support Pensacola by hiring local and keeping parking dollars in the community.
"After all," she said, "we live and work here every day, too."
More information about DIB parking can be found at downtownpensacola.com/parking.
OLF 8 Swap Completed The Navy's newest outlying landing field opened for helicopter training operations on Jan. 30.
Escambia County turned over to the Navy Outlying Landing Field (OLF) Site X in Santa Rosa County, and the Navy ceased operations Jan. 29 at NOLF Site 8 in Escambia County after nearly 80 years of training aviators at the site.
At the ribbon-cutting ceremony, Rear Adm. Bette Bolivar, commander of Navy Region Southeast, called the exchange a "landmark event" and praised the cooperation between military installations and communities.
"Never before has a fully functional and vital military airfield been exchanged for a newly constructed airfield that meets the same capabilities and training requirements," Bolivar said. "This is a monumental achievement to have brought this ambitious plan to fruition."
PEDC Wins Vote Florida Rep. Mike Hill refused to support the update to state guidelines governing the Pensacola-Escambia Promotion and Development Commission (PEDC) on Monday, Jan. 28.
Hill, who is part of the Escambia County Legislative Delegation along with Florida Sen. Doug Broxson and Rep. Alex Andrade, was the lone lawmaker who voted against the request. The new guidelines for the state-created agency were forwarded by a unanimous vote of the Pensacola City Council and a 4-1 vote by county commissioners.
Hill arrived late to the legislative hearing, attending just the last eight minutes of comments from local voters and the last 15 minutes of the meeting. He said he went to WSRE studios at Pensacola State College instead of the county commission chambers.
"This is a great expansion of the responsibilities of (the commission)," he said. "It's opening up a can of worms."
The state legislator primarily opposed a change that allows people who own property or a business in Escambia County to sit on the local economic development commission. Hill said it could potentially allow people who live out of state to be appointed to the commission. He also called for two-year term limits and said members should be removed if they miss three consecutive meetings.
FloridaWest CEO Scott Luth said each group that appoints members has their own policies. He said FloridaWest's criteria would be developed once the legislation passes, just as the city and county follow their own.
Andrade plans to shepherd the updated promotion and development commission document last changed in 1989.
"The government closest to the people knows best," the freshman District 2 lawmaker said. "Big state government should not be telling the county and city how to run this commission."
The provision is one of the most controversial changes. It allows Lewis Bear Jr. to continue to serve as chairman of the economic development agency because he owns a wholesale distributor company in Pensacola, despite living in Gulf Breeze.
"Today, it's questionable if I'm a legal member," Bear told the state lawmakers. "We appreciate your support on it."
Three of the 10 local citizens who spoke to the delegation Monday opposed broadening the criteria for membership, too.
"Issues should be decided by Escambia County citizens," Jacqueline Rogers said. "This is not a personal thing against one person."
Beach Myths At a recent press conference, Mayor Grover Robinson was asked to weigh in on the Escambia County Commission's current conversation about the possibility of codifying a recent non-binding referendum supporting keeping the beach public as opposed to allowing private ownership of property that must currently be released repetitively.
"The problem is we're not very honest in our discussions," Robinson said. "We sell ourselves on this myth—and myths are incredibly crazy; they do attach a lot of emotion to it—and I think there's this myth that it's all public. Well, a lot of these leases are done out there, and they're renewable, and they're renewable beyond that. In fact, that's why the court said they're taxable because you get it for 99 years. You can renew it for 99 years. You can get it for 99 years after that. I mean, that's 297 years."
Robinson said he considered the more important issue to be ensuring that land on the beach currently not leased remain public.
"I was never worried about what was leased when I was over there. I was very worried about what was not leased," he said. "To me, that is what is public. That is what should be preserved."
Robinson noted the fear that if allowed to own their currently leased properties privately, owners could pool their lots and build a condo. He suggested holding onto the public roadways, parking lots and sidewalks as a way of preventing such developments.
"It prevents assemblage and a variety of other things," he said, also suggesting that the opposing viewpoints on beach ownership were separated only by the "myth" of the beach being really public. "I really don't think people are that far apart on what they want to save, but they get hung up on this issue of what's public and what's leased and what's called that, and I think it makes it very difficult for us to find solutions because we do get hung up on this myth."
Special Adoption Fee The Escambia County Animal Shelter is offering a special reduced adoption fee of $50 for all dogs and puppies and $20 for all cats and kittens during February. Adoption fees include spay or neutering services, microchip, heartworm test and the initial vaccinations, including rabies vaccinations. Escambia County residents will be required to purchase a license at the time of adoption. This is an additional $11 over the adoption fees and is paid separately.
While Escambia County Animal Shelter staff want every pet to have a home, they highly discourage giving pets as presents, especially surprise presents. If your friend or loved one has expressed interest in pet adoption, consider coming to the shelter together to pick out a lifelong pet that's right for their lifestyle, family and budget.
The Escambia County Animal Shelter is located at 200 W. Fairfield Dr. and is open Monday-Friday from noon-5 p.m. and Saturday 10 a.m.-4 p.m.
Deregulation Opposed The News Service of Florida reported last month that the Florida Chamber of Commerce and Associated Industries of Florida issued statements as the political committee Citizens for Energy Choices appeared on the verge of submitting enough petition signatures to trigger a review by the Florida Supreme Court of the proposed ballot wording.
The proposal calls for wholesale and retail electricity markets to "be fully competitive so that electricity customers are afforded meaningful choices among a wide variety of competing electricity providers." It would establish a right for customers to choose electricity providers and would limit the role of investor-owned electric utilities—such as Florida Power & Light, Duke Energy Florida, Tampa Electric Co. and Gulf Power Co.—to constructing, operating and repairing transmission and distribution systems.
Mark Wilson, president and chief executive officer of the Florida Chamber of Commerce, said in a prepared statement that other states with deregulated utility industries have had "buyer's remorse" because of issues such as increased power prices.
"This proposal is a false promise wrapped in a too-good-to-be-true wrapper that has no place in our state's constitution," Wilson said. "Despite claiming to promote choice, it would prohibit Floridians from choosing the very Florida companies that currently serve them."
Similarly, Associated Industries President and CEO Tom Feeney said deregulation would lead to increased electricity costs and market uncertainty.
"Deregulating Florida's electric utility industry would create inefficient and uneven services throughout the state, causing major chaos when a natural disaster strikes," Feeney said.
The political committee Citizens for Energy Choices had submitted 79,132 valid signatures as of Wednesday, Jan. 30, exceeding a 76,632-signature threshold that qualifies it for Supreme Court review. If the Supreme Court approves the wording of the proposal, Citizens for Energy Choices would need to submit at least 766,200 valid signatures to get on the November 2020 ballot.
Traditional Media Gains Trust People trust traditional media more than social media, according to a report by Edelman, an independent global communications firm. Employers were seen as the most trusted.
According to the 2019 Edelman Trust Barometer, "my employer" (75 percent) was significantly more trusted globally than non-government institutions (57 percent), business (56 percent), government (48 percent) and media (47 percent).
"The last decade has seen a loss of faith in traditional authority figures and institutions," said Richard Edelman, president and CEO of Edelman. "More recently, people have lost confidence in the social platforms that fostered peer-to-peer trust. These forces have led people to shift their trust to the relationships within their control, most notably their employers."
The shift to localized trust unfolded against the largest-ever trust gap (16 points) between the informed public (65 percent) and mass population (49 percent). The separation was driven by record-high spikes in trust among the informed public in developed markets, while mass population trust remained relatively flat.
Over the last year, the number of respondents around the world who consume traditional news weekly or more and share or post news content several times a month or more increased by 14 points—from 26 percent to 40 percent.
Trust in traditional media (65 percent) and search platforms (65 percent) are now at their highest historical ever levels, driven by large increases in developed markets.
Conversely, trust in social media (43 percent) remained low, especially in several developed regions that show enormous trust gaps between traditional and social media (U.S./Canada, 31-point gap; Europe, 26-point gap).
Mark Your Calendar The University of West Florida will host a grand opening event for Museum Plaza, a UWF Historic Trust preservation and education project that tells the story of Pensacola's rich history. The event will be 9 a.m. Friday, Feb. 8, behind the T.T. Wentworth, Jr. Florida State Museum, 330 S. Jefferson St.
The Escambia County Waste Services Department will host the next Regional Roundup 8 a.m.-noon, Saturday, Feb. 9, at Escambia High School, 1310 N. 65th Ave. Regional Roundup events provide an opportunity to properly dispose of electronics, household hazardous waste and up to four tires per vehicle free of charge. Proof of Escambia County residency, such as a driver's license, power bill or voter registration card, is needed. This is a residential drop-off program only; no commercial waste accepted. Simply drive up, and materials will be unloaded for you. For more details, visit myescambia.com/our-services/waste-services/regional-roundups.
Open Doors General Coalition Meeting will be held 1-2 p.m. Tuesday, Feb. 12, at Waterfront Rescue Mission, 348 Herman St.
District 5 Escambia County Commissioner Steven Barry will host a town hall meeting 5:30 p.m. Tuesday, Feb. 12, at the Molino Community Center, 6450 Highway 95A N. Residents are invited and encouraged to attend the open forum event.
Residents in the south Ensley area will have the opportunity to dispose of yard debris and other items free of charge Wednesday, Feb. 13, during the Ensley South Neighborhood Cleanup in District 3. Only residents in the designated cleanup area can participate in the neighborhood cleanup. Items left at the curb outside of the cleanup area will not be collected. The general cleanup area is south of East Johnson Ave., north of I-10, west of Cody Lane and Sears Blvd. and east of Pensacola Blvd./U.S. 29.