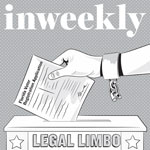 Why Some Ex-Felons Are Still Waiting for Their Voting Rights
By Sydney Robinson
On Jan. 4, the moment arrived that Tranassa White had long waited and hoped for—the day she could register to vote for the first time thanks to the implementation of Amendment 4, which restored voting rights to up to 1.4 million ex-felons in Florida who have completed the terms of their sentence.
The 33-year-old Pensacola resident wore a wide grin and exuded nervous, excited energy when she arrived at the Supervisor of Elections office downtown on that Tuesday afternoon accompanied by Sara Latshaw, deputy political director for the Florida division of the American Civil Liberties Union (ACLU).
White was greeted warmly and given the form to register to vote. When she was done, she received a small, round sticker on which was printed an American flag and the statement, "I registered to vote."
"I'm excited," she said. "Now I have a voice, and that's all I needed."
White's journey began many years ago when she was just barely old enough to vote in the first place. A path of criminal activity led to her incarceration, and she was forced to spend the first few years of her son's life behind bars.
It is for her son, among other reasons, that White is hoping to model a better example, and having her voting rights restored is just one of many steps needed to achieve that.
"I never knew in my younger years that the option to vote was so important until now," White said. "It's frustrating because I have been working, paying taxes and living under legislation and elected leaders who I have no way to control whether they stay in office or leave. My son has to grow up in this world. I want to make sure he is secure."
Reformed and Ready To Vote
Kenneth Daggans was serving eight years of solitary confinement, part of the 17 years total he served behind bars, when he realized that the way he was living just wasn't working.
This epiphany, along with a strong belief in God, led to Daggans becoming a productive member of society who is now eligible to vote under Amendment 4.
"I had already been consumed by a bad situation, gang activity, but I learned I could provide education in the community to make a difference in [others'] lives," Daggans said. "It had to be God's grace giving me the strength to not have the desire or obsession to turn back."
Daggans' early life was rife with drug use and crime. Witnessing the violent stabbing of his mother at 11, he says that was when he began to turn towards violence and crime in an effort to protect his mother and himself. He began using crack cocaine at the age of 14 and was soon established in Chicago-based Gangster Disciples.
Today, at the age of 44, Daggans is a reformed Gangster Disciple and recent graduate of the Escambia County Drug Court. He says that registering to vote is the next thing on his list.
"It's very important for everybody to have the right to vote because the power is in the people," said Daggans. "So, if they allow them to exercise their rights? The difference it can make is amazing."
He volunteers at the Healthy Opportunities and Options to Promote Success (HOOPS) program and runs the ministry he founded, Black Fist Incorporated, which works to prevent youth in Escambia from joining gangs, providing public service to the community and providing intervention and counseling to those already in gangs.
Daggans' hope is that he can use his experiences to be of use to others.
"If any agency needs to have me as a motivational speaker or life coach, they can contact me," he told Inweekly. "I'm willing to give everything I have. That's how it begins. For me, coming from where I came from, it's an honor."
Cautiously Optimistic
Rodney Jones is as politically- and community-active as they come. He serves as the president of the National Association for the Advancement of Colored People's (NAACP) Pensacola branch, as regional director of the Northwest Florida NAACP and as executive director of HOOPS.
He is also a convicted felon who was incarcerated in both federal and state prisons, survived being shot and stabbed and committed crimes which made him, according to Jones, a "detriment to [his] community."
"[In prison,] I began to realize the things I did and the people I hurt, and I said I had to do something to change that," Jones said. "I decided to work hard to become an agent of change within my community instead of a detriment."
Like Daggans, Jones credits discovering spirituality as the key to turning his life around.
"I didn't have this idea that God was going to save me, but what I read within the lines [of the Bible] was a different way to live that hadn't been articulated to me growing up," said Jones. "Criminal activity, drug activity, abuse—that was my norm. To see a different way to live was something new to me, and I wanted to implement that."
To pursue that different way of living, Jones got educated. He now has an associate's degree from Pensacola State College, a B.A. in social work from the University of West Florida, a master's degree in clinical mental health counseling and psychology from Troy University and is pursuing a doctorate in social psychology.
Today, as regional director of the NAACP, Jones says he is "stoked" about Amendment 4's passage and implementation.
"I'm the president of the NAACP. I've spearheaded many campaigns to recruit registered voters, led voter education training, you name it, and never had been able to actually participate in the process," he said. "[My excitement to register] goes beyond words."
But Jones also says he's worried about how the amendment will be interpreted and whether eager felons like himself, Daggans and White will truly become registered voters anytime soon.
"Everyone is going in and registering to vote and have their rights restored, but I'm not sure that's going to be the case, and now I'm a little distressed," said Jones. "We have the language of the amendment, but in between the lines, how does this roll out? When will it be effective?"
Red Tape
Jones' concerns are valid.
Amendment 4 passed overwhemingly in the November 2018 election—with 64 percent of voters supporting the measure which would restore voting rights to ex-felons who had carried out the terms of their sentence.
Prior to the amendment, Florida citizens with a felony conviction lost their right to vote, serve on a jury or hold public office for the rest of their lives unless granted clemency under a strict and laborious process—a process which almost always resulted in rejection.
Latshaw of the ACLU shared the organization's excitement at the passage and what it means for criminal justice reform.
"We were very happy to see that 64 percent of [Florida] voters from all walks of life approved of Amendment 4, which reflects the shared belief from folks that when a debt is paid, it's paid," she told Inweekly.
When the amendment went into effect last month, many ex-felons visited their supervisor of elections office to register to vote, many for the first time ever.
They reported feeling triumph, happiness and a sense, finally, they were able to participate in the democratic process. Unfortunately, many questions still remain as to how the amendment will be fully implemented, and until those questions are answered, these voters-to-be are stuck in legal limbo.
Escambia County Supervisor of Elections David Stafford said that the state has temporarily halted the process of determining whether a voter has a felony conviction, which occurs after the applicant is registered, and hearings are being held in Tallahassee to decide a few key provisions.
He explained, "There are two main questions they are answering. One, what definition should be used in the exceptions of the amendment for murder and sexual crimes—first-degree murder only, or second-degree, or manslaughter? What is the class of felony for sexual offenses, and what does that encompass?"
The second issue concerns how to define "completing their sentence." Stafford said, "The amendment said completion includes probation and parole, but what about the financial issues like restitution? Those are some of the issues that are still trying to get resolved."
The Florida Senate Criminal Justice Committee held a workshop about Amendment 4 on Jan. 22, and according to Stafford who viewed video of the hearing, those in attendance seemed focused on resolving any issues as quickly as possible.
"All the major players were there talking about these issues from a procedural standpoint," he said. "My impression was everybody seemed to be in agreement that some of these issues needed to be resolved quickly and on the same page as far as working together to address them."
According to Latshaw, some registrants have been receiving their registration cards in the mail. But in Escambia County, things are mostly still on hold because of delays in the post-registration process at the state level.
"The Division of Elections is doing their due diligence to determine if a person is eligible due to the language of the amendment and arrive at a process, so it may be a while before folks know if there is an issue with their registration," said Latshaw.
For now, ex-felons who have completed the terms of their sentence can register to vote, and people who are unsure of their status should contact the clerk of court in the jurisdiction where they were convicted, the Department of Corrections where they served time and the Office of Executive Clemency in Tallahassee.
Despite these delays, White isn't discouraged. She plans to continue working for criminal justice reform in the state, noting that she has to drive from Pensacola to Fort Walton Beach daily for work since it's so difficult for felons to find employment thanks to their criminal past.
"I keep in contact with those I was incarcerated with, and I've been telling them to register," she said. "It behooves us to go register because numbers make noise."
White repeated, "Numbers make noise."