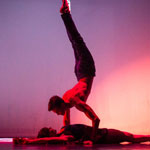 By Savannah Evanoff
Just before Christmas, Richard Steinert went to see the movie "Bohemian Rhapsody" with his family.
The popular film that tells the story of the unraveling the band Queen and its lead singer Freddie Mercury inspired the artistic director of Ballet Pensacola.
Steinert already had plans to present the ballet production "Divas" again, which features choreography to the music of iconic female musicians through the years.
"When I decided to do another rendition of 'Divas,' I told myself it's going to be 2019 when I do that—and divas don't just have to be women," Steinert said. "Sitting in that movie, I thought, 'This is where 'Divas' is going.' It was too strong in my mind to let it get away."
Steinert divided his upcoming production into two parts—"Divas" and "We Will Rock You." The first half will feature songs from the likes of Etta James, Billie Holiday and Beyoncé. An intermission will follow and then what Steinert describes as a "fairly jolting" shift to Queen.
"Queen music—well, it's all iconic," Steinert said. "I think this is particularly interesting because of the movie and the resurgence of it all. We don't do other people's ballets. It allows us to be responsive to what our demographic wants, so that's exciting and terrifying."
Steinert loved the movie but realizes it wasn't entirely historically accurate. He first heard Queen's music his senior year of high school in 1976.
"I like the fact that Freddie Mercury and pretty much everyone in the band were pretty ballsy," Steinert said. "They were willing to take chances and do things that were unconventional, when people were saying, 'Nobody's gonna listen to 'Bohemian Rhapsody.' It's a stupid song, and it's too long for the radio,' but they followed their gut."
Steinert relates to that sentiment in his own life.
"Obviously on a much smaller scale than that, but it's pretty much been the same thing in my career, too," Steinert said. "When I started doing the ballets that I do, like 'Matrix,' 'Nightmare Before Christmas,' everyone was like, 'You're stupid. No one's gonna want to see these things.' I like when people don't listen to critics and follow their hearts because that's how we change the face of the arts."
The ballet's Queen theme isn't the only risk. Steinert will portray the role of Freddie Mercury in the second half.
"I'm excited and I'm a nervous wreck because I really don't perform much anymore," Steinert said. "I'm getting close to being 61, so trying to be Freddie Mercury is a job for me. I'm nervous for myself, but I'm not nervous about the rest of it."
The Queen portion of the ballet is more than just the music, Steinert said. His wife and the ballet mistress, Christine Duhon, choreographed the piece.
"It's a lot about telling the story of what we perceive as Freddie's artistic vision and his quest to follow that vision, even when everyone said not to," Steinert said.
The piece will also incorporate special effects and new lighting that was purchased with a large grant from Impact 100 Pensacola.
"We have an LED video screen the size of the stage at the back of the house," Steinert said. "What we have done really is choreograph three things: the dancers, the set and then, of course, the lighting."
The styles of dance vary.
"There's a lot of dance I call non-dance in this evening," Steinert said. "A lot of movements where it's not like in ballet—there's no French words for it."
The first half will also feature different dance styles.
"It's really everything from ballroom to '50s style sock hop stuff," Steinert said. "I like to meet as many people's tastes in an evening as I can. Nobody should leave going, 'There was nothing in there that appealed to me.' My job and my hope with this is that we've given everybody something to love—from the person who wants to come in a tux to the person that wants to come in their pajamas."
The first half begins with Etta James' "At Last," a song that rips Steinert apart every time he hears it, he said. His favorite songs featured are Grace Slick's "White Rabbit" and Beyoncé's version of "Fever."
Steinert also highlighted Rita Coolidge's "We're All Alone."
"That's a piece of choreography I'm doing in tribute to my wonderful and spectacular wife of 37 years," Steinert said. "It's just these really amazing female artists from smooth, soulful jazz to rip your heart out rock. It's really a celebration of popular music interpreted in a contemporary ballet sort of fashion."
The production fits Steinert's aesthetic. Even when Ballet Pensacola performs the classics, it does so a little bit differently, he said.
"If you haven't seen Ballet Pensacola, don't try to guess what we are by what other ballet companies behave like, because we misbehave," Steinert said. "We don't necessarily follow the ballet rules."
"If you think you know what dance is, come out and let me prove to you that you don't."
DIVAS/WE WILL ROCK YOU
WHAT: Ballet Pensacola's presents "Divas/We Will Rock You"
WHEN: 7:30 p.m. Friday, Feb. 8, and Saturday, Feb. 9; 2:30 p.m. Sunday, Feb. 10
WHERE: Pensacola Cultural Center, 400 S. Jefferson St.
COST: $22-$34
DETAILS: balletpensacola.com