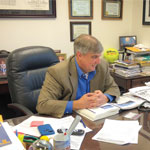 Fining Givers Pensacola Mayor Grover Robinson last week floated a new approach to this issue. Instead of aiming ordinances at panhandlers, how about pivoting toward the person giving the panhandler money?
"The challenge is, fining the panhandler doesn't really change anything," Robinson said. "But, I mean, do we look at fining the giver? I mean, those are all potentials; those are things we would look at."
The mayor said it was already illegal to give money from the roadway and that the move would only take enforcing that law. He suggested traffic cameras could be employed for the purpose.
"We haven't talked about how we would do it, one way or the other, but it could be done. You could move in that direction," he said. "The rule's already there. Let's obey the rules. That's all we're asking."
After the mayor made his comments, Inweekly had Political Matrix conduct a telephone poll of 462 likely voters in the city of Pensacola. Over two-thirds (68.2 percent) were opposed to the city fining or prosecuting those providing money to the panhandlers from their car.
However, 48.9 percent of those polled felt panhandling should be banned and illegal in all parts of the city, while 39.6 percent thought panhandling should be allowed in designated areas.
The persons sampled were registered voters of the city of Pensacola with a voting score of 100 percent for the general election cycles. The voters were called using an Interactive Voice Response system during the hours of 5-7 p.m. on Thursday, March 21. The margin of error for the study was +/- 4.5 percent with a confidence level of 95 percent.
Pensacola's Gender Gap In honor of Women's History Month, the University of West Florida's Haas Center last week presented its report on the current life of women in the Pensacola area based on key demographic indicators, occupation and earnings profiles and educational attainment levels.
The median age of women in the area is about 41, which is the seventh-youngest area for women in the state. Women in the Pensacola area have a somewhat higher chance of being married than their male counterparts. While 28 percent of women have never been married, 38 percent of men remain single.
The poverty level among women in the area is about the same as men. However, in the 18 to 34 age group, that statistic jumps considerably, seeing the percentage of women in poverty double that of men, possibly because that range overlaps childbearing years.
About 94 percent of white women are registered to vote compared to 87 percent of white men. For black women, that spread is a bit more, with 91 percent registered compared to 73 percent of black men.
Across the United States, women are on average more highly educated than males. That's a new development. However, that isn't the case in Pensacola or Florida. Nationally, 31.2 percent of women have a bachelor's degree or higher compared to 30.6 percent of men. In Florida, it's 28.1 percent for women and 28.8 percent for men, while Pensacola is 26.1 percent for women and 27.5 percent for men.
Women in the Pensacola area participate in the labor force at a rate of 70.6 percent. That's a bit lower than males, at 77.3 percent.  But for women with children under the age of 6, participation in the employment pool drops to 66 percent. And for women with older children, it drops further to 59 percent.
"That's perhaps discouraging but very indicative of the decisions females have to make," Amy Newburn of the Haas Center noted, explaining that women with children typically have to weigh the benefits of employment with the cost of childcare.
The top industries for women in the area include the healthcare industry, retail, food services and educational services. The four sectors account for more than 60 percent of working women locally.
In the Pensacola area, a woman earns about 69.5 cents on every dollar a man makes. The pay gap is wider in the segment of the population with bachelor's degrees. For those with a bachelor's, the spread is more than 35 percent, with women earning an average $36,767 compared to $58,181 for men.
NRDA Funds The Florida Trustee Implementation Group approved its Final Restoration Plan 1, which selects 23 projects at a total estimated cost of $61 million. The final plan is consistent with the Trustees' Programmatic Restoration Plan and selects projects for restoring natural resources and services injured or lost in Florida as a result of the Deepwater Horizon oil spill. With the approval of this plan, 10 projects totaling more than $16 million will benefit water quality and recreation in Pensacola Bay and Perdido Bay.
The projects include expansion of Pensacola Beach reclaimed wastewater system, nutrient reduction in Pensacola and Perdido bays, Gulf Islands National Seashore beach and dune habitat protection and invasive plant removal and new camping sites along the Perdido River and Bay Paddle Trail.
Among the projects is $2.1 million to improve Carpenter's Creek. The three-year project will pay for land acquisition, planning, design, construction of the stormwater improvements and wetland/floodplain restoration, post-construction storm event monitoring, wetlands/floodplain aquatic vegetation monitoring and recreational improvements.
"Improving water quality to Carpenter Creek protects habitats and opens up the possibility for more recreational use," Mayor Grover Robinson said. "This project was important to me as a commissioner, and it's important to me now as mayor. I know this is something Councilwoman Myers has waited and passionately advocated for, and I'm excited to see it come to fruition."
Carpenter Creek runs through District 2 of the City, which is represented by Councilwoman Sherri Myers. Councilwoman Myers routinely hosts cleanup efforts at Carpenter Creek.
"This is a great day for Carpenter Creek and the many people who have worked so hard to save the creek," Councilwoman Myers said. "I think the work of Mayor Grover Robinson when he was a county commissioner has played a huge role in making these funds available for the restoration of Carpenter Creek.  I am excited about all of the projects that will be funded thanks to the hard work and dedication of county staff and Escambia Board of County Commissioners."
Visit gulfspillrestoration.noaa.gov to view the Final Restoration Plan 1 along with additional details of the proposed restoration projects.
LEAP Projects Leadership Pensacola (LeaP), a program of the Pensacola Chamber Foundation, has selected Manna Food Pantries, Big Brothers Big Sisters of Northwest Florida and Gulf Coast Kid's House to benefit through this year's class service project.
Manna recently relocated into a new building and needed assistance with the exterior property, including a storage shed, garden and fence. Big Brothers Big Sisters of Northwest Florida aims to create a college prep "keys to success" program and establish a scholarship fund. Gulf Coast Kid's House is revamping their child abuse prevention education program and creating web-based training for adults.
Each of these projects would otherwise be funded and executed by these organizations but, in partnership with the LeaP class, will now be done more efficiently, saving funds that will be used to support each organization's mission.
"By partnering with the LeaP Class on our child abuse training, we can gain useful knowledge from these leaders and rely on their additional resources to better our community," shares Megan Chapman, Outreach & Development director for Gulf Coast Kid's House and LeaP class member.
Each year, the LeaP class is challenged to participate in a community project that will help give back to the area. For the first time, the Chamber approached over 40 nonprofit members and asked for requests for proposal of projects to be completed by the class within the allotted parameters. Twelve projects were submitted, vetted and voted on by the class after careful consideration.
Street Improvements Potential improvement plans for a trio of streets in the heart of Pensacola were unveiled to the public during a March 19 presentation by project architects. The streetscape project aims for improvements along DeVilliers, A and Reus streets.
"I'm quite certain that at one time, these were great streets. They just haven't been maintained," said David Haight, a project manager with Atkins.
Located in the city's Urban Core Community Redevelopment Area, all three streets represent untended arteries flowing north out of an increasingly revitalized downtown core. The project area on each street runs from Main Street to Cervantes.
The presentation from Atkins represented the beginning of a 30-day comment period. Atkins' current plans represent a starting point and await public input from people who use DeVilliers, A and Reus every day.
Potential improvements along streets include sidewalk repairs and widening, the addition of bike lanes along stretches where width allows, the addition of street lamps and blending of sidewalks and driveway intersections so that the grade is ADA compliant.
Parking was also an issue of prime concerns addressed in the presented plans. Noting that drivers frequently parked on the grass, even when street parking existed, planners suggested clarifying street parking with paint in some areas and building in so-called bump-outs in other areas, which denote parking lanes by regular juts of the curb.
Creating more four-way stops along the routes was also suggested. More four-ways would act to calm the flow of traffic and allow pedestrians safer street crossings.
"It gives us an opportunity to put crosswalks in," explained Haight. "I think paint is pretty cheap, but it also saves lives."
Varying options were presented for how best to incorporate bike lanes into the streets. In areas without room for lanes, the planners suggested painting "sharrows," or arrows indicating the lane is shared. Along more accommodating stretches, a designated bike lane could be painted with or without a parallel line of parked cars acting as a buffer.
Planners also presented various sidewalk options, such as more ornate scoring patterns. Decorative tree grates were also offered as a possibility, as was the option of installing commemorative plaques or bricks.
The city is funding this streetscape project with an $8 million bond issue from 2017, and the funds must be used by 2020. Public input will be used to help prioritize aspects of the project.
Haight said, "It's work of a lifetime here. Because you folks get it, you're progressive about what you want to do."
To view Atkins' assessments and potential plans for DeVilliers, A and Reus streets, visit cityofpensacola.com. Comments and input should be sent to hgibson@cityofpensacola.com.
Century Gets Help The Century Town Council has voted to accept free help from the Florida League of Cities as it analyzes grand jury recommendations regarding its finances and utility operations. (Inweekly, "A Town on the Edge," March 14)
Bob Inzer, FLC's financial advisor, agreed to spend several days in Century to assess Century's needs. He will make recommendations and develop an implementation plan, according to Council President Ann Brooks. The review should be completed by mid-April.
City Staff Process Mayor Grover Robinson has a number of positions to fill. Some currently sit empty, some are new, and others will open up as current employees retire out. The mayor detailed the progress being made on the staffing front at his March 18 weekly press conference.
"We've got a lot of decisions we have to start making, and we'll be making them over the next couple of weeks," Robinson said.
The city has already collected pools of applicants for both its assistant city administrator position as well as a public information officer. An executive committee consisting of administration officials, including City Administrator Chris Holley, will assess the applicants and present the mayor with a slimmed down list.
"We'll propose a half dozen, let the mayor look at them and go from there," Holley said.
The city is also seeking someone to oversee its Complete Streets efforts, someone who can help the city become more pedestrian-friendly, more walkable. Robinson said that there is some debate about whether to go after someone with a planning background or an engineering background.
"The challenge of those people who have been advocates of biking and cycling indicate that usually they have not had as much success from engineers as they have from the planning side. Engineers, again, the general design is, 'How can I move this thing as fast as possible,'" the mayor said. "Sometimes multimodal has not been as much of a priority for them as cars."
Robinson hasn't yet determined the exact process of selecting the Complete Streets candidate. The position might not go through the same executive-committee process as other city hires.
"We haven't discussed how that one would go," Robinson said. "I think Chris and the executive team are a little bit more comfortable with the positions they understand, like the PIO or assistant city administrator. A position that's a little bit newer to us, we may need to reach out and have something else."
The mayor also spoke a bit about his predecessor's practice of hiring contract employees. With the exception of the positions of city administrator and city attorney, the mayor plans to wind down the practice of hiring contract employees.
Robinson said, "It was sort of a culture that we inherited, and we are moving to really change that culture."
Volunteers Needed Junior Achievement of Northwest Florida is seeking volunteers for the spring semester of the 2018-2019 school year.
Volunteers from the business community are needed to serve in K-12 classrooms of their choice in the Escambia and Santa Rosa County school districts mentoring young people regarding jobs, money and business.
JA programs are typically one hour per week for five weeks. Junior Achievement volunteers are trained before entering the classroom and are provided with a "briefcase" that includes all of the materials needed for the entire five-week course to be delivered. Volunteers choose the grade level they prefer, and lessons are fully packaged and outlined in a turn-key fashion.
"The business community is telling us that soft skills are critical to the entry-level jobs they are hiring for, yet the candidates they are interviewing are severely lacking these competencies. Junior Achievement provides a mechanism to fill that gap with the help of community leaders and business professionals in the area," said Ashlee Simpson, education manager for Junior Achievement of Northwest Florida.
Those interested in volunteering are asked to contact the Junior Achievement office at 477-1420 or email Ashlee.Simpson@ja.org.
Rotary Grants Rotary Club of Pensacola is now taking grant applications for community projects by charitable 501(c)(3) organizations. The Club supports targeted projects that address areas such as peace and conflict prevention/resolution, disease prevention and treatment, water and sanitation, maternal and child health, basic education and literacy, or economic and community development.
Grant applications must be received by April 15. Recipients will be notified in May. Download an application form by visiting pensacolarotaryclub.org/grants.
City Summer Camp Registration for Summer Day Camp is now open for city residents. Non-residents can begin registering on Monday, April 1. Summer Day Camps are at the following Resource Centers: Cobb, Fricker, Gull Point, Vickrey and Woodland Heights.
Parents can register online and receive 10 percent off per week with a $10 non-refundable deposit through April 30. For more details, visit playpensacola.com
Mark Your Calendar Women for Responsible Legislation will hold its monthly meeting 11:30 a.m-1 p.m. Thursday, March 28, at Pensacola City Hall. Escambia County Chief Deputy Chip Simmons will be the speaker. The public is invited. Refreshments will be served at 11:15 a.m.
Askew Lecture Series: "The Politics of Policy Change in Congress," 5:30-7:30 p.m., Thursday, March 28, at Museum of Commerce, 201 E. Zaragoza St. The UWF Reubin O'D. Askew Department of Government will host Professor Bryan Jones and J. J. "Jake" Pickle for a discussion of policy change in Congress. This event is open to the public.
The University of West Florida Honors Convocation is an annual celebration recognizing outstanding faculty and students for their distinguished academic achievements and will take place 11 a.m.-12:30 p.m. Friday, March 29, at UWF Pensacola Campus, University Commons, Bldg. 22.
The Florida SBDC at UWF is presenting "Starting a Business," noon-4 p.m. Friday, March 29, at the Pensacola Chamber, 890 S. Palafox, Ste. 202. Attendees will learn the essentials of getting started in business. Attendance fee is $50 (required, non-refundable online payment). To register, visit sbdc.uwf.edu and click on "Training & Events."