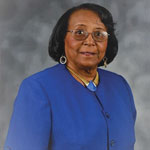 By Jeremy Morrison
She's only been in office a few months, but Dr. Laura Dortch Edler feels that she has received quite an education during her inaugural year sitting on the Escambia County School Board.
"Four months of service—that may be a short while, but for me, it's been the longest time in my life," Edler said during a town hall earlier this month. "I believe I have learned a lot and perhaps more than they thought I'd ever learn."
Last November, Edler was elected to represent Escambia's District 3, which includes schools in predominately African-American neighborhoods. Since taking office, the new board member has attended training sessions in Tampa, met with school district department heads and been in a Mardi Gras parade with her dog, in addition to carrying District 3's banner in board meetings.
"I'm the only board member who voted against closing McMillian," Edler pointed out.
With a few months of service to reflect on, the school board member shared her insights during an April 2 town hall at Englewood Baptist Church in Pensacola entitled "Listening to Concerns, Sharing Ideas for Community Change." In addition to Edler, the event also featured speakers from the local NAACP, Movement for Change and the Southern Poverty Law Center who discussed issues like discriminatory discipline practices and social justice.
"I don't believe you can represent anyone," Edler opened the evening, "if you can't find the time to talk with them."
A Disturbing Pattern
Since being elected to the school board, Dr. Edler has made the rounds visiting the schools in her district. She's been to McMillian Pre-K four times.
"All of those times, I was most impressed," Edler said. "Those children are learning."
In February, Escambia County Superintendent of Schools Malcolm Thomas pushed the school board to approve McMillian's closure. Although the school was one of the top-performing pre-kindergartens in the district, the superintendent argued that the facility was in danger of losing federal funding.
McMillian is hardly the first school in District 3 to be shuttered. Other academically-struggling schools have already been closed—Spencer Bibbs, Allie Yniestra, Hallmark. Ignoring the trend is difficult.
"It's a pattern, and it has been a pattern for a long time," Edler said.
When District 3 schools are closed, students are shuffled into other schools. Neighborhoods lose an integral community hub, and students endure logistics like longer bus rides.
"Closing neighborhood schools hurts communities," said Jerry McIntosh, president of Movement for Change.
McIntosh described stretches of landscaped—stretches typically spanning African-American communities—that are turning into educationally-deficient areas.
"The closings create educational deserts," McIntosh explained, "and we've seen that with food deserts."
The Movement for Change president pointed to the Town of Century in the north of the county, which no longer has any schools. The scholastic absence, he argued, has left Century a "dead city."
"And District 3 is in that category if we're not very careful," McIntosh warned.
There is a growing sense within the African-American community that these District 3 closings are not merely strategic performance- or finance-based closures. Rather than representing a sad collection of coincidences or geographically-partial happenstances, there's a feeling that the trend is purposeful, perhaps even conspiratorial.
To be blunt, there is a belief in the community that the Escambia County School District is systematically closing District 3 schools with aims of eventually scrapping the need for the district's seat on the board and with it, any representation from the African-American community.
"There will be no need for District 3 representation," McIntosh said. "I think that's the direction they are trying to go into."
Back Her Up
Dr. Edler still holds out hope for the future of McMillan.
"It's not going away," the District 3 representative said.
During her town hall, Edler asked her constituents for help. She invoked the it-takes-a-village philosophy and urged District 3 residents to become engaged in discussions about community education.
"We have left our children in the village struggling for themselves," Edler said. "It is time, village people, for you to come back home."
Speaking to local pastors attending the town hall, she requested each convey her message to their flocks.
"Encourage your members to get active, to get involved," she said. "Fill up that school board room."
Rodney Jones, regional NAACP president, stressed the importance of supporting Edler in her efforts to represent African-American interests on the school board.
"We have a great advocate in Dr. Edler, but we're going to have to back her up," Jones said. "The community's got to back her up."
Specifically, McIntosh noted, people should pay attention to the upcoming switch from an elected to an appointed school superintendent.
"We have to be at the table when the appointed superintendent is appointed in 2020," McIntosh said. "We have to make sure that superintendent has the best interest of the entire county."
For her part, Edler said she'll continue to fight for schools in District 3. The new representative would like to see a new middle school realized in her district. That'll be a steep hill to climb.
"I've asked the question point-blank—what do I need to do to get me a middle school in District 3?" Edler recounted, explaining how she was told such an effort would require 1,000 students to attend the new school. "[I said,] Give me the 1,000 students you took out of District 3 and sent to other schools."