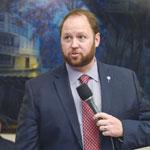 Winners
Jayer Williamson
GOPAC, a Republican political training organization, named the state representative to its 2019 Class of Emerging Leaders. The class is made up of promising legislators selected for their potential and ability to impact their state. Williamson's district covers parts of Okaloosa and Santa Rosa counties. He was honored as the Associated Builders and Contractors of Florida's 2017 and 2018 Legislator of the Year, Florida Farm Bureau's 2018 Champion for Agriculture, and Americans for Prosperity 2017 Champion of Economic Freedom.
UWF Dance Marathon
The seventh annual University of West Florida Dance Marathon raised $55,261 for Pensacola's Studer Family Children's Hospital at Sacred Heart, a member of the Children's Miracle Network. Over 350 students from 14 teams participated in UWF's 2019 Dance Marathon. Miracle Ball winners were split into three divisions based on the number of members in the organization—Cannon Division (less than 30 members), Kappa Delta Chi; Nautilus Division (30-75 members), Alpha Tau Omega; and Argonaut Division (more than 75 members), Alpha Delta Pi.
Blues Angel Music Foundation
The 501(c)(3) nonprofit supporting music education and therapy announced the recipients of the 2018-2019 Music Educator of the Year awards for Escambia and Santa Rosa counties in Florida and Baldwin County in Alabama. The recipient for Escambia County was Cathy Melton; Santa Rosa County, Alicia Coon; and Baldwin County, Ala., Jennifer Salley. These teachers each received $1,000 to use in their music programs.
Losers
Citizen-Sponsored Initiatives
In the last days of the session, the Florida Legislature revamped the process for citizens to put constitutional amendments on the ballot. The bill would make it a crime to pay petition-gatherers based on the number of signatures they collect. County supervisors of elections would be required to print petitions forms and include information identifying the petition circulators. The Florida Division of Elections would create and maintain a database of all registered petition circulators and the forms assigned to them based on information provided by county supervisors. Petition circulators would have to turn in the forms within 30 days after they are signed or face fines of $50 per petition or $250 if the sponsor or petition circulator acted willfully. A circulator could face fines of up to $1,000 for each petition not returned to the elections offices. Gov. Ron DeSantis has not signed the bill (HB 5), but he has indicated he supports it.
Janice Kilgore
Last month, Interim County Administrator Amy Lovoy hired Janice Kilgore to assess the "root issues in EMS/Fire that led to the vote of no confidence" by the firefighters' union, determine "the communication chain for information dissemination" and identify "cause/causes of the perceived divisiveness and tribalism within the department." She was also to seek any evidence of retaliation or a climate of favoritism. Instead, she gave a verbal report primarily on aging equipment, staffing, pay ranges and funding for the departments. The board had no interest in her continuing her work.