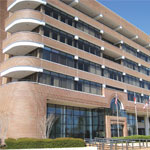 By Jeremy Morrison
A few hours into the vision quest, sometime after lunch, it became clear that things had drifted well off the rails. What was supposed to be a brainstorming, workshopping marathon session aimed at realizing an epiphany that perfectly defined and succinctly expressed the city of Pensacola's overall mission and values had devolved into discussions about individual infrastructure projects and the varying amounts of energy and resources being expended in each of the city's districts.
At a certain point in the May 9 workshop, Mayor Grover Robinson began waving his arms in wild circles overhead, urging Pensacola City Council members to stay focused on "the top level" and "the big picture."
"I want us to get our heads a little bit higher about what we want to do," Robinson said.
Earlier in the week, the mayor had spoken optimistically about the workshop as a time he and city council members would map out Pensacola's path forward, defining the city's mission and values in words and sentiment that would inform and guide policies and priorities.
"This is a team exercise between the mayor's office and the council," Robinson had said a few days prior.
The mayor intended for the strategic plan workshop to feed off of and build upon the recently released report from his transition team, which listed off recommendations about what the group considered essential areas of focus for Robinson, who was elected last fall.
The workshop, facilitated by John Streitmatter of the Leadership Research Institute, was structured around 54 of these recommendations, but it ultimately became apparent that some council members were going to be more comfortable without such parameters on the exercise.
"Tell me more about what you're thinking," Streitmatter asked Councilwoman Sherri Myers, after displaying a graphic which separated the 54 report-based items into three different "buckets" for their consideration.
"I think this is confusing. And it's not workable," Myers said, suggesting the days exercise adopt a different format. "To me, it's all over the place."
Mayor Robinson readily shifted gears away from the report recommendations—"I quickly gathered that many of you, that's not what you want to talk about"—and instead allowed the workshop to center on broader areas of focus, which he said would ultimately determine what report recommendations he acted on—"once we figure out our priorities, they will permeate down to what we do."
'What's the thing?'
Identifying the mission and values of the city of Pensacola was a valuable mission in and of itself. It gave city officials a reason to provide elementary consideration to what the municipality's primary purposes are.
"It says 'what do we do, why do we do it, and who do we do it for?'" Streitmatter coached.
The facilitator suggested the mayor and council members think of city functions they considered to be most basic, most important.
"I would encourage you to just get to the essence—what's the thing?" Streitmatter said.
It took a while for city officials to work their way around to figuring out precisely what the "thing" was, what Pensacola's mission is or what its top priorities should be. First, there would be discussions about philosophy and semantics—should economic development efforts be recognized in the city's mission statement? Should the city focus on environmental initiatives or sustainable items? Should it facilitate or collaborate? Compassionate or equity or inclusivity? Is the term enjoy an overreach?
"This is exactly the kind of conversations I wanted to have," Streitmatter said. "What you're having is a conversation about, what is your essential purpose?"
These kinds of conversations had started before the workshop. Streitmatter had visited with the mayor, council members and some members of staff and gotten a feel for where the discussions might be headed.
In these preview interviews, city officials typically used words like potential or upswing to describe the city of Pensacola. Words which came up with frequency across the internal interviews included safety, people, public and services, as well as more functionary terms like garbage and recreation.
Streitmatter explained that ultimately, the city was looking to craft a statement which would serve as a compass bearing, in addition to identifying values and top-level priorities, as opposed to any external marketing efforts or a "tagline for the city."
"It's much more of an internal statement," Streitmatter said, "mostly so you can guide the efforts of your staff, your resources and, frankly, your community partners."
Over the course of the workshop, Mayor Robinson and council members were able to hammer out a straightforward mission statement, as well as settle upon a list of values and priorities. They also prioritized the top four categories from the mayor's transition team's work and came up with a corresponding list of their own priorities (all of which also aligned with various mayoral report recommendations).
The foundations of the city's proposed mission statement are simple enough—"We desire the highest quality of life for all our citizens." That line originally had the word enjoy in it, but that was removed. And the word highest was inserted following Robinson's suggestion that the statement be "more aspirational" and "give us something to shoot for."
The mission statement continues, detailing how the city works to facilitate such a quality of life—"providing cost-effective municipal services" as it pertains to public safety, infrastructure and public amenities, and also "working together with the community to create a healthy environment and growing economy."
Backing up the city's mission is a list of seven values. These values are considered to be of the highest importance to the city and would be used to guide city actions. The values are transparency, service orientation, accountability, inclusivity, focus on core mission, collaborate for broader impact and sustainability.
Some of these values, like transparency and accountability, are self-explanatory, but others act as umbrellas and pertain to various areas of city interest. Sustainability, for instance, refers to city efforts when it comes to the environment, affordable housing, historic preservation and also neighborhood identity.
While the May 9 workshop departed from the framework of the mayoral report recommendations, the city council did identify the four transition team categories considered most important—crime and safety, neighborhoods, economic development and the environment. The council similarly identified its own corresponding top-four areas of focus—community safety, improved neighborhood infrastructure (lighting, sidewalks, etc.), adopting a Complete Streets approach to design to increase walkability and pedestrian safety and also adopt a neighborhood-focused approach to city governance.
"I'm very pleased with the outcome from Thursday and what we accomplished," Mayor Robinson said in a statement formalizing the workshop's fruits. "This draft begins to set in motion the first initiative of a strategic plan the city has seen in a long time. Hopefully, it will serve as a road map for citizens and elected officials for many years to come."
A working version of the mission, values and priorities identified for Pensacola during the workshop are available for viewing on the city's website. The public will have a chance to weigh in on that draft when it goes back before city council June 13 for approval.