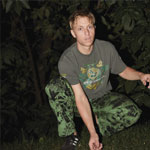 By Savannah Evanoff
Jonny Pierce stores sadness on a shelf the same way he would an encyclopedia—it's there when he needs it, but he doesn't have to lug it around with him for life.
Not a day goes by when the singer and instrumentalist behind indie pop band The Drums doesn't feel sadness. But he wouldn't describe it as an overwhelming ocean suffocating him—not anymore.
"It's more manageable," Pierce said. "I'm starting to understand myself, understand where my triggers come from, where the sadness is rooted. I'm able to experience sadness, but it doesn't feel inescapable."
When Pierce started The Drums' latest album, "Brutalism," he was deeply entwined in a romantic relationship—though not a particularly easy one. His boyfriend lived in Brussels, Belgium, and Pierce lived in New York.
The title track is about the heaviness of that relationship.
"The other person would love me in the way they knew how, but it wasn't a love that was sustainable and necessarily reliable," Pierce said. "When we did connect and did find love together, it was such a heavy, passionate, giant love that was almost too big to understand. It was a love bundled with pain."
The name of the song and the album, "Brutalism," has a double meaning.
Pierce is a huge fan of brutalist architecture, a style characterized by lots and lots of concrete, he said.
"These structures have very little light coming in small windows," Pierce said. "These buildings are heavy, impractical and beautiful. I thought that reflected how I was feeling. The love I had was so beautiful, but it was also wildly impractical. It was also a place I didn't want to live. There wasn't a lot of light getting in."
Although "Brutalism" isn't a single—not in the truest sense—it's danceable.
"If you ever come to my shows, I dance a bit on stage," Pierce said. "I've found in rehearsal this is a song where I naturally—without thinking about it—am swinging my hips and am really enjoying the groove of that song in a way that I didn't discover while listening to that studio version."
Although Pierce's earliest music memories are of post-church Christian gospel, his first love was electronic. Then he started getting into The Smiths and bands of that sort and spent a lot of time immersed in that genre.
"When I started The Drums, I picked up a guitar for the first time in my life and fiddled around with it," Pierce said. "Voila! We had a whole EP and first album that were pretty much guitar. It was really exotic for me to use. I was even more surprised the rest of the world seemed to be excited about me fiddling around on a guitar."
Five albums later, Pierce wanted to return to his first love. He bought a bunch of drum machines and dusted off his old synthesizers for what came to be "Brutalism."
Returning to his roots made sense. After Pierce's breakup, he went to work on himself, too.
"I decided to put myself in some intense therapy, started eating differently and staying away from alcohol and drugs, really just taking myself seriously—kinda for the first time in my life," Pierce said. "Rather than make a record all on my own like I always have, I decided to open up and bring in my guitar player, drummer, a mixing engineer, sound engineer and producer. I decided I wanted to explore and stop being such a control freak."
The song "Body Chemistry" is about feeling lost, confused and cut off from the rest of the world without fully understanding why. The recently-released music video, though, is the perfect example of how Pierce has evolved.
"Some kid from Russia DM'd me and said, 'I want to make a music video,' and I took a look at his reel and just loved it," Pierce said. "I did some green screen in L.A. He sent us the finished product, and we didn't change a thing, we were so happy with it."
To let someone else take control, Pierce had to let go.
"Previously, like most of my other records, I would do everything on my own with a video," Pierce said. "I would direct it, edit it and style it. It's nice to hand that off to someone else. It's a real exercise in trust."
The personal changes in his life were difficult but ultimately informed the sound of the record and also the message of the record, which is one of vulnerability, Pierce said.
"These days, we're so private about everything; we're so guarded," Pierce said. "Instagram tells us we should show the happy side of life. There's this whole other part of life that's just as beautiful and just as meaningful—sometimes that's sorrow. But if we're just exposing to the world, our families and friends that all is well when it's actually not, we're really sacrificing true connection with people. When we sacrifice connection, we sacrifice joy."
Pierce's revelations have been a game-changer. He tries to wake up every single day and make practical choices that set his day in motion in a positive way.
"My whole life, I've really romanticized pain," Pierce said. "I've leaned on being an artist as my excuse for everything. How could I ever write a song if I'm feeling OK or if I'm not miserable? The truth is, sadness will always be there if you want it to be there. It's not going anywhere."
The Drums
WHAT: The Drums with Tanukichan and Sweet Release
WHEN: 7 p.m. Monday, May 20
WHERE: Vinyl Music Hall, 2 S. Palafox
COST: $16
DETAILS: vinylmusichall.com