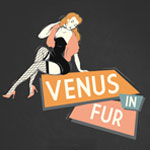 By Sydney Robinson
Feeling a bit tied up? A little bent out of shape? Have the sensation that the world has its boot on your neck, but you kind of like it?
Those looking for a bit of a painful theater experience should check out Venus in Fur—a two-person production written by David Ives and being brought to life by long-time Pensacola Little Theatre member and director Maureen McNeill.
The PLT's upcoming production of Venus in Fur is about sado-masochism, reflections on the #MeToo era and the exploration of the shifting dynamic between men and women.
But if you just got all hot and bothered thinking you'll see a Christian Grey type strutting about and participating in questionable consent techniques onstage, think again, Anastasia.
Venus in Fur, a play about a play about a novella, is a lot more complicated than it seems. The production stars Pensacola actors Christopher Holloway and Renee Jordan as Thomas and Vanda, respectively, a brooding playwright and a brash actress who clash over an old novella of the same name.
The novella by Austrian author Leopold von Sacher-Masoch is where this whole story begins. In it, a man is so overcome with love for a woman that he begs to become her slave. Reluctantly, she agrees, and thus begins a tale of misery and titillation.
If the author's last name rings a bell for you, it's probably because "Masoch" is where we get the modern term "Masochism." Named long after the practice permeated society, masochism is the desire to give oneself over to another sexually, often in a way that involves pain and humiliation.
In the play, Thomas seeks to portray Masoch's story onstage but struggles to cast his perfect leading lady, the one who can fully embody the dominating, fiery-haired beauty of the novella. Instead, here comes late, loud, rude Vanda who browbeats Thomas until she is given an opportunity to shine. From there, the two creative types clash over Thomas's material, battling over what is acceptable and what is just the status quo.
McNeill has been hoping to bring this production to the PLT stage for about five years and says that now is the perfect time.
"It has kind of been in the works for a while, but in retrospect, I'm glad it took a few years because this was an ideal time, and it had a message that was pretty timely," she told Inweekly.
McNeill feels that the 2010 play based on a book from 1870 is especially timely in 2019 as we continue to engage in meaningful conversations about power and consent in the #MeToo era.
"[In the play,] we're tackling some of the casting couch issues and defining what is feminism—how does it play a part in a woman's life, a man's life," explained McNeill. "I don't think [these issues] weren't in people's minds 10 years ago, but it is so prominent in social media and news coverage right now. It's something that everyone is having conversations about with friends and coworkers. The material of the show is going to push that conversation along, which I'm glad for because I don't think that would have been the case five years ago."
It's true that American society is more aware than it ever has been to issues of sexism, harassment and the abuse of power after a slew of badly-behaved men were ousted from the entertainment and political arena in the past couple of years. As a result, we are now viewing art and culture more closely than ever and seeing—some for the first time—the imbalance that exists at every level of society.
"So much of the show is just two different opinions constantly being in conversation of each other," explained McNeill. "It's literally, 'Here is a play, and the play that we're watching is two people discussing another play.' You might find you agree with one character, you might find both make valid points, or you might look at it and just say, 'Why did we even explore this in the first place?'"
Through this complex-in-its-simplicity setup, the actors are able to embody multiple characters, moving in and out of the persona of actor and character and back again. This morphability means that the audience has a lot more to be invested in than just two characters talking.
"We do really go through and take a very interesting look at a very age-old kink, but the pressure is taken off because you do get to see two very real people talk about and go through what this story tells," shared Jordan. "While it has a lot of these S&M-type themes, there is still that room to play."
A fact sure to disappoint some and delight others, Jordan explained that no real salacious activities will happen on stage.
"It's not as intense as it might look. I'm not going to be beating him or whipping him or anything on stage, but there's definitely a really interesting conversation between these two characters that audiences will find funny and interesting and even vindicating," she said.
Jordan said that this is her first time in a two-person play that lacks scene breaks but that her chemistry with Holloway made it a joy to explore during their six weeks of rehearsal.
"We have really, really had fun with these characters. We are really trying to bring some absolute realism to them," she said.
It would seem that Venus in Fur is the type of play that is best seen after having read the novella to best understand the references and themes of the play. And yes, it's a page-turner—Jordan says she missed the first night of rehearsals because she was so enthralled in the source material. Still, attendees with no prior knowledge will still be able to follow along.
"I think that it's always an interesting dynamic to have a two-person show that isn't based in a traditional romantic or familiar relationship," McNeill said. "These are two people who do not know each other at all, and for them to be forced into this room and see what happens over 90 minutes real time, that in itself is something captivating to watch."
VENUS IN FUR
WHAT: Pensacola Little Theatre presents Venus in Fur
WHEN: 7:30 p.m. May 17-18 and 24-25; 3 p.m. May 19
WHERE: Pensacola Little Theatre, 400 S. Jefferson St.
COST: $14-20
DETAILS: pensacolalittletheatre.com