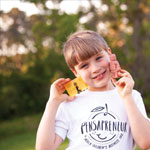 By Jennifer Leigh
For generations, kids' entrepreneurial skills were limited to lemonade stands and babysitting.
But young minds are too creative, innovative and fearless to be boxed in. What could they accomplish if they were given an opportunity to start their own original business?
Pensacola Children's Business Fair seeks to answer that question.
The first children's business fair started in 2007 in Austin, Texas, and it has since spread around the country. It came to Pensacola by way of three moms—Crystal Barrineau, Jennifer Fernandez and Kana Meece—who wanted to find a fun way to prepare their young kids for the future.
"I read that 65 percent of today's children will be employed in careers that don't exist yet," said Meece. "So many things are changing. As a parent, one of my duties is to prepare my children for the ever-changing world and give them the best possible start."
With the Pensacola Children's Business Fair (PCB), kids ages 6 to 17 are building their own business from scratch. They're in charge of product development, branding, inventory—everything. And on May 18, they get to share their goods and services to the general public at the Bare Hand Collective space.
"Kids are the boss," Meece said.
Building a business from scratch not only requires basic academic skills but also provides a chance for kids to learn life lessons.
"They're exercising their creativity, communication skills, financial literacy and resiliency—which is so important," Meece said. "They're in control of their money. They can spend it all on a game or save it or donate some. It's their choice."
Originally, Pensacola organizers were hoping to have about 20 to 30 vendors, said Meece. Once the registration was open, they were booked in two and a half weeks with a total of 39 vendors.
"We had to put people on a waitlist," said Meece.
While the idea for a kid's business fair is adorable, it also makes sense. Children have unique qualities that can set them apart from adult counterparts.
"Kids are passionate and courageous," said Meece. "They believe their idea is the best thing ever. We tend to lose that as we get older."
Meece's 7-year-old daughter, Koto, is one of the young entrepreneurs—or kidpreneurs, as they're called. She'll be selling homemade mochi treats.
The process has had its "ups and downs." It's like any business. But overall, it's been fun to watch, Meece said.
What kind of goods and services do kids want to sell? Slime was a popular category (Meece said they limit three businesses per category to keep the business fair diverse).
Outside of slime, there's art, small crafts, bath bombs, soap—and yes, even a babysitting service.
When 8-year-old Donovan Crooke grows up, he said he wants to build robots to help astronauts in space. Until then, he's starting small with his very own soap company.
His soaps are unique in that they each have a small figurine inside such as a doctor, ninja or spaceman. Each soap comes with a unique back story as to how the figure got trapped. For example, the doctor's "patients" was running thin; the ninja got frozen in soap after doing a handstand to stretch his wrists.
A big motivator for Donovan was the chance to earn some cash.
"I wanted to get some money. I love to invent stuff, too," he told Inweekly in an email interview.
He also wants to "incentivize kids and grownups to wash their hands."
Donovan's mom, Samantha (full disclosure, Samantha Crooke is a former Inweekly art director), said the overall process has been a learning and bonding experience for them both. It was also perfect timing since Donovan's class had just done a unit on economics before he began the process.
While kids are their own boss, they did have some guidance. PCB held an education seminar for participants and the kids also met with small business owners and vendors at Bare Hand Collective who offered advice, which was beneficial, Donovan said.
"Being a kid and owning a business is actually pretty hard work, but seeing grown-up business owners and the other kids with their own businesses has helped keep me from giving up," he said.
And that's exactly what parents want to hear from their kids. Beyond economics, Samantha said she hopes her son learns to seek support and be resilient—a keyword among PBC participants.
"There is so much support and so many resources available to you when you pursue any endeavor, whether it be owning a business or another pursuit," Samantha said. "I also hope Donovan learns the value of trial and error, particularly that it can actually be a positive thing to try something new and potentially not do as well as you predicted, because it's an opportunity to brainstorm new avenues of doing things, and it in no way constitutes an actual failure."
For Donovan—and many of the other kidpreneurs—the children's business fair isn't the end of the road.
Donovan said he plans to continue taking orders online and is already thinking of social media marketing. And because there was such a demand for applications, Meece said they're already planning to host semi-annual fairs.
If you're looking for unique items, Pensacola Children's Business Fair will have them.
And even if you're not in the market for some slime, mochi or soap, Meece encourages people to stop by the fair anyway and meet the business owners.
"Just come on May 18, talk to the kids and give their confidence a boost," she said. "You'll see the pure excitement about their ideas—it's crazy cool. And I am looking forward to seeing their proud faces when they do make their first sale."
PENSACOLA CHILDREN'S BUSINESS FAIR
WHEN: 11 a.m.-2 p.m. Saturday, May 18
WHERE: Bare Hand Collective, 2370 N. Palafox
DETAILS: childrensbusinessfair.org