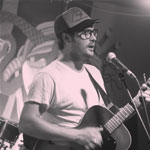 By Sydney Robinson
On 10:30 p.m. this past Saturday night, patrons of Hub Stacey's were interrupted from their usual karaoke bonanza and baskets of hot wings for a special treat—a man in a trucker hat and button-down white shirt appeared on stage. The TV screen displayed Radiohead's "Creep," but the song the man sang over the tune was none other than Smash Mouth's 1999 hit "All Star."
The crowd was understandably confused at first. But by the end of it, everyone in the bar was clapping and singing along to the a capella'd final verse because "only shooting stars break the mold" after all.
Most of Hub's crowd and staff didn't know that the man on stage belting out the hit was Stelth Ulvang, longtime pianist for The Lumineers.
The day prior to his smash karaoke performance (pun intended), Ulvang played a set of his solo songs at chizuko. Inweekly was able to sit down with Ulvang after that show to discuss The Lumineers' upcoming Hangout Fest headlining performance and why he's hanging out in dive bars in Pensacola.
"If you're within a block of the place, I'm sure you can hear us," Ulvang began.
The place he is referring to is Pensacola Bay Center. The Lumineers spent the past week and a half rehearsing lighting cues for their upcoming festival performance at the venue. Obvious or not, the secret has been well kept from Pensacola residents who might be surprised to learn such a famous band has been hanging around town for a week or more.
But why here? And why prepare for an open-air performance in a closed arena?
"We gotta practice for lighting cues, and you can't practice that in the daylight," Ulvang explained. "Do you know how hard it is to find vacant arenas in the U.S.? And right now, it's prom week in America, so it's even harder."
Though the city's empty venue was a rare find for the band, if it were up to Ulvang, the Lumineers might not have come to Pensacola at all.
Apparently, he had some bad experiences in our delightful little city in the past.
"I've been through [Pensacola] maybe half a dozen times about 10 years ago, and I had a really bad hitchhiking experience here."
But as he noted during the beginning of his surprise set at chizuko, the city was beginning to grow on him.
"I didn't think I would ever perform here … but you guys are making me think maybe it's not so bad," he told the crowd.
Ulvang, who ultimately decided he was an ovo-pescatarian after much back and forth, said that he was excited about the growing vegan food scene in the area.
"I always liked Sluggo's. That was one of the spots I knew," he said.
It wasn't until a trip back to an old favorite End of the Line Cafe that he learned about one of our newer vegan spots—chizuko.
"I came [to chizuko] last night and talked to them, and they were sweet enough to let me play a set," Ulvang said. "I haven't played a show in two or three months as myself. When The Lumineers aren't touring, I'm touring on my own. I've put out three or four records on my own."
The set Ulvang played was a notable departure from the music he plays with The Lumineers. Barefooted and stomping to the beat, he played guitar and sang several of his own songs in a voice strikingly similar to Ben Folds. Occasionally, Ulvang broke into a falsetto to impersonate his wife and singing partner, Dorota.
"My wife usually tours with me … she plays violin and sings and plays bass sometimes, too."
But she isn't the only multi-instrumentalist in the band. He primarily plays piano, guitar and sings. But what else can he do?
"In The Lumineers, I play piano, guitar, accordion and sometimes mandolin. Outside of that, I also play banjo, bass, flute, clarinet, saxophone as well as some horns," Ulvang listed.
Ulvang came to The Lumineers via a bygone era social media platform (Myspace) in early 2010.
"I've been with [The Lumineers] full on since 2011, so coming up on eight years," Ulvang said. "Every album, there is this growing and then there's this drop afterwards and this mystery of not knowing where it's going to go, and then it rises back up again. Our second album did really well, but those two dudes—Jeremiah [Fraites] and Wes [Schultz]—who started the band, they kind of hunker down, write the record on their own, and we kind of stay out of the way. It gives us this kind of freedom, which I love. I can't imagine being in a band with like six writers anyway. If it ain't broke, don't fix it."
The pianist credits the success of the band to this simplicity in songwriting as well as the energy the band has on stage.
"A lot of our sustainability has come from having simple songs and having a band that has fun on stage," Ulvang said. "We've all been to shows where people don't really move around. Even as one person when I play, I try to have as much three-dimensional movement for being locked to a guitar and cable and mic stand. And I think that's hard to do, but I love that [movement]."
Ulvang says that the band is excited about returning to Hangout Fest after having cut their festival teeth on the same stage seven years ago.
"We played Hangout Fest in 2012. I think our manager knew someone and they gave us a pity spot—the first spot Sunday morning. That was our first festival, and we didn't even have an album out yet. Seven years later, we're headlining."
The Lumineers
9:35-11 p.m.
Sunday
Hangout Stage