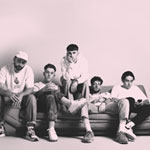 By Savannah Evanoff
Sundays aren't for grocery shopping.
Murray, the frontman for hip-hop group Easy Life, is sure of it while explaining why he compares a woman to the first calendar day of the week in the band's single "Sunday."
The lyrics are about him being "crazy, head over heels in love" with a girl and never getting out of bed when he's with her.
"It's funny because some people say they hate Sundays," Murray said. "Some people are like, 'I love Sundays,'—especially in England, because you hang out and do nothing and watch films. The reason I compared her to a Sunday is because of the chill vibes you can get on a Sunday in the U.K. I heard it's the same in America."
So, if you spend Sundays buying groceries, Murray suggests upping your Sunday game.
The single is from the U.K. group's latest record, "Spaceships Mixtape." The album title is a reflection of its sound, Murray explained.
"The sonics of the mixtape were supposed to be wavy and space age and have an intergalactic, dreamlike feel to it," Murray said. "All the songs also contextually live in that same realm. We were all obsessed with NASA and space travel as kids, too, so it was a bit of an homage to that as well."
Easy Life wrote and produced the album in only four weeks, then released it immediately.
The content is raw and fresh.
"Sometimes we can sit on music and it sort of becomes a little bit irrelevant contextually by the time we actually put it out," Murray said. "With this, I'm still going through a lot of the stuff we talk about in the Mixtapes—the good and the bad stuff. I'm still in that headspace really."
Performing allows him to revisit those feelings and regurgitate them live.
"It's weird living it and getting behind the sentiment of the whole track live, and I think the audience can do the same," Murray said. "We see a lot of people lose themselves and get crazy live, and I think it's because we're doing the same."
"Basics" was the defining moment amid Easy Life's newest music. "No way," Murray said, seeming genuinely excited he was asked about this song specifically.
They wanted the track to sound like it was dropped on this planet from outer space.
"It also has this lyric about looking up to the clouds and the whole bigger picture mentality to it," Murray said, "You know when you're with someone and you gotta go through all that shit to work on a relationship, whether that be friends or a romance—whatever it is you're after … I guess that song is about that and coming to terms with that. Everything's a little bit fucked up at the minute, but we good. We're gonna be alright."
Easy Life is in Amsterdam during our phone interview. The band flew back to England from Coachella, picked up its van, drove to Brussels for a show, then returned to Amsterdam.
"We haven't showered," Murray said. "We're ruined. We look like we should be at the end of a festival tour."
While Easy Life is looking a tad ragged, Murray jokingly presumes the people he saw at Coachella are looking beautiful and drinking protein shakes somewhere right now.
Performing at the April festival was "fucking sick," Murray said. It was the group's first time in L.A., and California in general.
"Going to these places was just mental," Murray said. "Loads of the music I was influenced by has historically also been from that West Coast scene, so it was crazy to be out there living it. Obviously Coachella's Coachella. It was funny to see people all dressed up for the occasion and taking selfies and losing their mind on Instagram."
But Murray admits they were all over their socials, too.
"It was brutal," Murray said. "Obviously, in a way, it really did sort of piss me off seeing people posing and people so composed. If you go to a British festival of that stature—Glastonbury or something—people are ruined and definitely not photo ready. Everyone at Coachella was beautiful and remained that way for the whole weekend. It was a little bit fake. People are beautiful, but people are all beautiful messes. I wanted to see that."
When asked about the group's name, Murray said it's a bit related to social media and how people aspire to have things they don't already possess.
"Easy Life's just about chillin' really, but also about the paradox that to get to a chillin' time, you have to go through some adversity or some kind of downfall," Murray said. "That's super deep. That's definitely way more deep than it needs to be."
Murray can't wait to see how Hangout Fest differs from Coachella and was stoked when they added the festival to their tour.
"I heard it has spring break vibes and everyone gets out and parties on the beach," Murray said. "We are so excited to be playing Hangout. I think it's going to be a party."
Plus, "you know what?" Murray has missed the American accent, he said.
"I've been back in Europe for like two days, and it's already making me feel melancholy," Murray said. "It's nice to hear your voice."
Easy Life
12:30-1:15 p.m.
Saturday
BMI Mermaid Stage