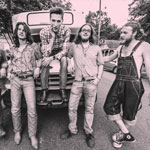 By Frances Dean
The Red Clay Strays have a lot on their plate—but they're hungry for more.
The Mobile-based five-piece has spent the last two years making a name for themselves playing bars across the South, and they're eager to kick it up a notch with their performance at Hangout Fest this weekend.
The band blends nostalgic sounds of Southern rock with modern guitar riffs and deep, soulful, twangy vocals. Fans and reviewers fondly cite The Band, Lynyrd Skynyrd and Bob Seger as influences they hear throughout the Red Clay Stray's music.
"I call it rock and roll with Southern influence or country with rock and roll influence," said rhythm guitarist Drew Nix. "A lot of people are calling it 'alt-country' these days. We put music out and let the people decide."
The Alabama group consists of Brandon Coleman on lead vocals, rhythm guitar and piano, Zach Rishel on lead guitar, John W. Hall on drums, Andrew Bishop on bass and Drew Nix as rhythm guitar, harmonica and backup vocals.
Bishop, Hall and Nix currently live together in a house in Mobile.
"We're all literally like brothers," Nix said. "I've laughed some of my hardest with these guys, and there's times where we about killed each other. But at the end of the day, we love each other like family. But I hate even saying 'like' family because it feels like a real one."
When they aren't at home or writing material for their first album, you can find the Red Clay Strays playing at one of the area's many neighborhood watering holes like Callahan's, Soul Kitchen or the Flora-Bama—a spot that yielded their biggest gig yet.
"We're a regular band at the Flora-Bama, and we met a couple of young ladies who worked closely with the Hangout crew who got us booked to play at The Hangout Oyster Cookoff," Nix said. "The owner of The Hangout, Shaul Zislin, came up to us after our set and offered us the slot [at Hangout Fest]. We're extremely excited about it and are going to put on the best show we have in us."
Nix said Hangout Fest attendees can expect a ton of energy and excitement from their upcoming performance.
"It's all natural—we can't help how we feel the music, and we just pretty much lay it all out there when we play," he said.
The band signed a record deal with Skate Mountain Records in 2017, and they've been diligently writing music over the last year or so in preparation for their first full-length album.
"We feel like our patience and hard work is coming to fruition," Nix said.
Nix noted that he and the rest of the band members quit their day jobs, so their respective "8 to 5" workday hours are filled with writing and working out new possible songs.
"We've recorded some new music at Dauphin Street Sound in Mobile recently and have done some overdubs in Nashville with a master guitarist, a really solid producer/engineer and wonderful human being named Jeff King that we're waiting on to be mixed and mastered," Nix said.
Nix compared the band to what he imagines running a small business would be like and noted that when there's growth involved, there's usually growing pains.
"It's all about trying to keep up with where you're at in the moment and continuously getting better," Nix noted.
After the Red Clay Strays play Hangout Fest, they'll leave for a quick run of shows in Texas, Oklahoma, Arkansas, Kansas, Missouri and Tennessee. Their first record is also slated to be released later this summer, and Nix said he imagines the record will be followed by another cycle of writing, recording and touring.
"I hate speaking for everybody [in the band], but the fact that we've been able to make a living playing music is what we're most proud of," Nix said. "We know where we stand in the world and in the grand scheme of music, but we feel like we have a lot to say and we can't wait for everybody to be able to hear it. The fact that I even found these people and an outlet to keep my sanity has made me the happiest I've ever been in my life."
The Red Clay Strays
12:45-1:15 p.m. Sunday
Alabama Newscenter Sunset Stage