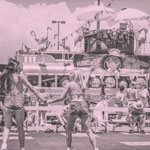 Here at Inweekly, we've been hanging out at Hangout a long, long time. And during that time, we've learned a thing or two—like how to properly experience a Diplo set and how many travel-sized sunblocks you'll need to survive three full days of sweaty fun.*
Here are five of our favorite tips and tricks to help you maximize your experience this weekend and avoid being forced to leave your purse behind at the security gate.
Just So It's Clear
Like most large venues and festivals, Hangout has transitioned to a clear bags only policy. So make sure you leave your cute straw beach totes at home and get something that's clear plastic, clear vinyl or clear PVC. The bags also can't be too big—nothing larger than 12" x 6" x 12" is allowed.
Lock It Up
If you decide to buy merch (which you totally will) and didn't come prepared with a clear bag, remember that Hangout Fest offers onsite lockers. In addition to a safe place to store your goods, they also come with unlimited cell phone charging. Talk about a win-win. Lockers are just $20 a day or $50 for the weekend, and you can reserve one in advance at hangoutmusicfest.com/lockers.
Must Haves
We are all about less is more, especially at Hangout. But there are a few select items we think should be mandatory—a reusable water bottle (your wallet and the planet will thank you), Wet Wipes (they are way more versatile than hand sanitizer) and sunscreen (make sure you shop for small bottles with big SPF protection).
Totally Charged
This year, Hangout has teamed up with Electric Standard Co. to offer portable battery packs with unlimited exchanges throughout the festival. So basically, you're buying a new phone charger from them (because you get to take one home) with one really cool perk—anytime the charger dies during the weekend, you can return it to any Electric Standard Co. location and exchange it for a freshly charged one. And guess what? All that juice is only going to cost you $25 if you pre-order at electricstandard.co/hangoutfest.
Paper Trail
We know there's a Hangout app, but trust us when we say that having a paper copy of the schedule will come in handy more than you think. In fact, we believe this tip so much that we included the full three-day schedule in our print issue (on newsstands Thursday, May 16.)
*The answers, in case you're curious, are in the middle of the crowd (because the front is just too much but the back doesn't get enough bass) and three (one per day, per person).