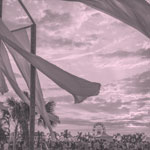 If you've never been to Hangout Fest before, you might be surprised to learn that even though it's a beach festival, most of your typical beach essentials aren't allowed—like umbrellas and coolers. But trust us when you say, after one day of hopping from stage to stage and waiting in line for Spicy Pie, you'll be glad you're not lugging around a chair.
Our advice is bring as little as possible, but make sure that "little" includes sunscreen and a reusable water bottle. And if you run into any questions while packing, here's the official list of what's okay and what you should leave at home.
Yup:
•Liquid sunscreen—in non-­aerosol containers of 3oz or less
•Bug spray—again, in non-aerosol containers of 3oz or less
•Clear backpacks, bags and purses (no larger than 12" x 6" x 12")
•Fanny Packs
•Small clutch bags—approximately the size of a hand with or without a handle or strap (no larger than 4.5″ x 6.5″)
•One-gallon clear, plastic zip-top bags
•Blankets and beach towels
•Sunglasses and hats
•Baby strollers (if you have small children)
•One (1) empty non-glass water container up to 2 liters in size
•Empty CamelBak-style bladder carriers (they must have no more than one pocket in addition to the compartment that holds the water bladder)
•If you need medicine, prescription and OTC medications are allowed but subject to specific guidelines
Nope:
•Tents, umbrellas or temporary structures of any kind
•Weapons, knives or firearms of any kind, including any item that can be used as a weapon
•Narcotics, including marijuana, drug paraphernalia and any other illegal substances
•No backpacks, purses or bags allowed except bags made of clear plastic, clear vinyl or clear PVC (not exceeding 12" x 6" x 12")
•Alcoholic beverages of any kind
•Drones or any other remote flying device
•Vitamins
•Kites
•Glowsticks
•Focused­light devices—including laser pointers
•Refillable vapor or electronic cigarettes
•Unsealed cigarette packages, tampons, packs of gum and Chapstick/lip gloss
•Marker pens and spray paint
•Air horns and/or megaphones
•Items intended for sale/promotion (including flyers, stickers and posters)
•Water guns, water balloons and/or any other kind of water projectile
•Glass in any form, including glass bottles
•Outside food or beverages
•Skateboards, rollerblades, hoverboards, scooters, bicycles, wagons and/or motorized carts or scooters
•Fidget spinners
•Bicycles inside festival grounds (bike racks will be available near the entrance)
•Large chains or spiked jewelry
•Fireworks, sparklers, firecrackers and/or incendiary or explosive devices of any kind
•Chinese Lanterns
•Chairs of any kind (including inflatable loungers)
•Coolers of any kind (including hard­sided and soft­sided coolers)
•Pets (service animals with current rabies vaccination excepted)
•Video equipment of any kind (including personal camcorders and GoPro cameras)
•Professional photo equipment (SLR/DSLR cameras, detachable/removable lens cameras)
•Audio recording equipment of any kind
•Portable audio equipment of any kind, including portable "boom box" stereo systems
•Professional radios or walkie­talkies
•Flags and/or flagpoles
•Selfie sticks
•Hammocks
•Any item that can be used as a means to disturb the peace, endanger the safety of the crowd and/or inflict damage to people and goods
If you have additional questions while packing, make sure to check out hangoutmusicfest.com/festival-info. Also, remember the list of allowed/prohibited items is subject to change.