City Enters Budget Season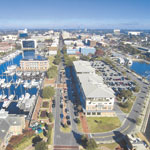 By Jeremy Morrison
The Pensacola City Council began its wade into Mayor Grover Robinson's proposed budget for fiscal year 2020 over the course of a pair of workshops in late July. The $245 million budget is comprised of a variety of revenue sources and funds the full spectrum of city services and efforts.
At one point during the workshops, Pensacola City Councilwoman Ann Hill inquired about a pie graph Chief Financial Officer Dick Barker had earlier presented. She seemed encouraged that 6 percent of the city's general fund was going toward environmental concerns and wanted a breakdown of the expenditures.
Councilwoman Sherri Myers followed up by asking Barker for a clarification before anyone got too happy.
"I wanted to ask Mr. Barker what the definition of 'environment' is, in terms of the budget?" Myers said. "That doesn't necessarily mean 'trees' or 'water quality.' What does it mean in terms of the budget?"
"It's 'economic environment,'" Barker clarified. "Economic environment is what we're speaking of, not like 'environmental.'"
"I got the wrong environment," Hill laughed. "I was getting all excited."
During the two days of workshops, city council members were briefed on each of the city's various departments and their associated budgets. They were given an overview of the city's revenue, expenditures, debts and commitments.
Now that council has become acquainted with the mayor's proposed budget, members will have a month or so to mull it over. Public hearings—where the council will be asked to approve the budget and during which members may seek changes—will be held in September.
A Budget with a Mission
Heading into the July budget workshops, Mayor Robinson sounded optimistic.
"There's no perfect budget," he said, "but I think it's a very good job."
The mayor said that his proposed budget reflected the direction he'd like to see the city go and incorporates feedback received via an employee survey.
"I believe it ties into the mission and allows us to begin to push different ideas," Robinson said, specifically pointing to elements of the budget that detailed new staff positions and an increase in employee pay.
The proposed 2020 budget—at $245 million—has a nearly $58 million general fund. That's about a 7.5 percent, or $4 million, increase from last year's general fund. The increase is due to several factors, including estimated revenue jumps due to increases in property values, half-cent sales tax totals, and franchise and service fees.
In addition to the new positions Robinson is bringing on—everything from beefing up the city's police force to adding mission-reflective positions such as the new Complete Streets coordinator—a particularly noteworthy element of the proposed budget is the increase in pay for city employees.
Mayor Robinson has pointed to employee pay as one of the top-priority items listed on a recent internal survey. He has said upping the pay is necessary to retaining and attracting talent.
The 2020 budget reflects this desire to up compensation for employees by increasing pay between 3 and 4 percent. There is also an opportunity for employees to earn an additional 2 percent increase in pay via merit-based increases.
Insofar as new positions being added to the city's roster, there are plans to add 11 executive branch positions. These positions include such as an assistant city administrator for community development and the Complete Streets planner—both of which have already been hired. Other positions to come include a deputy airport director, two police officers to be dedicated to the downtown area (paid for out of funds from the Community  Redevelopment Area and the Downtown Improvement Board) as well as a fire battalion chief to oversee operations at the Pensacola International Airport.
Other aspects of the proposed 2020 budget include a 4.2895 millage rate, which has remained unchanged since 2012. There's also a 23.43 percent general fund reserve (a few points above a mandated 20 percent reserve).
The new budget also includes about $104 million in Local Option Sales Tax revenue, which is earmarked for a variety of expenditures, such as new vehicles for the police and fire departments and just under $4 million of upgrades and refurbishments at city parks and community centers. About a million dollars worth of LOST funds will also go toward public works efforts, such as accessibility improvements, energy conservation and efficiency efforts, sidewalk improvements and the continuation of the Pavement Management Program.
Feeling Left Out
The process of creating a new budget is a lengthy one, stretching back months. City staff began work on the 2020 budget soon after Mayor Robinson came into office.
Prior to the July budget workshops, Robinson, as well as City Administrator Chris Holley, said they had met individually with council members to discuss the proposed budget. Neither expected any dramatic opposition to the budget.
"They all have different ideas about prioritizing projects," Holley reported, "but nothing out of the ordinary."
During the workshops, however, Councilwoman Myers did lodge a complaint. She said she felt council had not been allowed an appropriate opportunity to offer input during the budget process.
"I think basically the council was bypassed," Myers said, suggesting that in future budget cycles, council conduct budget preparation workshops—"so that we can be prepared"—and submit priorities in writing to the administration.
Council President Andy Terhaar said that perhaps such a preparation workshop could be conducted next year but said council would proceed with the 2020 proposal as it stands.
Robinson told Myers that he welcomed council input but maintained it was the executive branch that was ultimately responsible for drawing up a budget proposal.
"We present the budget. You have two days to work through it," Robinson said, allowing that council now has the opportunity to address any issues it has with the proposal prior to the September public hearings. "This is the time that the council has the ability to do whatever they need to."
by admin | Jul 31, 2019 | Issue, News