The Pet Issue '19: Adorable Activism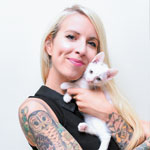 By Savannah Evanoff
Hannah Shaw didn't find kittens; they found her.
The YouTube vlogger, Instagram celebrity and new author known as "Kitten Lady" said her devotion to kitten advocacy started with a kitten she found stranded in a tree 10 years ago.
"I had no idea when I got started that kittens—if they're an orphan and they go into a shelter—they're very likely to be euthanized," Shaw said. "When I realized there were not a lot of places that could take on a kitten like that, I decided to raise her. After that, I started finding kittens absolutely everywhere outside. I became really determined to be the person who could give them a shot at life."
Coco, Shaw's OG kitten, has shared her home with hundreds of rescued kitten roommates since.
Shaw has two spaces dedicated for them, a built-in nursery for neonatal kittens that is decked out with incubators and a transition pen with climbing structures for kittens to test out their developing feline skills.
For the longest time, kittens didn't get the spotlight they deserved. Shaw changed that with her Kitten Lady persona. She not only rescues kittens but also makes YouTube videos about how to care for kittens, spreads awareness on social media, posts kitten information on her website and soon will have a 300-plus-page resource for those who are kitten curious called "Tiny but Mighty: The Kitten Lady's Guide to Saving the Most Vulnerable Felines."
"I live and breathe kitten advocacy," Shaw said. "This is everything I care about. I'm pleasantly surprised by how much desire there is from the public to learn about this. I always say I lure people in with cute photos and videos. They come for the cute photos, but they stay for the education and the cause."
Shaw's book, "Tiny but Mighty," releases Aug. 6. It's part narrative, part instructional.
"'Tiny but Mighty' is really for anybody who is interested in animal welfare or cats," Shaw said. "Even if you're not a foster parent, I have dozens of cute kitten photos and cute kitten rescue stories, which are really fun to read. It's a great resource whether you are actively rescuing or you're kitten curious or you just love cats."
Shaw also wrote a children's book, "Kitten Lady's Big Book of Little Kittens," which will release Oct. 8. It's designed for children 4 and older, but Shaw recommends it for everyone.
"I'm 32 and I love it," Shaw said with a laugh. "It is a really cute picture book that is all about what happens in the life of a foster kitten from rescue to adoption and teaches kids concepts about animal welfare and fostering in hopes that they will someday be interested in maybe being part of this movement. It's adorable."
About half of the cats in the U.S. live outside as community cats, Shaw said. Her mission is to spread awareness about the problem.
If kittens are found outside, people should first try to reunite them with their mother.
"The mom is the best one to take care of them," Shaw said. "And you should also be doing trap and return in that area so you're putting an end to the burdens of all these kittens who are born under dumpsters and in alleys and under porches. This is such a huge tragedy, but it's such a preventable tragedy. It's preventable through sterilization of the cats who live outside in our communities."
When kittens don't have their mothers, others need to step in.
"Just because they are very, very young or fit in the palm of your hand doesn't mean they don't have everything inside of them to be an amazing and mighty and robust cat," Shaw said. "These kittens have all of the potential inside of them, and they just need our help to bring that out."
Orphan kittens have as much of a right to live as a cat of any other age.
"A baby—whose eyes are closed and ears are folded— they still have an instinct to seek warmth, to seek food," Shaw said. "They want to suckle automatically the moment they're born. Their bodies want to live so badly."
Shaw now spends her life surrounded with teeny tiny kitties in need, and it never gets old.
"Every kitten I see is the cutest kitten I've ever seen," Shaw said. "All of the photos in the book and on my social media, people go, 'How did you get them to do that? How did you get them to be so cute?' I'm like, 'You don't have to get them to do anything. They're just always cute.' You can be doing this impactful thing but also be surrounded by the most adorable fluff balls ever who are constantly making you laugh and making you say, 'Aww.' I don't think there will ever be a day that I don't go absolutely gaga for kittens."
For more on Shaw and her upcoming books, visit kittenlady.org. And if you don't already follow her on Instagram, fix that ASAP—@kittenxlady.
by admin | Jul 31, 2019 | Cover Story, Issue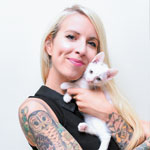 Author: admin
Post Date: 2019-07-31 16:00:16
Found in: Cover Story
Found in: Issue
Tags: Hannah Shaw, Kitten Lady,