The Pet Issue '19: How I Became a Dog Nanny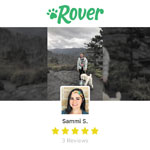 By Sammi Sontag
It's me, Sammi Sontag, former INtern turned summer '18 staff writer. Since the last Pet Issue, I've made a few life changes. I now live in Brooklyn, N.Y., and I have the most fitting side job—I'm a dog nanny.
I honestly didn't know dog nannying was a lucrative side job until I signed up for Rover.
For those of you who are unfamiliar, Rover is a dog-walking app that's basically Tinder for dog people.
In a nutshell, the process to sign up for Rover is as follows—you download the app, pay for a background check, find your best pet-centric profile picture and some testimonials, and BOOM, you're a "professional" dog walker.
I was surprised how quickly Brooklynites responded to my profile. I was regularly walking dogs and doing drop-in visits until a family, that I'll call Mr. and Mrs. X, courted me.
They are in their late 30s and needed a dog nanny for an entire week as they traveled the East Coast. I had never heard of a dog nanny before, but they were willing to pay generously, so I said yes.
Two days prior to their departure, I met Mr. and Mrs. X and their pups, Rudy and Mazie, in an open park on a Tuesday afternoon.
When I saw the family of four bounding toward me, I knew this would be a good week. Rudy and Mazie are three-and-a-half-year-old Scottish terriers. They are draped in wavy, dark chocolate colored fur and have triangularly pointed ears and bangs that made seeing the world very difficult (particularly for Mazie—she is constantly shaking her hair out of her eyes before walking any length).
The dogs waddled up to the bench and wagged their tails; their parents sat next to me. As we chatted about the dogs' routine, I observed the Scotties.
Rudy was relaxed; Mazie high strung. Rudy was chunky; Mazie was slim. Needless to say, they made a good brother-sister duo.
That same day, the X's took me to their "digs," which is a term Mrs. X used interchangeably with the word "home." Of course, they have a beautiful brownstone, with three floors, two bedrooms, two full bathrooms and breathtaking ornate rugs throughout. I was overwhelmed and underprepared for the fancy slice of Brooklyn living.
"So this is what dog nannying is like in New York?" I thought. "Wow."
When Mrs. X asked me if was comfortable staying at the house, I nodded and smiled. The excitement and nerves blended together, but I was ready.
Rudy and Mazie hated the idea of a nanny. Like any three-year-olds whose parents left them behind for vacation, the Scotties threw a fit. They barked at me, hid under the couch and refused to walk. We had two brutal, sleepless nights, and I worried our week ahead would be hellacious. But thankfully, it wasn't.
By Wednesday, the Scotties warmed up to me. They even liked me enough to sleep with me. They cried when I left the house and licked my toes as I prepared their gourmet dinner. Seriously, their mom left them boiled chicken, broccoli and carrots for the week. My meals aren't even that balanced most days.
We had become our own pack, and I loved it. I felt their affection each time I scratched behind their ears. And in the morning, as my alarm went off, Rudy and Mazie made sure I was really awake by giving me tons of kisses.
The week flew, and before I knew it, Mr. & Mrs. X were back. They toppled their luggage into the basement and cooed as their babies ran up to them and smothered them in kisses.
Before I left, Mrs. X asked if I'd nanny again soon.
"Dog nanny," I thought. "This is not what I was expecting, but hey, it has a fun ring to it."
So I said yes and patted the dogs on the head before rushing to catch my train. And that's how I officially became a dog nanny in New York City.
by admin | Jul 31, 2019 | Cover Story, Issue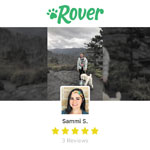 Author: admin
Post Date: 2019-07-31 16:00:29
Found in: Cover Story
Found in: Issue
Tags: Rover, Sammi Sontag,