The Pet Issue '19: My (Fury) Fitness Pal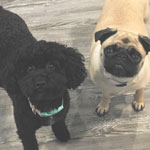 By Savannah Evanoff
Nearly nothing gets a dog more excited than the following four letters—W-A-L-K.
Kenzie and Josh Presnell, certified personal trainers and the owners of Fixed on Fitness, know this well. They have a miniature poodle named Maggie (the more active of their two dogs) and a pug named Lily (who just does her best to keep up), the Presnells said in an email interview.
Their furry family members contribute to their already active lifestyles.
"They love to walk, so they will beg to take a stroll," the Presnells said. "Even if we don't want to go, they will usually persist until we take them."
The primary activities they do with their dogs are walk, run and play fetch. They also take Maggie on the trails to hike alongside them.
Pets—especially dogs—are fantastic workout partners, the Presnells said. They love to be outside, and they love to exercise.
"A dog will encourage you to simply move," they said. "Some are more active than others, but having a pet and paying attention to their needs will help you get active, too."
When it comes to getting active with your pets, they recommend researching the activity level of your pet specifically.
"Know their needs so that you make sure you exercise them appropriately," they said. "Our poodle is very different from our pug."
Their next best tip is simply to start.
"An easy walk around the neighborhood after dinner or before you head to work is a great start," the Presnells said. "Then, experiment with the trails at UWF or Blackwater. Always have water available on longer walks just in case. You and your pet will benefit from time outside and some easy movement."
To learn more about the Presnells and Fixed on Fitness, visit kenzieandjosh.com.
by admin | Jul 31, 2019 | Cover Story, Issue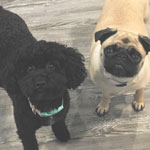 Author: admin
Post Date: 2019-07-31 16:00:17
Found in: Cover Story
Found in: Issue
Tags: Kenzie and Josh Presnell,