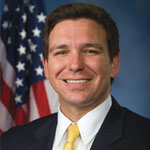 Winner
Ron DeSantis
The Florida governor has agreed to allow Florida to join a national electronic center to exchange voter registration data with other states, an effort long-sought by county supervisors of elections. Florida will become the 29th state to participate in the Electronic Voter Registration Information Center, a consortium of states that share voter registration information. Data matches by the center can identify voters registered in two states, those who have moved between states and those who have died, which allows county elections officials to identify and remove people who are no longer eligible to vote in the state.
Alicia Espriella
The American Association of University Women (AAUW) awarded the University of West Florida grad student a Career Development Grant. Espriella is currently pursuing an M.S.Ed. in Exceptional Student Education and Applied Behavioral Analysis. The grant was one of eight fellowships and grants to scholars from Florida who are pursuing academic work and lead innovative community projects to empower women and girls.
William Reynolds
The Florida Public Relations Association (FPRA) Pensacola Chapter recognized the founder and publisher of northescambia.com as Media Person of the Year. FPRA Pensacola Chapter has a long-standing tradition of recognizing a local media professional as Media Person of the Year, which expresses appreciation for the vital relationships public relations professionals have with members of the media to bring news stories to light.
Losers
Marion Hammer
The NRA's only registered lobbyist in Florida appears to have violated a Florida law requiring paid lobbyists to register and file reports for each calendar quarter disclosing their total compensation from clients. According to NRA reports and tax returns, Hammer was paid $659,000 to lobby for the organization in Florida. None of those payments was reported to state lobbyist regulators. The Florida leadership has asked the Office of Legislative Services General Counsel Audrey Moore to investigative—a political move many considered to keep the review out of the public eye.
Save Our City
Fourteen years ago, the political action committee attacked Quint and Rishy Studer for being greedy carpetbaggers for pushing for the Community Maritime Park. The group was convinced the park was a boondoggle that would bankrupt the city. Last week, Pensacola was recognized for being voted America's Strongest Town in celebration of the progress the city has made toward being financially strong and resilient. For the past three years, the city's property values have increased 21.5 percent, according to Mayor Grover Robinson.
Mette Frederiksen
The Danish prime minister dared to call the "Chosen One's" suggestion that Denmark sell Greenland to the United States "absurd." Obviously, she doesn't get Fox News in Copenhagen. President Trump abruptly canceled his visit to Denmark, calling Frederiksen's comment "nasty" and accusing her of "blowing off the United States." No one disses the "Chosen One."