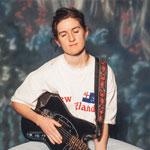 By Savannah Evanoff
No one has to ask.
Barrie is happy to be here. From forming a band together in Brooklyn to landing on the guest list for a private garden party at the Museum of Modern Art, the five-piece band named after its female lead singer is inherently cool with wherever they end up.
As the deadline loomed, the band members had no qualms when keyboardist Spurge threw out the name, "Happy To Be Here," for their debut album.
"It's a sentiment we all find ourselves feeling and even saying," Barrie said. "It's gratitude to be where we are. Often in New York, you find yourself in situations and events and with people where you're kinda pinching yourself. As soon as he said it, we were like, 'Yeah this feels right'—especially with this project. We were like, 'How did we end up here? I don't know, but we feel really lucky to be in this situation.'"
They didn't know "here" was going to be in New York as the band Barrie. But, when a manager found a few of vocalist Barrie's songs online and connected her with a couple of the members, it instantly felt right. She thinks he had a sixth sense about it.
Barrie's chill style of songwriting is likely what caught the manager's attention. No one has to ask her to tone it down.
"Even if I think I've written a really rockin' song, I listen to it later or someone else listens to it and they're like, 'No, this is chill,'" Barrie said. "I think that's just what comes out of me. I think I'm going crazy, and they're like, 'Nope, still very mellow.'"
Barrie's calming vocal style has always lent itself to naming a band after her.
"People have mentioned the idea before when I had other projects like, 'You have a weird name; you might as well name it after yourself,'" Barrie said. "Eventually, I gave over to it. You kinda get used to it, being like, 'We are Barrie,' and hearing people talk to you about you in the third person."
It's ironic though. Barrie isn't technically her name, and Barrie didn't technically didn't always know her name.
"My full name is Barbara, named after my grandmother," Barrie said. "When I was a baby, my parents were like, 'That is way too big of a name for a little kid.'"
Her mother called her Barrie, after both a childhood friend and a town in Ontario—a halfway point between where she grew up in Toronto and where they would go swimming and skiing in the winters and summers.
"She had fond memories," Barrie said. "I think they were like, 'That seems fitting.' I didn't even know my name was Barbara until I was 10 years old."
The name makes sense, because Barrie is also the band's primary songwriter.
Barrie is deliberate with her lyrics and keeps a giant list of notes on her phone about things she hears or sees. She digs having entire songs based on a movie, trip or book.
"I don't like talking about myself through music," Barrie said. "I really like telling other people's stories, things that are going on around me. The self comes through in the telling it. It doesn't have to be first-person. The things you pick up in an experience or interactions with a person are very telling about the narrator anyway. The things you include and leave out are all very informative."
"Geology" is based on a James Baldwin novel Scurge lent her when she first moved to New York.
"I was just reading it nonstop on the subway, feeling very inspired by that," Barrie said. "It's funny listening to that song, because it reminds me of the novel but also that era of my life, just having moved to the city and feeling like I was really in this new and exciting and inspiring place."
New York is as overwhelming, loud and busy as they say it is, she said. It only took her a few seconds to come up with a really New York-y New York anecdote.
Guitarist Noah sweet-talked the band onto a guest list for a private show at the Museum of Modern Art.
"I remember saying to myself like, 'How the hell did I get in here, standing next to Maggie Gyllenhaal and these fashion people?'" Barrie said. "It was like, 'This is really the center of the world, isn't it?'" The whole first year of being there was a series of pinching yourself—and not just in terms of meeting a famous person—just being surrounded by cool, interesting young artists who are figuring out their stuff, too."
As always, Barrie is just happy to be here.
BARRIE
WHAT: Why? with Barrie
WHEN: 7 p.m. Friday, Aug. 30
WHERE: Vinyl Music Hall, 2 S. Palafox
COST: $15
DETAILS: vinylmusichall.com