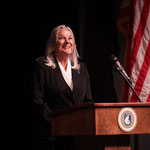 Extraordinary Successes On Friday, Sept. 27, University of West Florida President Martha D. Saunders presented her 2019 State of the University address. She noted that UWF placed top two in the Florida Board of Governors performance-funding model, scoring its highest point total in the six-year history of the metrics and finishing one point behind the University of Florida. UWF improved in each of the 10 metrics, highlighted by significant improvements in four-year graduation and student retention rates.
"Nobody did this alone," Saunders said. "Every single thing we do that matters at all is a collaborative effort."
Saunders pointed out that U.S. News & World Report awarded the University four Best Colleges award badges as symbols of excellence for ranking among the top regional universities in the South in the following categories—Regional Universities, Top Public Schools, Social Mobility and Best Colleges for Veterans.
UWF welcomed its third consecutive class of National Merit Finalists this fall, for a total of nine finalists enrolled since Fall 2017. Saunders cited the UWF robotics team finishing second out of 41 teams in the annual Institute of Electrical and Electronics Engineers SoutheastCon hardware competition and UWF mechanical engineering students participating in ArgoTots, a program that assists young children with physical disabilities by creating modified vehicles, among notable student accomplishments. Additionally, the Florida Student Association elected UWF Student Body President Zenani D. Johnson to serve as chair for the 2019-20 academic year.
Saunders also highlighted the university's accomplishment of expanding its downtown presence in her address. The UWF Center for Cybersecurity relocated in the spring and now operates out of a state-of-the-art facility in the Studer Community Institute Building. The Center for Global Online Learning and Development also established a presence in downtown Pensacola.
Saunders said UWF is primed to carry the momentum over to the new academic year. Her goals include continuing to improve the university's four-year graduation and student retention rates, along with increasing community efforts.
"We don't need to stick close to shore. We can take on the big sea," Saunders said. "We are not afraid to set big goals. The day before any major breakthrough, it was just a crazy idea."
Two Buildings, One School A review of four years of audited financial statements of the Jacqueline Harris Preparatory Academy, a charter school founded by former ECUA board member Celestine Lewis, revealed the school paid $11,000 rent per month for the Agnes McReynolds School property, even though the school relocated in 2017 to a facility it purchased on Highway 29.
According to the 2018 audit of New Road to Learning, Inc. D/B/A Jacqueline Harris Preparatory Academy conducted by James Moore & Company, "The School has a building lease expiring October 2023. The Principal of the School (Celestine Lewis) owned the building at the inception of the lease. Total rent expense for the building amounted to $132,000 during the year ended June 30, 2018."
As a charter school, Jacqueline Harris Preparatory Academy is funded with taxpayers' dollars through the Escambia County School District. The audit stated the school was obligated to pay a total of $660,000 through 2023, even though the building had been sold by Lewis in 2014. The current 10-year lease was signed by the school less than a year before the building was sold.
The 2014 audit reports states, "In June 2013, the School entered into a lease agreement for the use of the building with Creative Projects, LLC, a limited liability company of which the Principal of the School (Celestine Lewis) is a managing member. Lease payments were $11,000 per month for 10 years. During the year ended June 30, 2014, this building was purchased by an outside party. However, the Principal financed the sale, and per the building contract, the seller (the Principal) personally guaranteed the school will continue to make rent payments of $11,000 monthly for four years."
If Jacqueline Harris Preparatory Academy had not continued to pay rent for the McReynolds building after she relocated the school, Lewis would have had to personally make the $11,000/month payments out of the profit she and her husband, Creative's other managing member, made from the sale of the building.
Studer Buys Snappers Quint Studer, co-owner of the Pensacola Blue Wahoos, is now the owner of the Beloit Snappers, who will be the tenant of a new downtown 5,000-seat stadium. The Snappers are a Minor League Baseball team of the Midwest League and the Class A affiliate of the Oakland Athletics.
Baseball Digest reported that its sources pegged the final price at $9 million—"but much of that will be funneled back into the new-ballpark effort by the current Snappers Board of Directors as overseen by a new entity, the Riverbend Stadium Authority." The buyer was identified as Studer Entertainment and Retail. If the sale is approved by the Midwest League and Minor League Baseball, and the city agrees to a new ballpark, construction is set to start as early as Spring 2020.
Flexibility on Cervantes Wall The Florida Department of Transportation may be able to compromise on current plans to place a barrier wall down the middle of West Cervantes in an effort to improve pedestrian and vehicular safety on the perilous corridor near downtown Pensacola.
Jared Perdue, director of transportation for FDOT District 3, discussed the issue with the Pensacola City Council Sept. 26, following a meeting with Mayor Grover Robinson, who has been trying to get the state to reconsider the wall.
"You've heard it referred to as the barrier, the wall. We like to refer to it as decorative railing," Perdue said. "It sounds positive, but it is what it is; it's a separation."
In addition to the wall, FDOT's safety improvements slated for West Cervantes include crosswalks, traffic signals and a narrowing of lanes. But the wall aspect has received the most attention, with residents and businesses along the route, as well as local governments, coming out in opposition to a concept they contend will cut off the street grid's flow and impede both pedestrians and drivers trying to cross the street.
"We welcome that opposition. We welcome that feedback," Perdue told city council. "We really do truly have a purpose to get as many members of the community involved as we can."
Up until last Thursday, Mayor Robinson had not sounded too optimistic about getting FDOT to change course. City administration has met with the agency before, but on Thursday, those discussions appear to have turned a corner.
"We actually today had a really good discussion with FDOT," the mayor noted, explaining that the agency was "willing to work with us" on the wall.
Perdue agreed, describing the city as "very gracious" and "very collaborative," with "a lot of excellent ideas." He said that FDOT had "flexibility" where the wall was concerned, and that the state would be getting back to the city with alternative concepts, such as using landscaping and a median to prevent crossing at undesignated crosswalks.
"We have a lot of flexibility with that," Perdue said. "There's other ways of channeling pedestrians, other ways that are more aesthetically pleasing."
Councilman P.C. Wu pointed Perdue toward Fletcher Avenue in Tampa, where he said FDOT accomplished its safety goals sans barrier. That route, he said, employed numerous crosswalks with flashing yellow crossing signals.
"They do not have a wall, but it has dramatically cut down on fatalities," Wu said. "I think that would work very well here."
And Councilwoman Ann Hill wondered if FDOT might consider expanding the scope of the safety project to include the stretch of West Cervantes going through the North Hill area toward Palafox Street. She said that if funding were an issue, perhaps the city could tap some of the landscaping specific money stemming from FDOT's bay bridge project.
"The main thing is that we would like it all tackled at the same time," Hill said. "I would hope that you won't just say, 'We don't have the money.'"
"It's certainly something that we can consider," Perdue told her. "We never want to say no the first time you ask a question."
Councilman Jared Moore was interested in FDOT's reasons for not leaving the street grid intact in the initial plans, allowing pedestrians and drivers to cross over at any given intersection—"What's the rationale behind that?"
Perdue said that FDOT's primary objective is making the West Cervantes stretch safer. That means reducing traffic speeds and also reducing the "points of conflict" for pedestrians and drivers. The barrier, he said, is intended to reduce such conflict points by limiting crossing points.
"That's the primary strategy for making it safer," Perdue said of the conflict-point reduction. "If you don't reduce them, the corridor does not get safer."
Complaining Commissioners Last week, the Santa Rosa County Commissioners aired their complaints about the opposition to their referendum to increase the county's local option sales tax (LOST) by a half-cent.
After County Administrator Dan Schebler at the Sept. 23 board committee meeting outlined how he and his staff have tried to counter "a lot of misinformation out there," the commissioners took turns speaking out and defending the referendum, which will go before the voters on Oct. 8.
"The five of us got elected by a majority. The sheriff, the tax collector, the property appraiser, the supervisor of elections and our clerk of court all got voted in by a majority, and we support the tax," said Commissioner Bob Cole. "We're just asking our citizens out there to tell us that we hired you guys to do a job; do it."
He continued, "We're doing it. We're putting it on a ballot because we think it's the most effective way to get out there and repair things that need to be repaired in our county without kicking the people in the butt by raising everyone's taxes. Things got to be paid for. There's no … I guess I just don't take my cue from a lot of the Democrats I'm hearing running for president that everything's free."
Cole said that impact fees aren't the solution because such a fee "fixes only the impacted area for whatever it's named for."
"If it's a school impact fee, they can build schools, but if the board of commissioners don't have the road money to build the road to get to the school, it's kind of null," he said. "Same thing with drainage, and that's why myself, I feel like it's the most fair way that we could go about it. I've seen a lot of commercials lately with other elected officials that support it. Please, I just ask that you don't listen to the rumor mill; don't listen to false accusations."
He pleaded that the voters not to listen to the "rumor mills." He asked they "listen to the people that you've elected to lead this county and do the right thing. I can't tell you how to vote, by law I guess—attorney's sitting over there shaking his finger at me—but I'm asking you to at least get out and vote and listen to what is factual, not non-factual."
Commissioner Don Salter argued that impact fees hinder commercial development.
"Over the years, as I've sat on this board, I've heard people complain about, 'We don't have enough good restaurants. We don't have enough clothing stores. Down in Navarre, we don't have enough restaurants.' What would've happened if you'd had impact fees in place?" said Salter. "You probably wouldn't have the kind of commercial development you have now."
Commissioner Chairman Sam Parker complained about social media—how "somebody can put a blatant lie and some people just take that as the gospel."
Parker said, "I tell people we're not overspending. We're not telling you you have to vote for this, but this is a chance to say, 'Do we want to have a better community?' This is money that you would have to spend a little additional sales tax, but guess what? It stays right here in our own community."
He added the county commissioners will always budget within its means, but there will be a cost to not increasing the LOST.
"You can either continue to wallow and complain and say, 'I'm against the tax,' and guess what? Even when I'm gone and these other commissioners are gone, your future commissioners will be faced with the same issues," he said. "We can't pay roads without money, so I would just encourage you to ask yourself if you want a better community, you understand that things cost money, and you understand that that's what we're asking you for."
Then Parker took a swipe at his critics—"As we sit here today with less than a half dozen people in the audience, I think that this speaks volumes to the kind of folks that we're talking about. It's easy to sit at home and whine and complain, but yet nobody's down here today actually getting involved or bringing suggestions to the table."
Day of Caring United Way of West Florida will hold its 27th Annual Day of Caring on Friday, Oct. 4, the largest single day of volunteerism in the region.
This year, nearly 1,200 people have registered to join United Way of West Florida in completing 156 projects at 72 nonprofit agencies and schools in Escambia and Santa Rosa counties. These volunteers make up 105 teams that represent nearly 76 different companies and civic groups from the community.
"We're thrilled to celebrate Day of Caring across our entire community," said Education Outreach and Volunteer Manager Kristy Craig. "This is an exciting year for us as we develop new partnerships and have the opportunity to showcase our work, celebrate our volunteers and impact our partner agencies and local schools."
If you'd like more information on how to volunteer with United Way of West Florida, visit the organization's online volunteer hub at uwwf.galaxydigital.com, or email volunteer@uwwf.org.
Mark Your Calendars Ascension Sacred Heart will provide free heart-health screenings 9-11:30 a.m. Friday, Oct. 4, at Greater Bethlehem AME Church, 5299 Richburg St., Milton.
Escambia County's State Legislative Delegation will hold a public hearing 5:30-7 p.m. Monday, Oct. 7, at the Pensacola State College Jean and Paul Amos Performance Studio, 1000 College Blvd.
Planning Board will meet at 2 p.m. Tuesday, Oct. 8, in the Hagler-Mason Conference Room, 2nd Floor, Pensacola City Hall.
DIB Finance Committee will meet 4:30 p.m. Tuesday, Oct. 8, at the Bowden Building, Room #2, 120 Church St.